On May 17th, 2019, our beloved mother, grandmother, sister, and friend left us peacefully, surrounded by family to be reunited with the love her life. Mary "Nell" (Irons) Stokes was born on December 9th, 1931, in Sulphur Springs, Texas, to Clarence and Floy Irons. She was the oldest of eight children.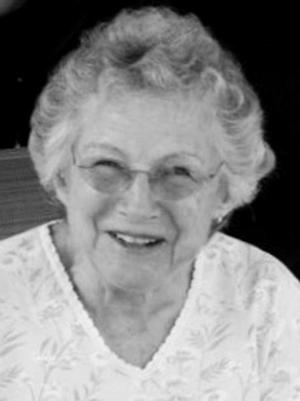 Nell lived in Texas until she was 12 years old when her family moved to New Mexico. The family lived there only a year when they moved to Salem, Oregon, Detroit Lake area. When Nell was 15 years old, her family was uprooted one last time to finally settle in Glide, Oregon. Nell attended Roseburg High School and graduated in 1949. Shortly after graduating high school, and at the young age of 17, Nell caught the eye of John William Stokes, a serviceman recently discharged from the Navy, who came to Oregon to find work.
John and Nell were inseparable after their first meeting, some even say it was love at first sight. After a short courtship, John and Nell were married on her 18th birthday, December 9th, 1949. The following year they celebrated the birth of their first child, Patricia, and in 1953, they had their second child Stephen.
Nell was a homemaker most of her life. When her children were grown, she took a job with the State of Oregon Child Welfare Department where she worked until she retired. After retirement, John and Nell enjoyed all aspects of life. Much of their time was consumed with their family, if it wasn't a family gathering, it was a project or a sporting event. It didn't matter what it was as long as it involved family. They also enjoyed a little prospecting; Nell's CB handle was "Nugget Nellie". They loved to take road trips; they even made a point to travel to all 50 states. Nell also enjoyed genealogy, quilting, and baking. All the grandchildren knew that when you came to grandma and grandpa's house you never left without a big bag of homemade "granny buns". She loved to plant flowers in her yard. The bigger and brighter, the better.
Nell was a very selfless person and she would do anything for anyone. She always had a bright smile and a kind word. She made a friend wherever she went and she just had a way of making you feel special and loved. She will be dearly missed.
Nell is preceded in death by her loving husband of 58 years, John; and her sister, Gracie Redding. She is survived by her daughter, Patty (Ken) Cooper; her son, Stephen (Hiliary) Stokes; her siblings, CB Irons, Betty Nordyke, Don Irons, Tom Irons, Bill Irons, and Diane Franklin; her grandchildren, Heather McKnight, Haley (Donny) Wattman, Hillary (Mike) Kosmicki, Brandon (Kristi) Stokes, Courtney Stokes, and Caye Stokes; her great-grandchildren, Wyatt McKnight, Wryland McKnight, Waylon McKnight, Krissy Wattman, Kami Wattman, McKenzie Kosmicki, Kendra Kosmicki, Kayla Stokes, Bryton McGeary, Caleb Stokes, and Brody Stokes; her great-great-grandchild, Jordan Crabtree; and numerous extended family members, nieces and nephews and cherished friends.
Our family would like to send a special heartfelt thank you to Antonina and Daniel Disney. There are no amount of words that can express the amount of gratitude we have for the unconditional care and love you provided to our beloved grandma. We are eternally grateful for you.
"Those special memories of you will always bring a smile if only I could have you back for just a little while. Then we could sit and talk again just like we used to do, you always meant so very much, and always will too. The fact that you're no longer here will always cause me pain, but you're forever in my heart until we meet again."
A service will be held Saturday, May 25, 2019, at Wilson's Chapel of the Roses starting at 1:00 p.m. Please visit Mary's website at wilsonschapeloftherosesfh.com to leave fond memories and condolences for the family.