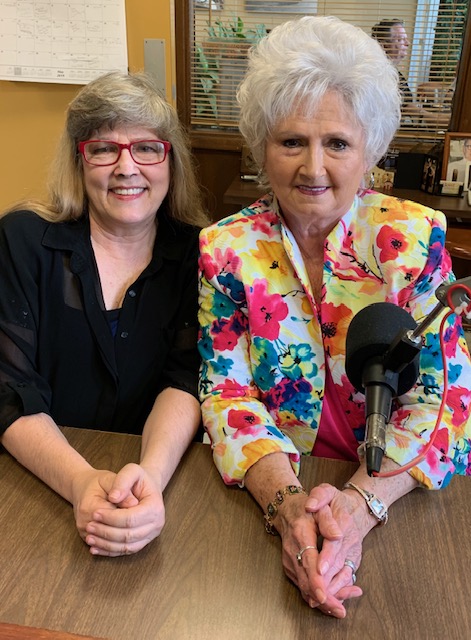 Nancy Bolton and Valerie Ross are two of ten local ladies getting ready to compete in the Ms. Hopkins County Senior Classic Pageant on June 1. The local event is part of a state-wide organization which also crowns a Ms. Texas Senior Classic each year. Senior Citizens Center Director Karon Weatherman organized the local contest in 2009, and this makes the 10th consecutive year that Hopkins County has held a pageant as well as sent a representative to the State contest in the DFW Metroplex. To qualify to enter the pageant, ladies must be age 60 or older. Be sure and attend the 2019 pageant on Saturday June 1, 2019 at 6 pm in the Banquet Hall of the Hopkins County Civic Center. Admission is free to the fun and entertaining evening.
Nancy Bolton is a member of Sulphur Bluff Baptist Church and graduate of Sulphur Bluff High School. In fact she and her husband Michael are life-long residents of Sulphur Bluff, Texas. She is a former Ms. Texas Senior Classic, crowned in 2012. Nancy stated " I always wanted to sing in church but was shy. The first year I entered the pageant, I selected singing to a track as my talent, and gave it a try. After that, I worked up comedy skits and presented them in costume. This opportunity has given me courage and confidence, and now, at age 71, I have the joy of singing specials in church on a regular basis and performing at the local pageant and other events. So, the pageant actually changed my life!". I also get involved in many activities, and enjoy my 5 grandchildren and 4 great-grandchildren, the newest of which is just 2 weeks old!
Valerie Ross grew up in Arlington, Texas and moved to Sulphur Springs a few years ago. When she heard about the Ms. Hopkins County Senior pageant, she was age 60 and decided to enter it 'just for a new experience'. "That first year, 2016, I was still shy and my talent was a demonstration of the plant cover that I had designed and sewed. The next year I was in the hospital and couldn't enter. The next year, I got brave and did a Roaring 20's skit with song and dance, which earned me the Best Talent Award. I also performed at the 2018 Ms. Texas Senior pageant. This year, I am planning to do a comedy skit which I think the audience will like. The Pageant has allowed me to step out of my comfort zone of shyness, and reveal my personality. It's been a very positive step for me!" Valerie is a member of The Way Bible Church, has three grown children and has 5 grandchildren, so far.