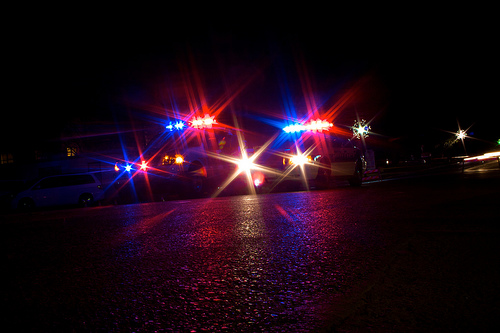 A Sulphur Springs man, 38, was arrested for DWI after nearly crashing into another vehicle with the Chevrolet Silverado he was driving on State Highway 19 late Friday night.
Texas Department of Public Safety troopers reported stopping the man just after 11 p.m. May 17 "for a traffic violation after he narrowly missed striking another vehicle head on." After contacting the driver, the highway patrolman noted the man had glassy red, bloodshot eyes; he claimed he could smell an alcoholic beverage odor on the motorist. The 38-year-old allegedly admitted to having consumed 3-4 beers. The trooper reported the man would not, however, comply with instructions during standard field sobriety tests and was placed into custody for DWI.
An an inventory of the pickup allegedly revealed six open empty 16-ounce Bud Light beer cans. At the jail, the man tested 0.158 and 0.159 on breath tests, nearly twice the legal limit. Consequently, he was charged on the Class A misdemeanor charge of DWI with a blood alcohol content over 0.15. The man was released from the county jail Saturday on $2,000 on the DWI charge, according to jail reports.