FORT WORTH, Texas—With the recent confirmation of the invasive emerald ash borer (EAB) in Tarrant County, the City of Fort Worth, ArborJet and Texas A&M Forest Service united to protect two regional champion ash trees, the regional champion green ash and the regional champion Texas ash, from the deadly pest.
Native to Asia, EAB was first found in Michigan in 2002. Since then it has swept across the south and now occupies a quarter of the continental United States, including parts of Texas. Texas A&M Forest Service has detected EAB in multiple counties: Marion, Cass, Harrison, and Tarrant.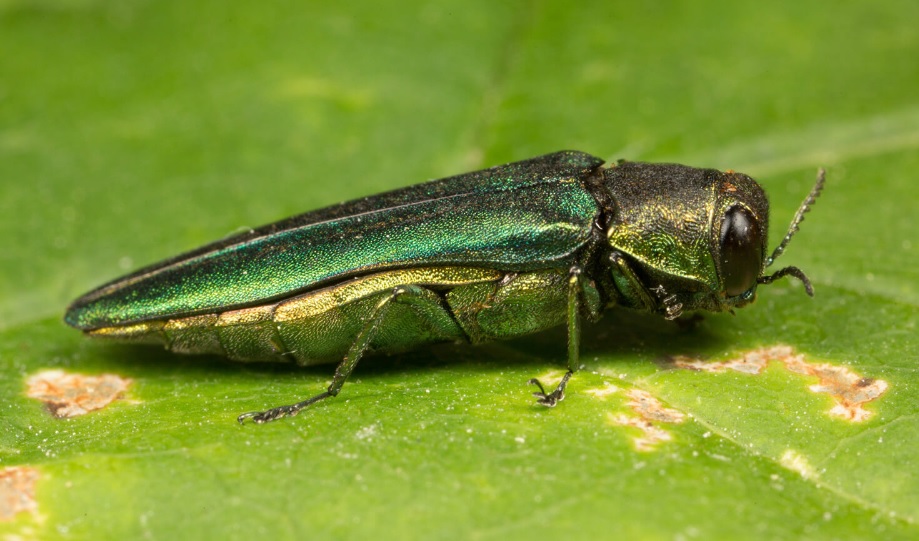 Because the beetle boasts an ash mortality rate of over 99 percent, a chemical injection is highly recommended to save an ash tree once EAB is confirmed within a 15-mile radius.
ArborJet's Regional Technical Manager, Emmett Muennink, injected the regional champion Texas ash tree, located in Pioneer's Rest Cemetery, with ArborJet's TREE-äge® by drilling into the tree's tap roots and setting an Arborplug, which functions much like an IV port and seals off the opening from any bacteria or fungi. Muennink then injected the pesticide, which hitches a ride up the tree's vascular system, with a needle.
"The adult beetle first feeds on an ash tree's foliage in order to complete their maturation cycle," said Muennink. "If EAB feeds on a treated tree, it will kill the adults. At the larval stage, it feeds on the vascular system. [The insecticide] is basically 99.99 percent effective at controlling both the adult beetles and the larval stage."
The EAB infestation was located at the south end of Eagle Mountain Lake. Experts urge homeowners within 15 miles of Eagle Mountain Lake, which includes an estimated 1.5 million ash trees and almost all of Fort Worth, to call a professional to treat their ash trees and to pay attention to what's going on in their urban forest.
Texas A&M Forest Service has 500 traps set statewide to monitor the population this summer.
"The spread may be inevitable, but preventative methods will slow its spread," Texas A&M Forest Service entomologist Allen Smith said. "This buys time for folks and municipalities to plan and mitigate any impacts from EAB. All it takes is one person to transport some infested firewood to a new, 'unprotected' locale, and a new infestation can start."
Homeowners can watch their ash trees for signs of EAB infestation. Symptoms may include dead branches near the top of a tree, bark splits exposing larval galleries, leafy shoots sprouting from the trunk, extensive woodpecker activity and "D"-shaped exit holes in the bark.
Click to view photos of the injection.
Download the EAB Community Preparedness Plan at https://bit.ly/2MjI1WM
To report emerald ash borer, please call 1-866-322-4512
#
Contacts: Courtney Blevins, Fort Worth Regional Forester, Texas A&M Forest Service, 817-531-3119, [email protected]
Texas A&M Forest Service Communications Office, 979-458-6606, [email protected]