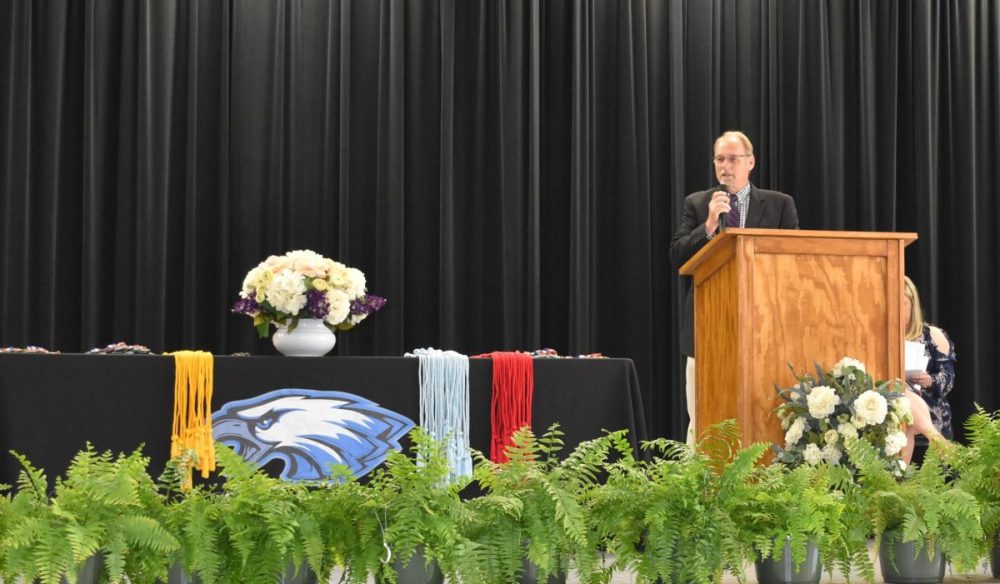 Como-Pickton High School seniors were honored this week with awards, scholarships and honors during the annual Senior Academic Awards program. The Class of 2019 was awarded at least $170,600 in scholarships, at the annual salute of outstanding 12th graders.
Valedictorian K'Lah Skidmore was awarded a $64,000 LeTourneau University Founders Scholarship.
Kobie Miller was awarded a $40,000 Honors Scholarship and a $14,000 Christian Leadership Scholarship, both from East Texas Baptist University. Miller was also the recipient of a $500 Hopkins County Bar Association scholarship.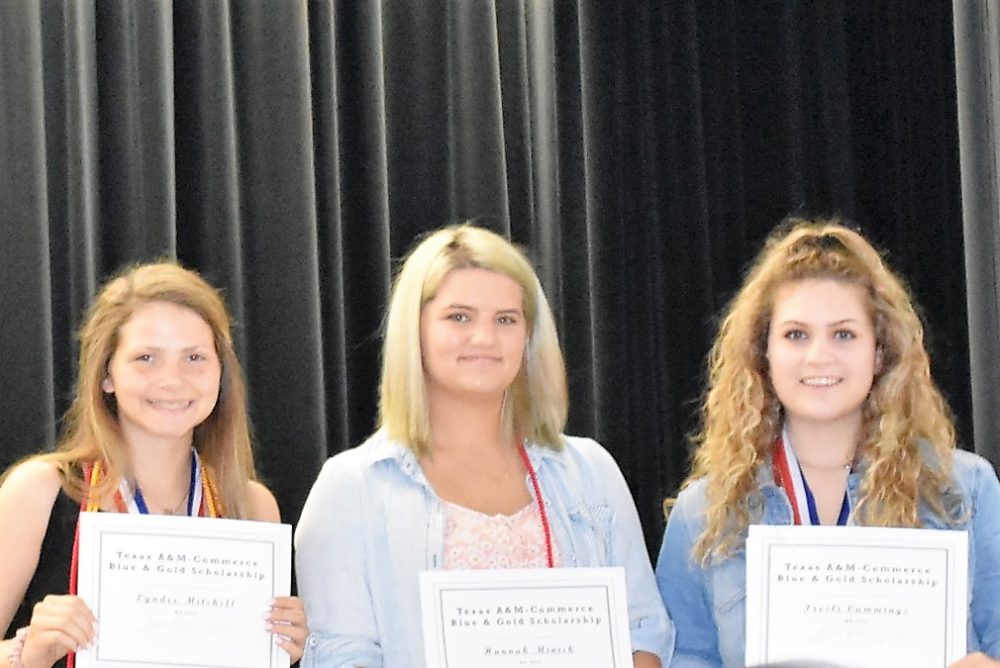 Presli Cummings was awarded a $4,000 First Year Leadership Class scholarship, a $5,000 Freshmen Tier 2 Scholarship, a $2,000 PTK Freshmen Scholarship and a $2,400 Carrie Middleton Holliday Endowment, all from Texas A&M University-commerce.
TAMU-Commerce Blue and Gold Scholarships in the amount of $5,000 went to Presli Cummings, Hannah Minick and Lyndee Mitchell.
Jinger Peeks awarded Dylan Wiggins and K'Lah Skidmore with $500 Como-Pickton Little Dribblers Scholarships; and awarded $100 C-P Little Dribblers awards to Jena Satterfield, Hannah Minick, Kobie Miller, Lyndee Mitchell and Kaylee Butler.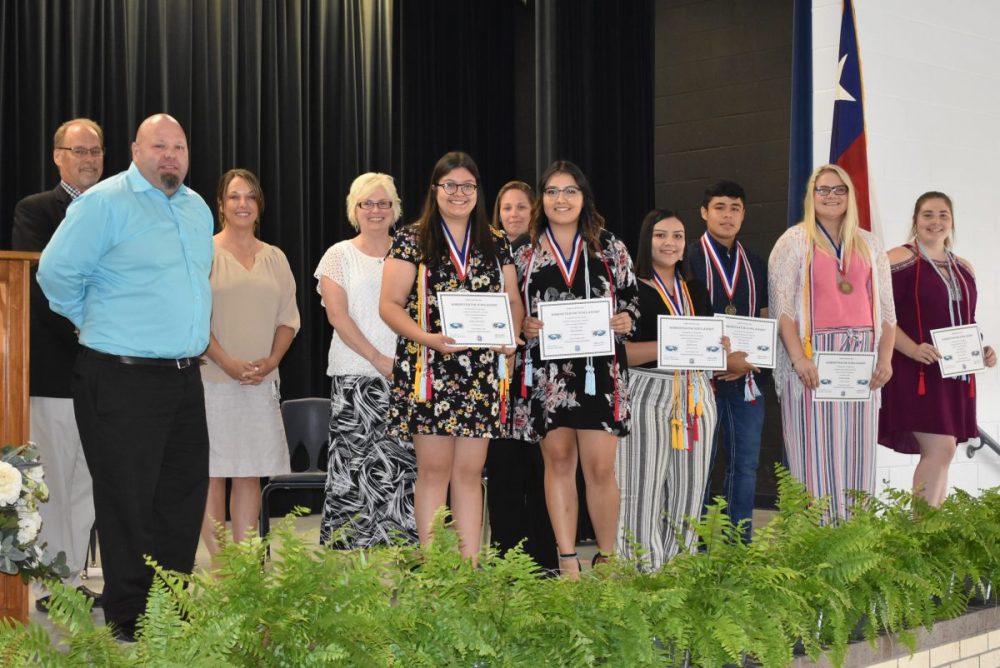 Dr. Greg Bower, Como-Pickton CISD superintendent, presented $1,000 Como-Pickton Administrators Scholarships to Alex Alonso, Kaylee Butler, Daisy Camacho, Dixye Degeurin, Maria Lara and Maria Mejia.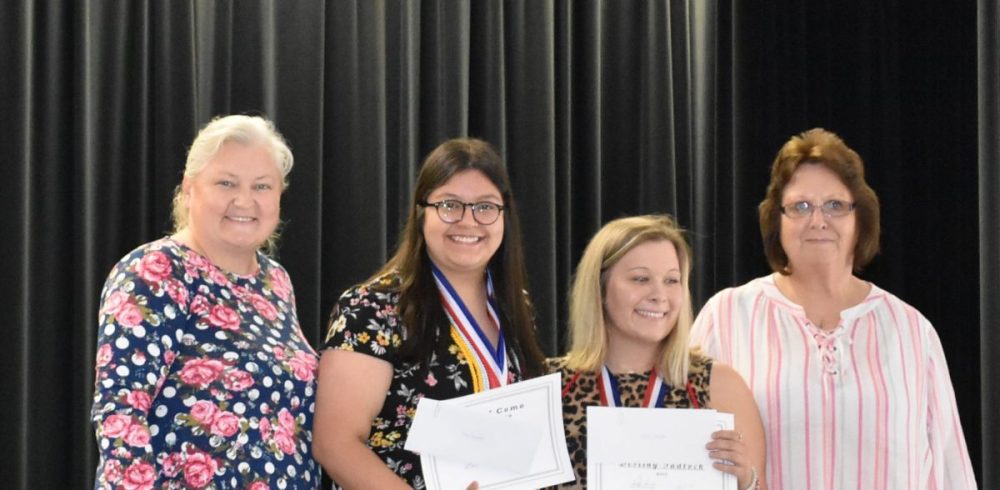 Como Mayor Darla Henry awarded $500 City of Como scholarships to Destiny Tadlock and Daisy Camacho.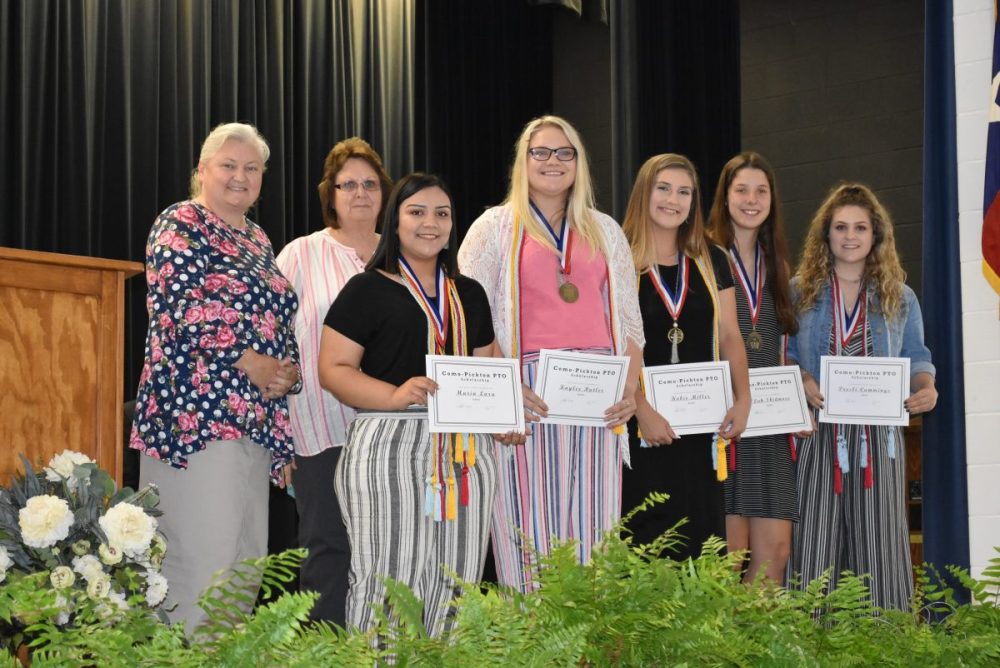 Henry also announced K'Lah Skidmore, Kobie Miller, Presli Cummings, Kaylee Butler and Maria Lara as recipients of $300 Como-Pickton PTO scholarships.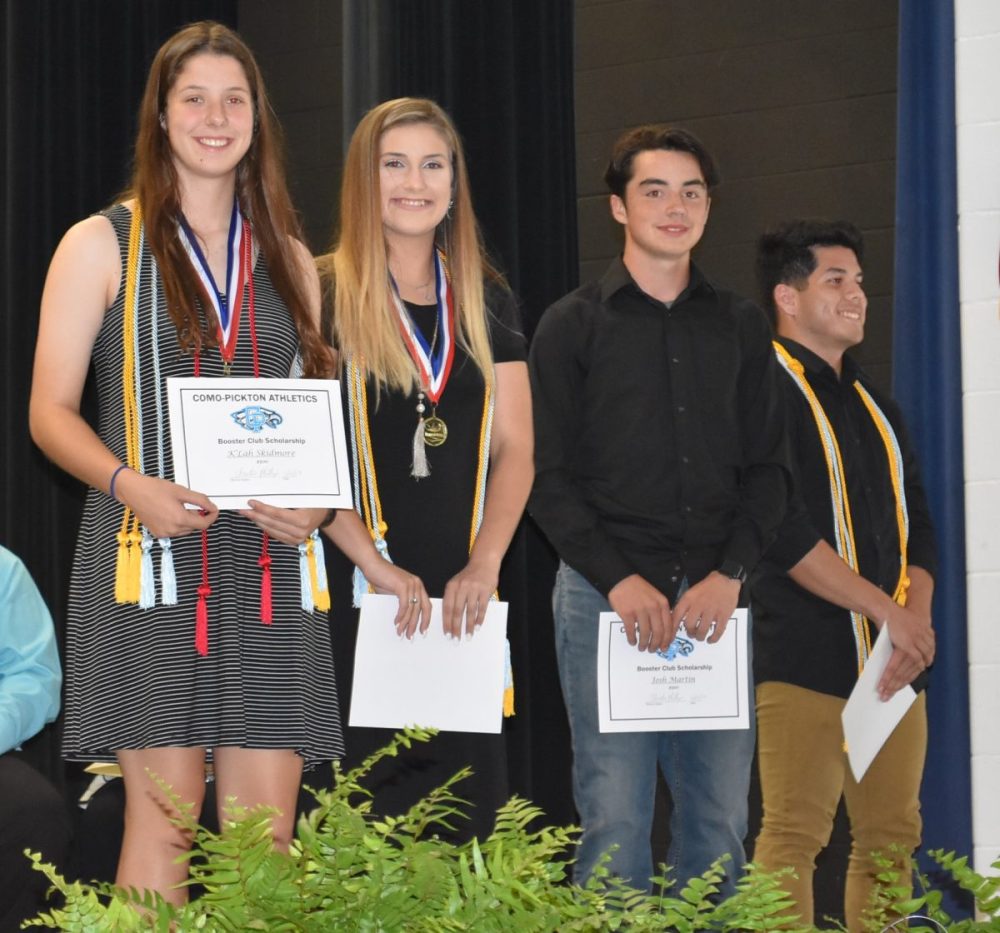 Monica Tapley and Christie Phillips awarded $500 Como-Pickton Athletic Booster Club scholarships to Ernesto Murillo, Josh Martin, Kobie Miller and K'Lah Skidmore.
A few scholarships were given in memory of those who have made an impact on the community.
Tim Glenn presented Lyndee Mitchell a $2,000 City National Bank Scholarship in memory of Melvanda Smith. Patsy Evans presented Alex Alonso with the $2,000 scholarship given in memory of her son Clay Evans.
Michael Bowen announced Kayleigh Brewer as this year's recipient of the $500 Lonnie Niblett Memorial Scholarship and Blaine Flemens as the recipient of a $1,500 NETLA Scholarship given in memory of Larry Spradlin. Christie Phillips assisted Autumn Bennett in presenting the $500 Addison Bennett Memorial Scholarship, given in honor of the former Como-Pickton student killed 5 years ago in a car crash, to Kaylee Butler.
Bowen also recognized Preslie Cummings as the recipient of a $500 East Texas State Fair Showmen Scholarship. Cummings and Kobie Miller each received a $1,000 Como-Pickton FFA scholarship. This award is funded through a stew and auction. Last year, FFA was able to award one scholarship; this year enough funds were raised to give two, Bowen explained.
Dixye Degeurin was awarded a $500 American Legion Scholarship and a $2,000 Brian Toliver Ford-Driving Dreams Scholarship.
Avery Vause received the $500 Load Trail Scholarship.
Honor Graduates and National Honor Society members were recognized during the program. This year's 12th graders who donated blood at least twice or who had an adult donate to their credit received a red cord to wear at graduation, designating their commitment to helping others.
Students who were on the A and AB Honor Rolls too received certificates denoting the achievement, and students who earned the top scores in their courses were presented class awards from their teachers. Students who met requirements to attain industry recognized certifications such as for welding were presented certificates marking their achievements.