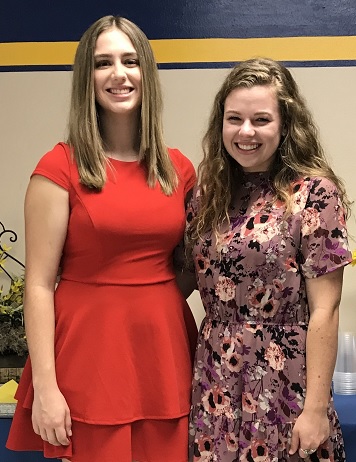 Carissa Kay Carter and Maddie Ruth Millsap were honored at a reception Thursday morning as the top students at Sulphur Springs High School.
Carissa Carter achieved the honor of valedictorian with a 4.33095 grade point average.
Carter has achieved many music and academic UIL honors while attending SSHS.
She was a Texas Music Scholar and competed in the State Solo and Ensemble contest her first two years of high school, was an All-Region Band member her freshman through junior years, and an All-Region Choir member her sophomore year.
Carter also has the distinction of being a member of the state champion literary criticism team all four years of high school as well as placing sixth individually her sophomore year, second her junior year and third her senior year. She also competed in calculator applications all four years of high school.
Carter also was involved in Key Club all four years of high school and band her freshmen through junior years. Key Club she said gave her the opportunity to help others, something that's important to her. Outside of school, she also sang in the Haystack Choir her freshman through senior years.
Carter plans to attend Texas A&M University-Commerce, where she's been admitted to the Honors College, with the goal of going on to medical school to become a dermatologist. She said being a dermatologist would allow her to help others medically and to help boost their self-esteem.
Carissa's parents are Jacqueline Carter and Ron Carter.
Maddie Millsap earned the second ranking in her class with a 4.25122 GPA.
The salutatorian considers among her honors being in the top 10 percent of her class. She has been very active in extracurricular activities.
Millsap played on the varsity volleyball and softball teams, and named Academic All-District in volleyball and softball. She also received Volleyball Honorable Mention.
Millsap was active in National Technical Honor Society, Key Club and Family, Career and Community Leaders of America. She has served as president of both the National Honor Society and Hi-King Klub. She also works at a local clothing store.
Millsap said her involvement in these activities allowed her to serve in leadership roles, which makes her interested in one day becoming the CEO of a company.
After graduating SSHS, she plans to attend the University of Texas at Arlington. She received the Bright Star Scholars award and has been awarded a few other scholarships to apply toward her studies as well.
Maddie is the daughter of Brad and Lisa Millsap.