At work, Sherry Moore is currently Volunteers Co-ordinator , one of many roles she has fulfilled over her almost-25 year career with the local hospital. And, in addition to serving as Marketing Director, Sherry also wears the hats of Patient Experience Co-ordinator, Representative for Government Advocacy, and Co-ordinator for the Volunteer Chaplaincy. During a KSST Morning Show interview, Sherry talked about the role and the history of the Volunteer Auxiliary.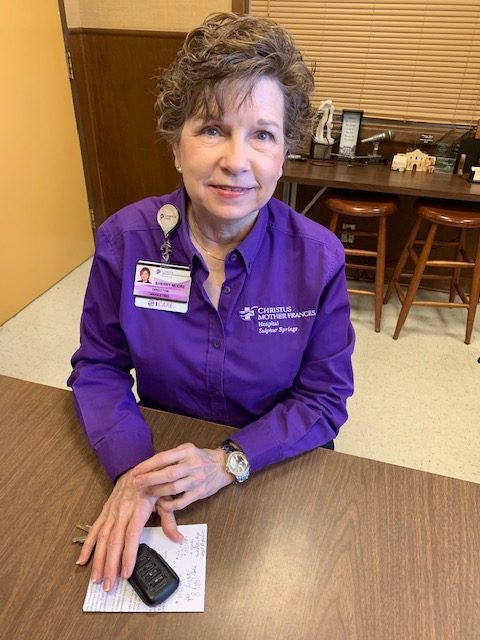 "The local hospital first got a corps of volunteers in February of 1961, when a local doctor, Byrd Longino, was the speaker at a ladies club meeting at the former Women's Building. In that talk, he made the ladies aware of the need which the hospital had for caring, capable volunteers, and how the goal was to cultivate a "hospital auxiliary" group from the community. Well, that group of ladies volunteered their services and told their friends too, and soon after, the first uniformed"Pink Ladies" were at work, assisting from the Nursery to clerical duties and in dozens of other necessary behind-the-scenes tasks. When a gift shop was opened, they helped there too, and still do today. In fact, today's beautiful gift shop is named for one of the first volunteers, Mrs. Johnnie Masters. The current Auxiliary is made up of about 40 men and women who sign up for and graciously work half-day shifts. Wanda Galyean serves as Auxiliary President", commented Sherry.
From the start, the Volunteer force served as a kind of Foundation which raised money and helped the hospital save money. As funds became available, the Auxiliary would help with purchasing items needed for the hospital, from buying office furniture to donating to the Lights of Life campaign. In fact, the Auxiliary was the original underwriter of Lights of Life, and to date, has donated over $100,000 for hospital needs. Now, a Scholarship program is in place for hospital employees, and Auxiliary donations help fund scholarships for qualified applicants who make request. The Auxiliary also spawned a Jr. Volunteer program, available to interested students who are high school freshmen and older.
According to Sherry, a Volunteers Luncheon will be held on Thursday April 18, 2019 as a thank you for their donated hours of service. A meal of home-cooked foods and homemade desserts is planned.