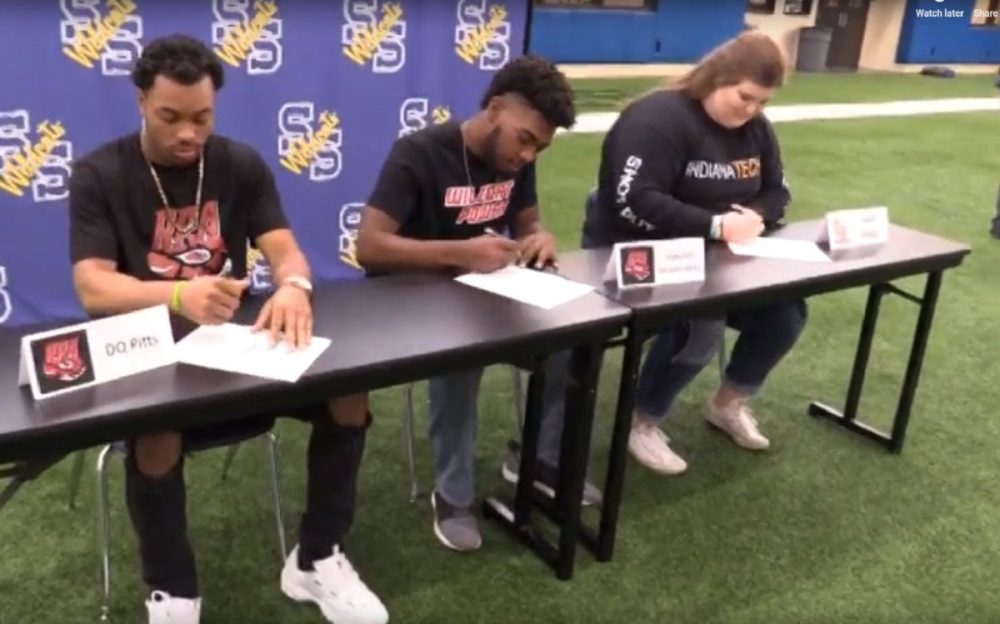 DQ Pitts and Jermond Bryant-Amos signed with RPA College in Arlington. RPA is next door to UT-Arlington. It's a prep school that plays a JUCO schedule and focuses athletes on their studies. Players that attend will have all of their college eligibility left when they move on to another school.
Pitts, the son of Sharita Johnson and Terrance Pitts, played outside linebacker and wide receiver for the Wildcats last season. Pitts said he put his football highlights on twitter and that attracted the attention of the RPA College coach. Pitts was invited to come for a visit. He said he liked the school, its' work out plans and the surroundings. Pitts said they are interested in letting him play some at both positions. He may also return kickoffs. After college, Pitts said he would like a career as a welder.
Bryant-Amos is the son of Denise Bryant and Cary Amos. He said Pitts made him aware of RPA College. He said soon they were interested in him. Bryant-Amos said they are close to home and he sees them as a stepping stone to a bigger program. They want Bryant-Amos to punt and play as a receiver. He is excited about RPA College and he likes the fact that he and Pitts will both be going there.
Lady Cat track shot putter and discus thrower Abbi Beggs signed with Indiana Tech in Fort Wayne, Indiana. She is the daughter of John and Rachel Beggs.
Abbi put some of her throws on the internet and that attracted the attention of Indiana Tech. Beggs said it was very cold up there when she visited but she said it had a very homey feel and seemed athlete friendly. Beggs said she will put the shot and will also throw the discus, the javelin and the hammer. Her favorites are discus and javelin. She said Indiana Tech has one of the best NAIA track programs anywhere. Her college plans include medical school and then becoming a part of the Doctors Without Borders Program.