North Hopkins Elementary Pre-kindergarten and Kindergarten Round Up kicked off Monday, and will continue from 9 a.m. To noon Tuesday, April 30, in the elementary office for new-to-the-district students.
Early registration does not assure your child a spot in prekindergarten.
"In order to ensure the safety of the children and the quality of their education we will only be able to accept a certain number," Kodi Wright stated in a letter to parents posted on the school website.
In order for children to be eligible to apply for enrollment in kindergarten, the child must be 4 years old on or before Sept.1, and must be potty-trained before the first day of school.
The student must also either qualify for the free or reduced breakfast and lunch program, which is based on state-established household income ranges; be unable to speak and comprehend the English language; be homeless; be the child of an active duty member of the armed forces or reserved component of the armed forces; have been in the conservatorship (foster care) of the Department of Family and Protective Services following an adversary hearing; or require special services such as special education or speech.Any 4-year-old who does not meet the pre-k requirements will be placed on a waiting list.
To enroll in kindergarten, the applicant child must be 5 years of age on or before Sept. 1.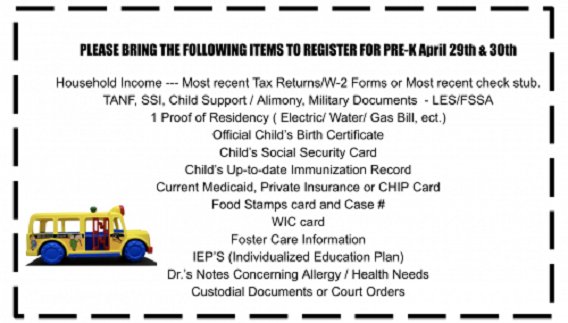 Parents will be asked to bring with them to the elementary office in order to apply for enrollment for pre-k or kindergarten classes the copies of the applicant child's birth certificate, Social Security Card and most current Immunization Record; the driver's license of the person' enrolling the child; and proof of district residence, such as a utility bill or tax statement with the family name and address printed on it.