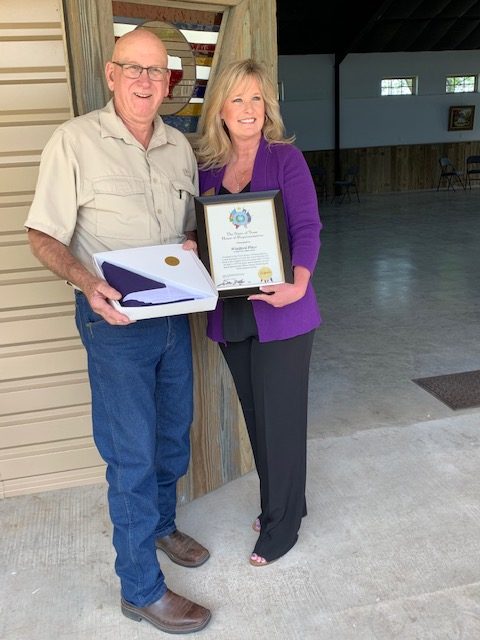 On April 16, 2019 at noon, along with a ribbon cutting ceremony by the Hopkins County Chamber of Commerce, Winiford Place was presented a flag and a plaque from Jennie Ash, a staffer of Texas State Representative Dan Flynn's office. According to the plaque, the Texas flag had "flown over the Capitol of the Sovereign State of Texas", the perfect note for a park which celebrates our local history upon land near the heart of the City of Sulphur Springs. There was a good turnout of citizens for the ceremony.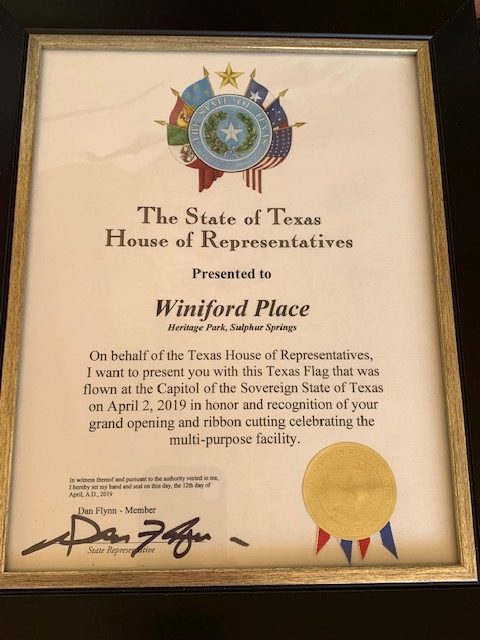 During 2018/2019, Winiford Place was constructed largely through a generous private monetary donation. However, the facility was actually built by hand as a labor of love by members of the Hopkins County Historical Society, who are caretakers for the 11-acre historical park and museum located near downtown Sulphur Springs. Members with special skills contributed their talents; from drawings of the concept to contracting the construction to creating custom-made doors of reclaimed wood from other park projects, to adding Texas-themed custom stained glass inserts for the doors. Original artwork by various local artist which depict the park now adorn the walls. The atmosphere is bright and airy due to lots of windows placed high on the walls, and it also has a spacious feel, assisted by wide concrete walkways that extend usable space on two sides of the building. A full kitchen is large enough for a team of cooks to work in, and the restroom area includes space for a Bride's Room, which will come in handy for wedding events held there. One of the first public events in the new building will be the Reilly Springs Jamboree, a historic Hopkins County country and gospel show coming to celebrate the new facility on Saturday evening June 15, 2019.
Heritage Park, at 468 North Jackson Street, will be hosting two other events this week. The Hopkins County Youth Art Show will be displayed inside the park on Friday April 19 and Saturday April 20, featuring works of art in all mediums created by youth and teens in the county schools. Also, the "John Chester Dutch Oven Cooking Class" will begin at 8am on Saturday April 20 for persons who want to learn the primitive method of outdoor cooking. The class is $15 person (which includes lunch) and will be taught by Wilson. All foods, utensils and supplies are furnished.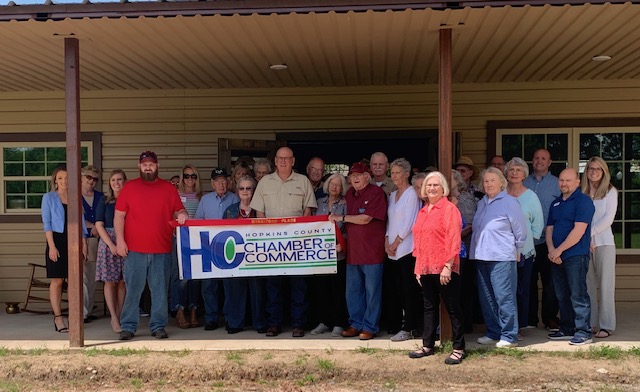 According to Rick Wilson, President of the local Historical Society, "there are still some unmet needs at Winiford House, and donations are welcome from the community. Anyone who would like to help can call me at 903-335-2752, or talk to any member of the Historical Society. We are more than thrilled with the new addition and the expanded ways we can serve the community. We will look forward to seeing you at Heritage Park events in the weeks and months to come".