Dr. Mark Miller Celebrated At Retirement Reception
After more than 53 years of serving others Dr. W. Mark Miller is retiring from medicine.
The physician moved to Sulphur Spring in 1970, and says he's "thankful for all the years I've been able to do something I enjoy so much. It seems the right time to me to stop."
"I am thankful God maneuvered me to practice medicine and put me here in Sulphur Springs," Miller said.
He explained that when he first started college, he never even considered practicing medicine. In fact, the sight of blood, trauma or pain made him nauseous and faint. However, after a college roommate talked up medicine, he began to consider it. He talked to the head of the chemistry department, who assured him that he had overcome similar squeamishness and was confident Miller could too. He changed his major that week.
After five years studying at Lubbock, Miller attend medical school at the University of Texas Southwest in Dallas. He then spent three years working at John Peter Smith Hospital, a charity hospital in Fort Worth, where he treated some of "the sickest you can imagine."

Miller said he then had the option of serving in Vietnam or working on a Reservation. He opted to serve two years at Sioux Indian Reservation in North Dakota, where one month of the year, the temperature only reached 20 below zero and at its coldest was 50 below at night. He treated patients, who were sent 13 miles to the town hospital if additional medical care was needed.
He moved to Sulphur Springs in 1970, working at the clinic, which he recalled seemed big at the time, with two halls with four rooms each and one surgery room. Back in those days, general practitioners and family doctors did a lot more than they do now in terms of immediate care, he said.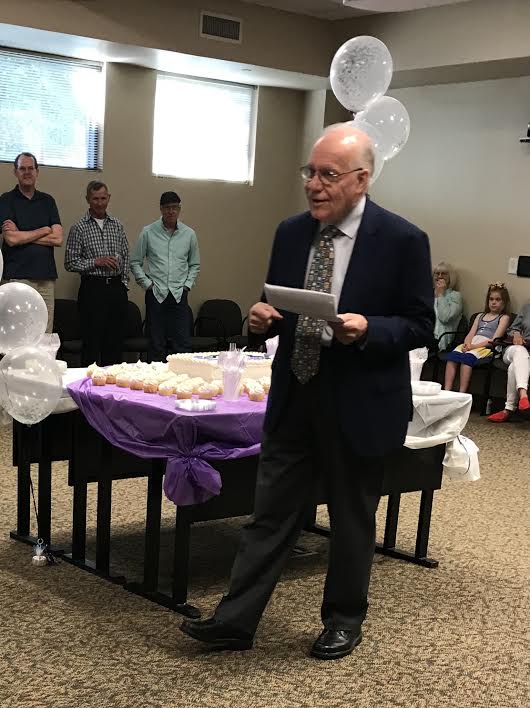 "We fixed fractures. We really did it all. We did lots of things," Miller told the crowd who attended the come and go celebration of his retirement, held Friday at CHRISTUS Trinity Mother Frances Plaza.
He said he felt prepared for any possibility thanks to his training, and that of the other doctors at the clinic, who also trained at John Peter Smith.
He felt historically, he practiced during the "greatest time" in medicine, a time when antibiotics such as penicillin and tetracycline were available to kill any bacteria.
In addition to surgery and treating infections, Miller said he also enjoyed delivering babies. He noted that when he started working at the clinic in Sulphur Springs, the cost for a delivery was $150, regardless whether it was a Cesarean section requiring anesthesia or a vaginal birth.
Medical records are quite different today than when he first began practicing medicine. In his earlier days, patients would come in, they'd talk about their need, he scribbled his solution on paper, and that was the medical record.
Now, he says he's very thankful for the "exceptional, young smart, beautiful nurses who rescue me daily from the computer. He said his office has had the current computer system for five years. He started out hating them, although he and the computers are now friendlier, it won't be hard for him to say goodbye to them.
Miller said one thing he's realized over the last few months of saying goodbyes is just how very fond of his patients he's become.
"I like them. They're friends. I love them. It's been a bit of an emotional experience … especially the last couple of months," Miller said.
"Dr. Miller is a very caring person," said urology nurse Laura Duke, who has worked with Miller at different times over the years.
"We are losing one of the greatest doctors to ever heal. He is a blessing to so many,"said Leah Irving, a nurse practitioner who worked with Miller as a nurse and looked up to him as a mentor when she made the move to practitioner.
"He is the kindest, most gentle, humble man I've ever known," said Mandy Kennedy, who was not a patient of Miller, but has had occasion to know him from church and community involvement, as well as opportunity to learn of the depth of commitment he shows to his patients.
"He looks out for his patients. He called me one day, concerned for a patient, asking for resources for the patient who had special needs," Kennedy said.
"He's wonderful. A lot of patients will miss him a lot," said Peggy Dietze.
Dr. Ken Haywood credits the care he's received from Miller for keeping him "still going strong" at 65.
"Thank you for being a role model. You are respected. We love you," said Dr. Curt Cutrell, who works with Miller at CHRISTUS Trinity Clinic.
Lequida Jennings, who along with husband, retired Dr. Jerry Jennings, is Miller's neighbor described Mark and Carol Miller as not just friends but "the nicest people."
Another colleague of Millers described his a a "spiritually respected man."
"It means so much to me to have so many here to bid me farewell," Miller told the friends, family, patients and colleagues past and present who gathered at his retirement reception Friday.