Thee Treehouse School Creative Writing Students Write, Study All Genres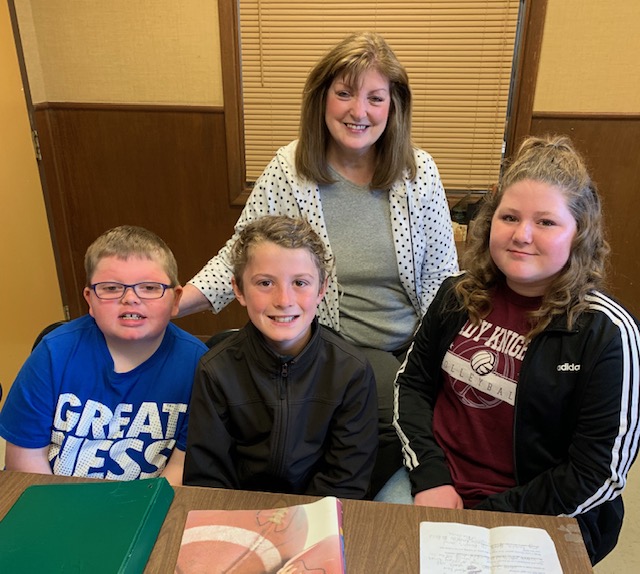 Three young homeschool students who also attend Treehouse classes on two days per week enjoy a curriculum which allows them exposure to various genres of literature. Through Mrs. Feldt's Creative Writing class, called "The Write Stuff", they are encouraged to read as well as write both fiction and non-fiction. Their favorite genres include mysteries, legends and myths as well as poetry and journaling. Mrs. Feldt and three of her students joined us on the KSST Good Morning Show on Tuesday March 19, 2019.

"Any writer needs a portfolio", Mrs. Sharon Feldt instructs. She is pointing the students toward preparing a collection of their work as they produce it, both in class and at home. She tells her students that "anyone can say that they've written a lot of things. But it adds credibility when you can show where and when these have been published. You can collect your written work in a notebook or portfolio, showing the publication it appeared in, the date and your by-line, which is your name. This demonstrates that you are serious about your writing, and so are those who have published it".
All three students have started portfolios of their work. Twelve-year-old Reuben Criswell contributed a story, "Dak the Fish" about a fish who saved Lake Fork and became a hero, and ten year-old Raleigh Rhodes wrote and submitted the "Mystery of the Sharp Rock Preserve". At age 12, more then one of Miss Presley Hurley's poems, "Freedom", has been included in the "The Write Stuff: Tales of Thee Treehouse" Anthology printed in 2018, and she has more recent works ready to be included in the 2019 anthology. According to Mrs. Feldt, this early interest in how writing is produced and documented can be beneficial when the students reach Middle and High School. By then, they will be experienced writers, ready to join the staff of the school newspaper or annual, or to utilize in a career. Most importantly, she knows they will be readers and writers for life!