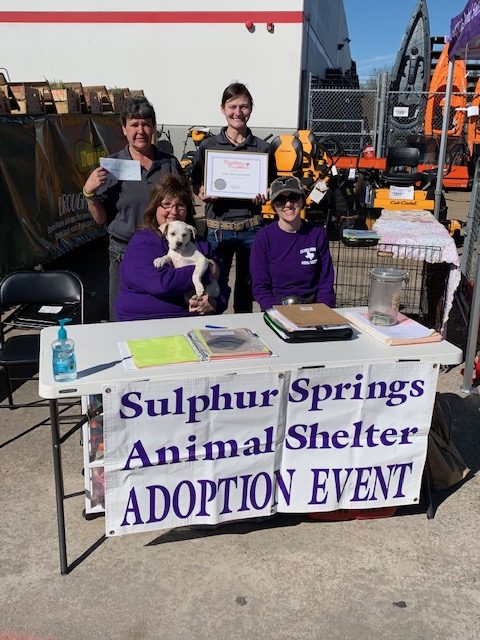 On Saturday March 16, 2019, Barbi Blanch, an employee of City of Sulphur Springs Animal Control, noticed on Facebook that her shelter was the Texas recipient of the 50 States/50 Shelters Grant, an annual selection among deserving animal shelters. She quickly shared the news with her co-worker Annie Patridge. Interestingly, the Shelter already had a Pet Adoption Day scheduled that day at Tractor Supply in Sulphur Springs, so it turned out to be the perfect time to make the announcement public. KSST joined Barbi, Annie, some of the Shelter volunteers and one of Lambert's long-time family friends, Vicki Plaxco of Sulphur Springs, on the parking lot of Tractor Supply. Plaxco was more than happy to make the presentation to the Shelter.

According to her website muttnation.org, long before Miranda Lambert became a superstar, she and her mother, Bev Lambert, were rescuing animals – a tradition that shows no sign of slowing down. Between the two of them, they share their homes with 15 shelter pets. In 2009, the animal-loving mother and daughter team decided to make things official and co-founded MuttNation Foundation, a 501c3 nonprofit with a mission to promote the adoption of shelter animals, assist with animal transport and help during times of natural disaster. MuttNation is proudly celebrating its 10th anniversary.
According to Plaxco, the grant selection is determined by careful vetting and various criteria, including adoption rate and volunteer support. The local Shelter enjoys an 80% adoption rate, thanks to a team of volunteers and a co-operative population in Sulphur Springs and Hopkins County. The $3,000 grant will go towards the most needed improvements at the Shelter. According to Paul Hayes, manager of the local Tractor Supply store, he is pleased to host the Shelter's Pet Adoption event every first and third Saturday of the month. On Saturday March 30, the Shelter will stage an adoption event at their home site, on Loop 301 near the City Service Center and Municipal Airport.