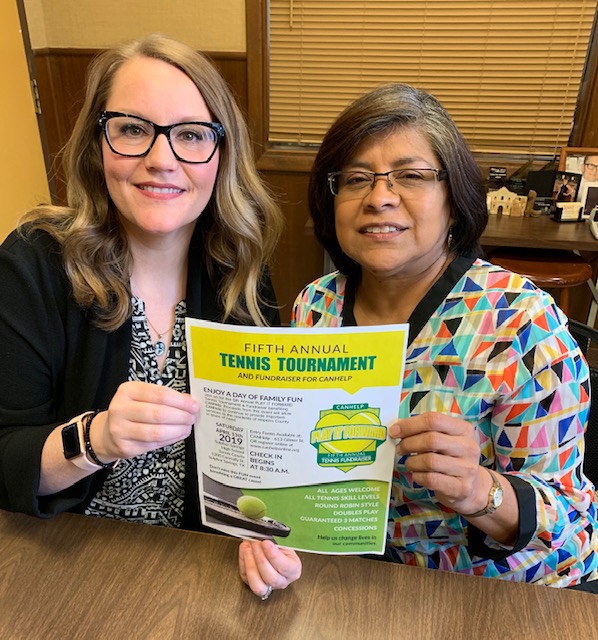 If you like to play tennis, or like to watch tennis being played, make plans to come out for the 5th annual "Play it Forward" Tennis Tournament on Saturday April 13, 2019 starting at 9am. Held at a top facility, the Sulphur Springs High School Tennis Complex, this tournament offers great competition for all skill levels, interesting watching for spectators, and fun for the children of families who are participating. Early registration is going on through March 31, and you can pay the registration fee and sign up online at canhelponline.org. Or you can stop by CANHelp at 613 Gilmer Street from 8am til 4:30pm weekdays to pick up forms or sign up there. Late registration runs April 1- 8.
According to Shanna Martin, Director of CANHelp, this fundraising event is earmarked for projects planned all year. "This will be the 5th annual tournament, and it's been a successful project for four years. It's helped us to continue to provide important services to the residents of Hopkins County in times of need. It's a fun event benefiting a great cause, and the theme of 'playing it forward' really describes it's effect. As an example, this tournament along with other fundraisers we hold enable us to serve over 500 students with backpacks and school supplies each year at back-to-school time. But we really need to be prepared for about 750 students. The need is growing locally".
Adela Martinez, who is CANHelp's Director of Client Services, is married to Tony Martinez, the SSISD Tennis coach. Because everyone in their family plays tennis, thus the idea of a fundraising Tennis Tournament was suggested. According to Adela "this event allows students and families to get involved in a local competition, and is serving to introduce the sport of tennis to more youth. This year, our high school tennis team has earned great recognition throughout the district, and that's positive growth".
Along with round-robin and doubles matches, the Tennis Tournament will also offer great food. Fireside BBQ will be serving brisket sandwiches as well as other concessions. So, even if you are not a tennis player, plan to come, watch, eat and contribute through your support.