Tri County Relay For Life Committee will honor cancer survivors at 6 p.m. Saturday, April 6 with a special survivors dinnner, at Shannon Oaks Church, 1113 East Shannon Road.
"This is for survivors and their caregivers. This is a new location for us," said Tri County RFL Committee Chair Gina Giguere.
This will be a special time for cancer survivors to fellowship with others who have battled or are also battling cancer, whether for one day, one month, a year, 10 years or more. This battle is celebrated and support offered for cancer survivors over a free event meal dinner.
Sandy Reed will be the guest speaker for the evening, which will also feature live entertainment, games and giveaways.
This free meal is open to all cancer survivors and caregivers in Hopkins, Franklin and Wood counties.
At the April 6 dinner, cancer survivors will also have an opportunity to register for this year's Relay for Life, and will receive a survivor shirt to wear at RFL.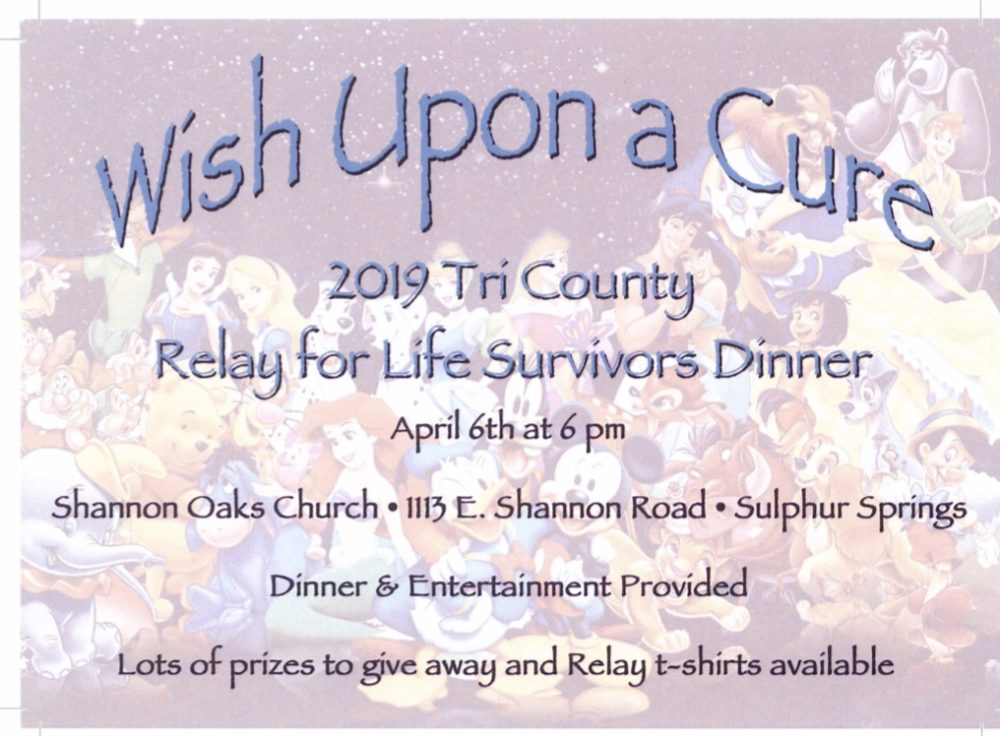 The 2019 RFL will begin at 6 p.m. Friday, May 10 with the opening ceremony, and cancer survivors and caregivers opening laps around the walking path at 7 p.m. RFL will continue until 2 a.m. Saturday, May 11, on Celebration Plaza. This year's theme is "Wish Upon A Cure," which is all things Disney, according Giguere.
RFL is the premier fundraising event for the American Cancer Society. As of this week, 55 participants on 15 teams had raised $8,441.55. Tri County RFL's goal is to raise $50,000 for the ACS.
To register as an individual or team for RFL, go online to relayforlife.org/hfwtricotx, or call Johnna West at 903-335-2322 or Gina Giguere at 903-573-2064 for more information about team registration.