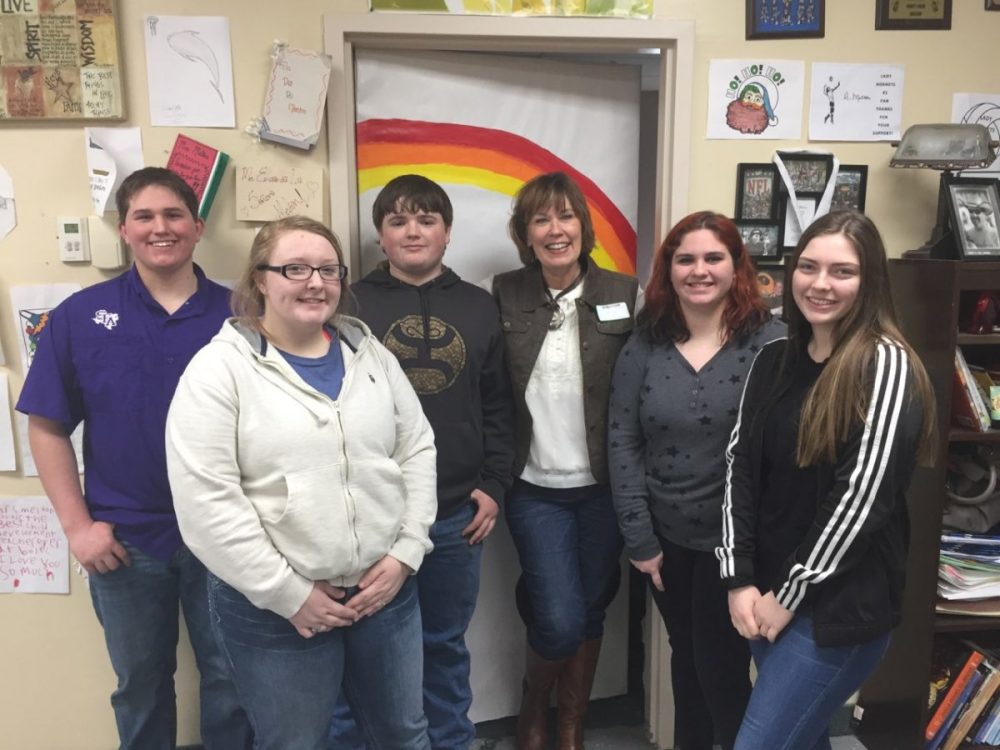 Ksst's Enola Gay was invited to talk about her career in radio for a class of high school students at Boles ISD near Quinlan, Texas. The invitation came from Amy Melton, who is not only a Director for the Greenville Entertainment Series, but teaches Family and Consumer Sciences in the Career and Technical Education Department at Boles ISD. The talk was scheduled on Thursday February 28 during a Lunch and Learn segment in an informal classroom setting. Enola's presentation on the value of local radio, the community involvement and the personal enjoyment of the career resulted in a lively exchange with the students.

Five students attended the presentation, and that is not unusual at Boles, because among the 530 students in Pre-K through 12th grade, the average class size is ten students. Students have lots of classroom one-on-one instruction from teachers. These five high schoolers are already preparing for the workforce, and are among others who earn credits as well as paychecks in a Career Preparation year-long work\study program. They each have jobs at established businesses in the community and often earn glowing reviews about their responsibility and dedication. Some students put in as many as 40 hours per week on the job!
Cooper Dale, who plans to go to college and pursue a career in Ag Science, works at a farm\ranch near the school. He works daily with horses and cattle, drives tractors, fixes fences and cuts and stores hay.
Jonathan Moore got a job at 360 Tire Group near Caddo Mills, and does vehicle inspections and tire work. He has been accepted at three different colleges, but has chosen SFA in Nacodoches.
Savannah Slatton works at Brookshires Grocery in Quinlan and has been on the job since age 16. She has advanced to head cashier and manges the office during her shift. At times, Savannah gets 46 hours per week on the job while maintaining her classwork.
Breanna Cauley works in the Bakery at Tom Thumb in Rockwall. She serves as cashier and bread baker, and is responsible for keeping the kitchen sparkling clean during her shifts.
Amillia Robinson is employed at the Brookshire's Grocery Fuel Center in Quinlan, where she has been trained as cashier and courtesy clerk. She also trains new employees at the fuel center. She usually gets from 26-36 hours per week on the job.
Mrs. Melton supervises the students on the job by stopping by on a regular basis to check on them and discuss their progress with employers. Also, she conducts classroom training in conduct and discipline on the job. The Career Development program is quite popular among Boles high schoolers.
Boles ISD was established in 1985 and sprang from what was originally Boles Orphans Home, which opened in 1924 on 436 acres of donated Hunt County land. No longer exclusively a children's home, today it is an independent school district which serves the public as well as the residents of Boles Home. A TEA Recognized UIL 2-A school district, it is one of the smallest in Texas. There is a waiting list to become a student at Boles.