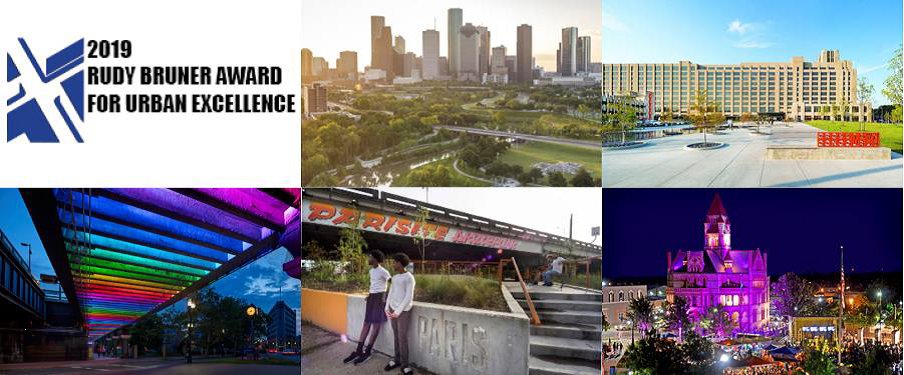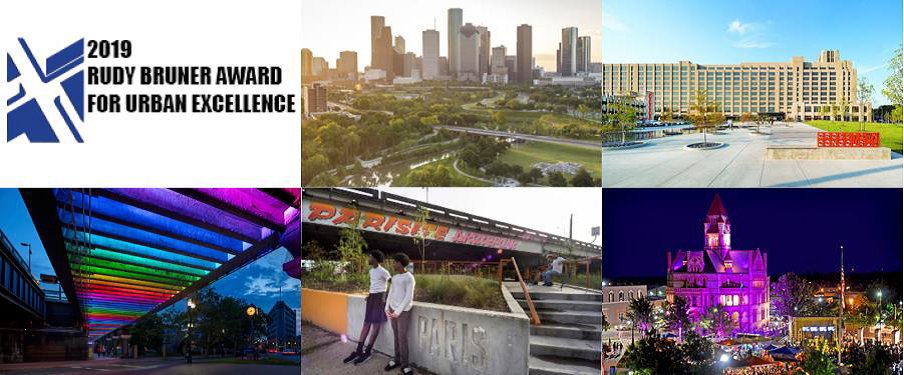 Cambridge, MA – February 13, 2019 – The Rudy Bruner Award for Urban Excellence (RBA) announces five finalists for its 2019 Gold and Silver medal prizes. The Gold Medalist will receive $50,000, and four Silver Medalists will each receive $10,000 to enhance their projects. For more than 30 years, the biennial RBA has recognized transformative places that contribute to the economic, environmental, and social vitality of American cities. Seventy-eight projects in 27 states have been honored since its founding.
The 2019 RBA finalists: Beyond Walls—Lynn, MA Grassroots public art and lighting initiative revitalizing a former industrial city. (Submitted by Beyond Walls, photo bottom left); Buffalo Bayou Park—Houston, TX Enhancement of a historic waterway into a resilient public greenspace. (Submitted by SWA Group, photo top center); Crosstown Concourse—Memphis, TN Rehabilitation of an abandoned Sears, Roebuck & Co. distribution center into a mixed-use vertical village and arts, education, and healthcare destination. (Submitted by Crosstown Arts, photo top right); Parisite Skatepark—New Orleans, LA Youth-driven DIY creation of a new public park on vacant land beneath a highway overpass. (Submitted by Administrators of the Tulane Educational Fund, photo bottom center); Sulphur Springs Downtown—Sulphur Springs, TX Renewal of a rural, small-town civic plaza and main street. (Submitted by Toole Design Group, photo bottom right)
RBA entries comprise completed projects across the contiguous United States. Finalists and medalists are chosen by a nationwide committee of urban experts through an in-depth evaluation process involving input from the award application, site visits, interviews with project participants and community members, and committee discussions. The 2019 Selection Committee: Libby Schaaf—Mayor, City of Oakland, CA; Adrian Benepe—Senior Vice President and Director of National Programs at the Trust for Public Land, New York, NY; Brenda Breaux—Executive Director for the New Orleans Redevelopment Authority (NORA), New Orleans, LA; Carol Coletta—President and CEO of the Memphis River Parks Partnership, Memphis, TN  Marc Norman—Associate Professor of Practice at the University of Michigan, Taubman School of Architecture and Urban Planning, Ann Arbor, MI; Carol Ross Barney, FAIA—Principal Designer, Ross Barney Architects, Chicago, IL Next month, RBA staff will begin site visits to each finalist project in preparation for the committee's selection of the medal winners in June.
Metropolis magazine will tell the stories of each of these sites through a series of online features. Findings and lessons learned will be relayed through detailed case studies and published in book form in 2020 as a resource for educators, practitioners, and students. Past case studies are available on the RBA website.
"The range of issues addressed in this year's submissions reflect the evolution of our understanding of placemaking in cities," says RBA Founder Simeon Bruner. "The five finalists illustrate the shifting role of design in response to the imperatives of social inclusivity and environmental resilience."
About the Rudy Bruner Award for Urban Excellence The Rudy Bruner Award for Urban Excellence (RBA) was created in 1986 by Simeon Bruner, founding principal of Bruner/Cott Architects and Planners (Cambridge, MA), and is a program of the Bruner Foundation. The RBA was named in honor of founder Simeon Bruner's late father, who established the Foundation in 1963 with his mother, Martha. The Bruner Foundation is renowned for its pioneering approach to social issues including health care, education, evaluation, and the built environment.
*Photo Credits (clockwise from left):
Buffalo Bayou Park—Jonnu Singleton
Crosstown Concourse—Chad Mellon
Sulphur Springs Downtown—Cindy Roller
Parisite Skatepark—Michael Wong
Beyond Walls—Warren Jagger