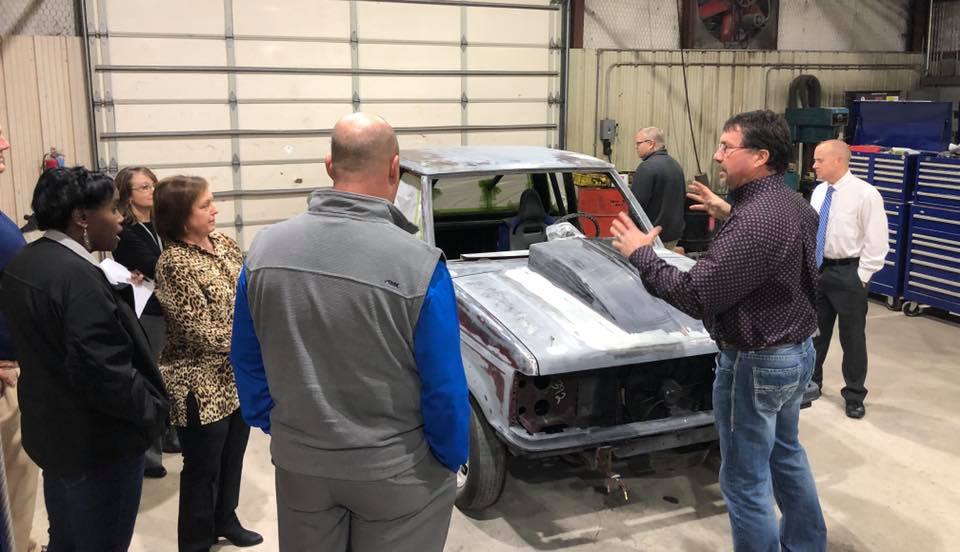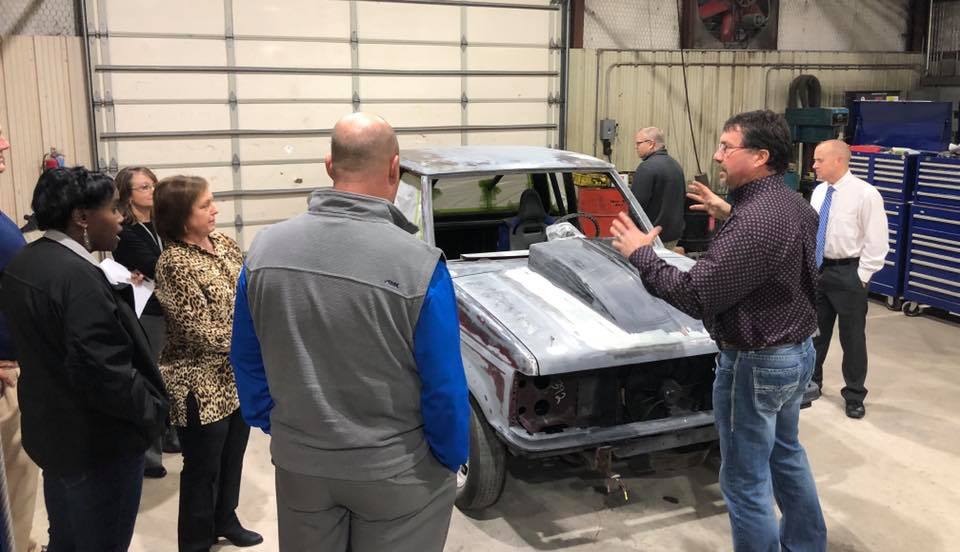 February is Career and Technology Education Month. Sulphur Spring School Board celebrated the event with a tour of the career and technology courses taught at Sulphur Springs High School as well as conducting the regular business of hearing reports and taking action on various items.
Jenny Arledge, Career and Technology Director, introduced various technology classes and introduced students who spoke regarding their related field of study. Increases in student enrollment in each area and accomplishments at regional competitions were noted. Among those areas represented: Business and Professionals of America; Family, career and Community Leaders of America; Future Farmers of America; Health Occupation programs; Skills USA which includes Culinary Arts, Robotics, and Construction; and Texas Association of Future Educators.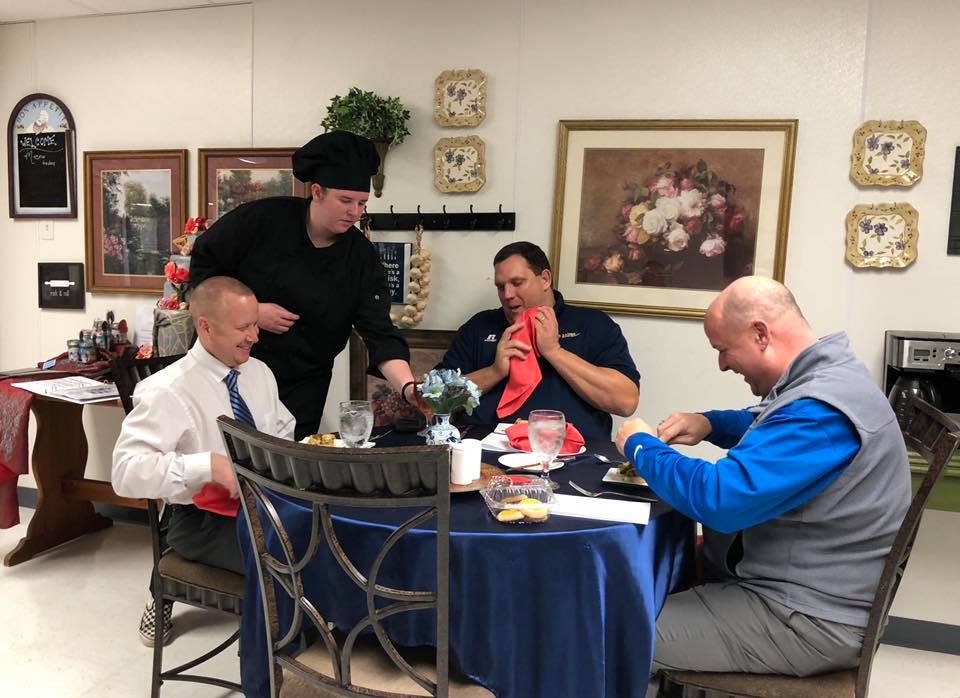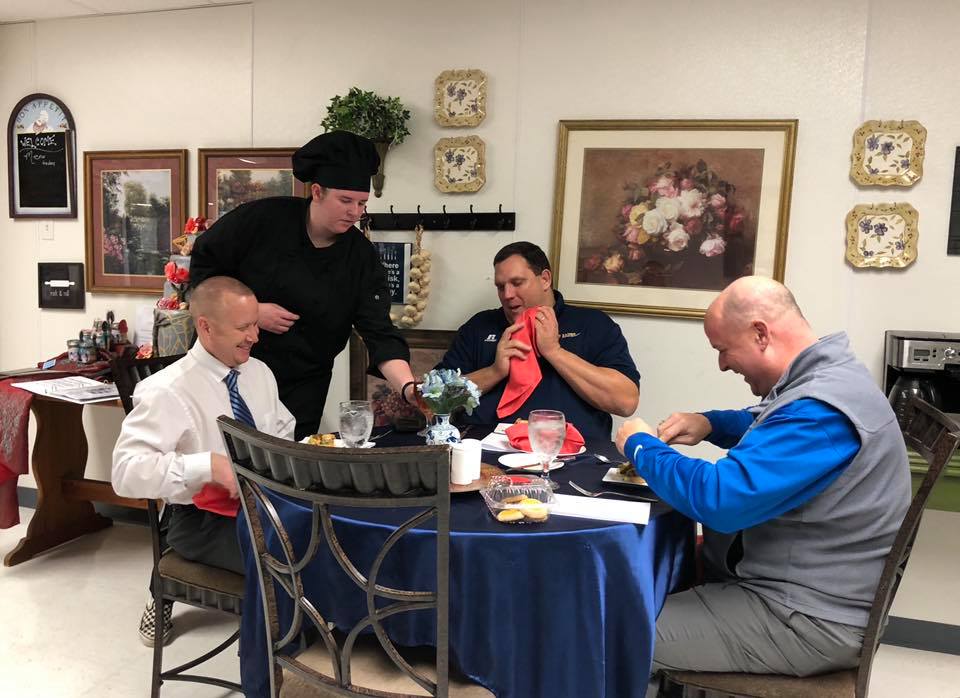 The annual report of Education Performance required by the Texas Education Code was presented to the board by Assistant Superintendent Josh Williams. The seven elements that provide the requirements for rating each school system and the results of the report can be found on the SSISD website (ssisd.net/accountability). The school district did receive a higher rating in the area of special education and is above state average in a number of areas including math. The local school drop out rate is lower than the state average and graduation rate is higher than state numbers. Other items are noted on the website report.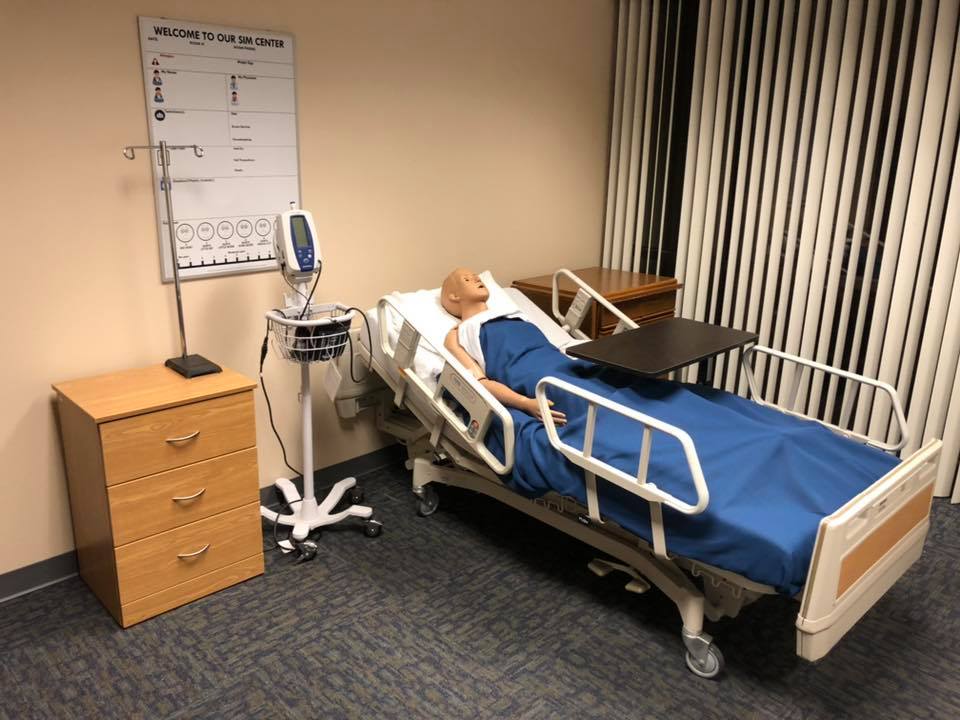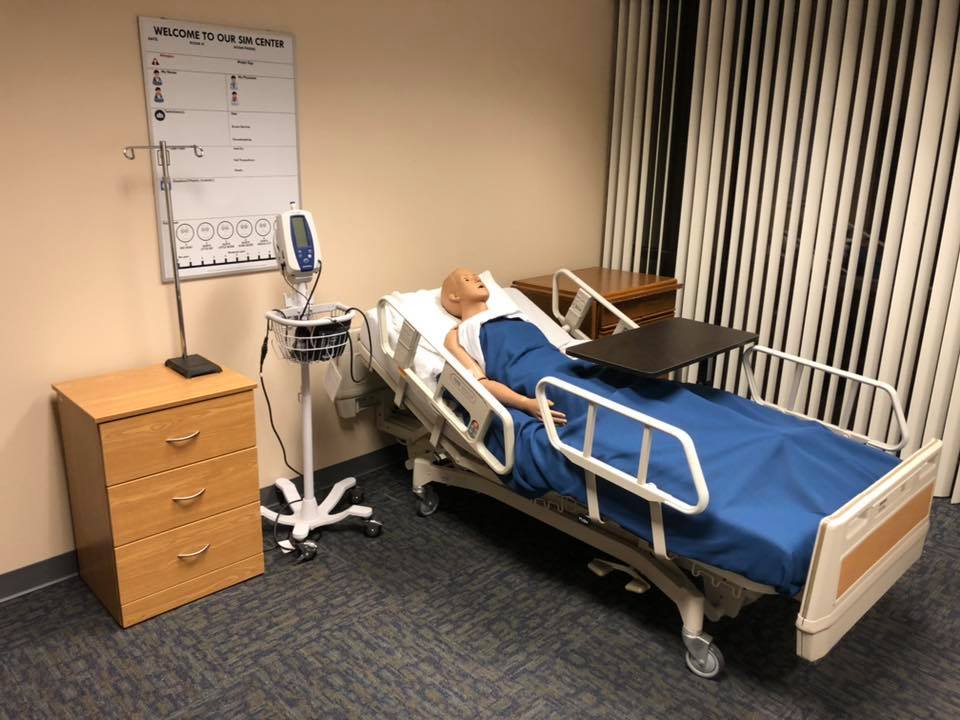 A legislative update presented by Williams noted that 41 legal policies are being reviewed and 15 new policies will be voted on by the board in their March session. The new policies will update local policy to reflect state mandates. Policies include training Freshmen students how to interact with law enforcement, the requirements for credit by examination, and grievance policies for parents when asked to leave campus.
Superintendent Michael Lamb reported on Commission of Public School Finance. Lamb stated that an optimistic attitude toward increased funding for public schools seemed to highlight the attitude of members of the commission. He stated that the commission is a good mix of legislators, school personnel, and the public sector. He observed that the biggest concern for educators is basing financial considerations for teachers based on test scores or merit pay.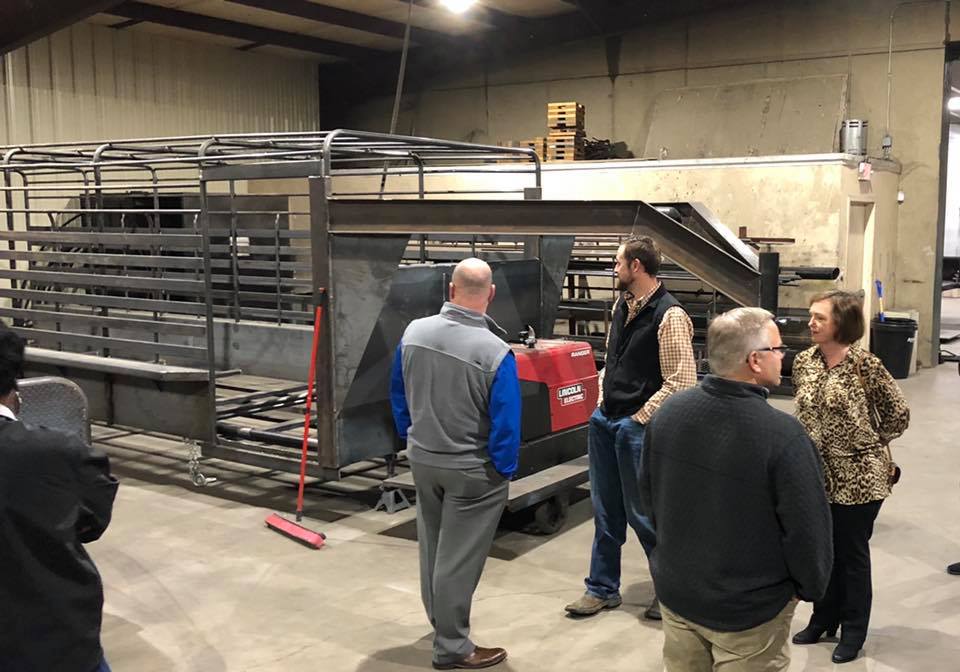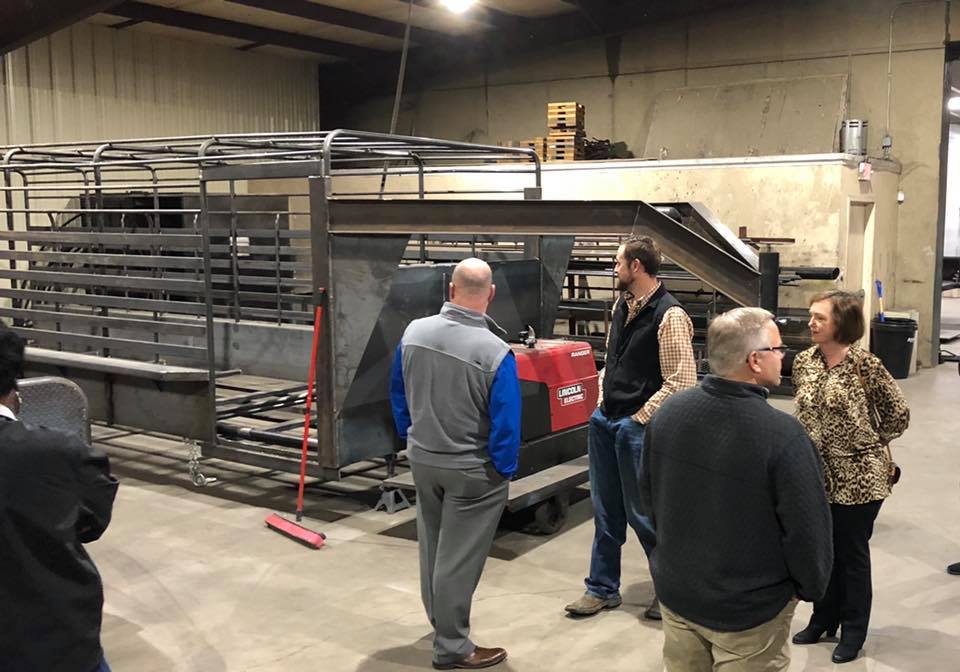 Public School Week, March 11-15, 2019. The Schedule for Open House for SSISD schools includes: Monday, March 11 5:00 p.m. – 6:30 p.m. Sulphur Springs Elementary School Grades 4 – 5 Sulphur Springs Middle School Grades 6 – 8 Tuesday, March 12 5:00 p.m. – 6:30 p.m. Bowie Primary Kindergarten (K) – Grade 3 Bush Primary Kindergarten (K) – Grade 3 Lamar Primary Kindergarten (K) – Grade 3 Travis Primary Kindergarten (K) – Grade 3 Thursday, March 14 5:00 p.m. – 6:30 p.m. Douglass ECLC Head Start 3, Head Start 4, and Pre-K Sulphur Springs High School Grades 9 – 12.
Assistant Superintendent Kristin Monk presented the Elementary Education Summary for the previous month. Activities at various schools include:
Douglass ECLC:  Latino Literacy Night saw over 100 participants · Head Start Self-Assessment team meetings have been happening and include parents, community members and district personnel · Celebrating Black History Month
Bowie Primary · Served 500+ donuts for Donuts with Dad · Celebrated 100th day of school with lots of fun activities
Bush Primary: Donuts with Dads was a success; great turnout · Beginning Jump Rope for Heart · Wrapping up all MOY testing · Kinder and 1 st grade went to the planetarium at TAMU-Commerce to view the Sun, Moon, Stars; have been learning about this in science classes · 100th day of school fun counting and creating to 100 · Growing readers; mastering Bubble Gum Words and moving up reading levels · Lots of teaching and learning
Lamar Primary: First Grade has been prepping for our PTO Program, Bugs. · Second grade has begun exploring classical music through the musical fairy tale "Peter and the Wolf" · Black History is observed each morning during morning announcements and carries over with activities in the classrooms · This year instead of Muffins with Mom or Donuts with Dad, we are having "Pastries with Parents". Each year some children are sad because they didn't have a mom or dad come eat with them. Having Pastries with Parents will open the door for either or both parents/ guardians to come and enjoy this time with their children · Preparing for an educational night with our families as we have our Math and Literacy Night on Feb. 19th. What a fun night of learning we are planning! · Finalists are preparing for UIL. · Read Across America during Dr. Seuss Week. (Week of Feb. 25th)
Travis Primary · Celebrated 100th Day of School–We are 100 days smarter! Kinder held a fashion show for their 100- day shirts, students had to use 100 items on them somehow. Very creative group! · Looking forward to UIL meet next Friday · Excited to see reading levels moving up in all grade levels · Teachers are conducting mid-year parent conferences · Planning for Family Math Night February 19th
Sulphur Springs Elementary School · We just completed the 5th grade STAAR Math and Reading Simulation – When comparing the 4th grade STAAR to the 5th grade simulation for each child, the 5th grade simulation shows growth in approaches, meets and masters in both grade levels!! · Student Council is selling Valentine Candy Grams and is having great success. Kids are in charge of selling and they love it. · KLTV Meteorologist will be presenting to both grade levels on Monday, February 11. · Valentine Parties – Feb. 14 · UIL – Feb. 15 – lots of practice sessions before and after school.
Williams presented the Secondary Education summary including:
Sulphur Springs High School  Girls Basketball, 3 rd Place Finish in District; Boys Basketball, Back-to-Back DISTRICT CHAMPIONS, 1 st Round Playoff Game February 19th (Tentative); Boys and Girls Soccer – District Begins; Softball and Baseball – Scrimmages Have Begun; Boys and Girls Golf – Tournaments Have Begun; Band – Hosted Regional Contest at SSFBC; Choir – Area Auditions; Blue Blazes – Drill Clinic and Spring Show Preparation; UIL Academics o Continue to Participate Successfully in Practice Meets – Lindale, Mount Pleasant, Hallsville, SSHS Team WON the Mount Pleasant Meet, SSHS to Host Invitational – February 23; FCCLA – Attended Competition in Waco; Assessment o TSI administered on SSHS Campus, SAT and ACT Administered
Sulphur Springs Middle School: Girls Basketball – District Co-Champions; Powerlifting – Every Lifter Placed at Last Meet; UIL – 2nd Place Sweepstakes at District Meet; Science Fair at Region 8, 6 Groups Attended, 3 Groups Earned 1st, 2nd, and 3rd Place Overall; Family History Night – Coming in 2 Weeks, "Are You Smarter than a Middle Schooler?"
Austin Academic Center Program Overview: Discipline Setting 16 SEARCH / Reach 28 AAC has recently expanded its computer labs to accommodate growing numbers of at-risk students in need of credit recovery / graduation intervention; Graduation Watch for 2018 – 2019: AAC is anticipating 6 new graduates within the next month.
Personnel changes include:
Retirement Notices
Patricia Fields Music Teacher Barbara Bush Primary
Karen McCormack Librarian Middle School
Gene McKelroy Science Teacher Middle School
Gwen Panter ELAR/SpEd Teacher Middle School
Resignations
Lisa Wax Science Teacher Middle School
Melissa Evart Ag Science Teacher High School
Mary Jenkins Counselor High School
Personnel Change New Assignment/Campus Former Assignment/Campus
Misti Clark SpEd Aide/High School SpEd Aide/Douglass ECLC