Cumby FFA Chapter Members Enter Projects in the Jr. Market Show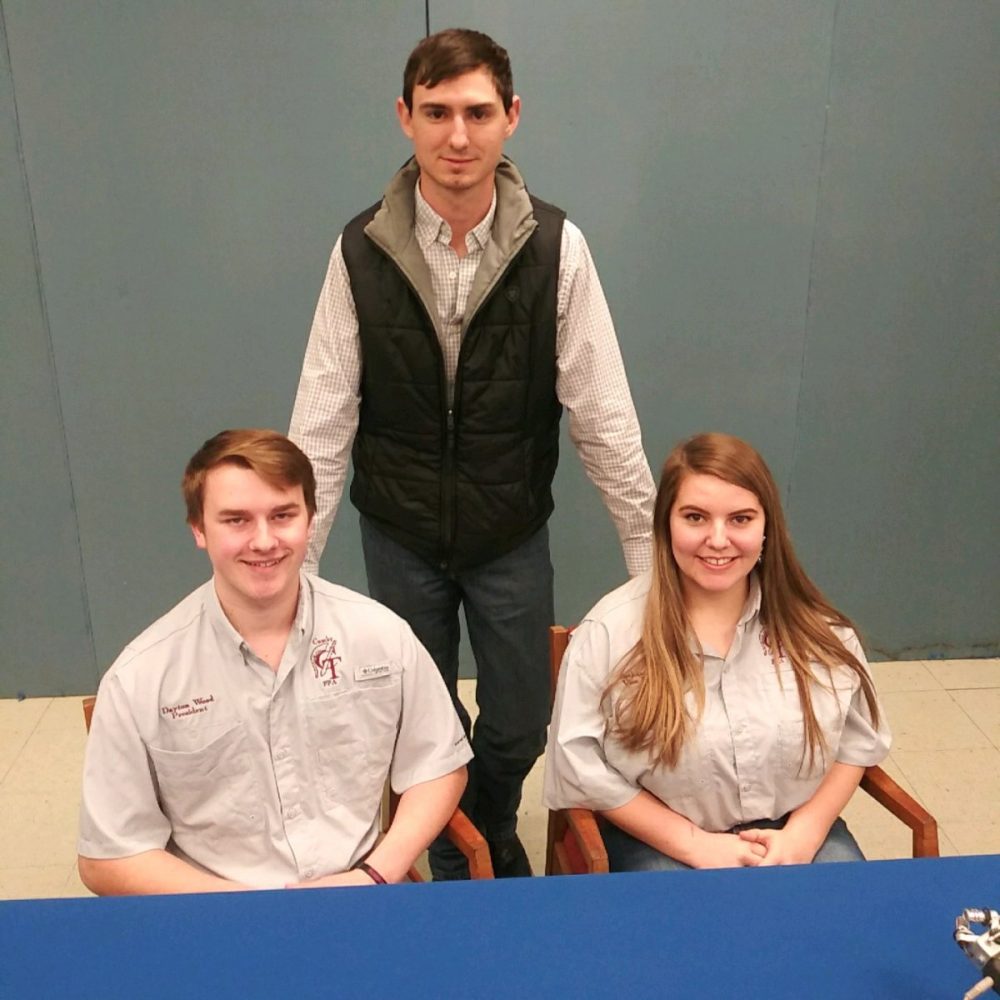 Dayton Wood has been showing livestock projects since back when he was a youth in Jr. FFA. He is now a Senior at Cumby High School and President of the Cumby FFA chapter. During high school, Dayton has earned a State title in Creed Speaking and qualified in a number of categories at the State level during his high school career. He has been accepted at Tarleton University and at Texas Tech, so he will have to make decisions soon about where he will attend college! According to Dayton, "because of my interest in the field of radio broadcast, I plan to major in Agriculture Communication. My scholarship earnings through the Netla sales have helped fund my college plans". During the Junior Market Livestock Show in Hopkins County, he will be showing a lamb project.

Cumby Senior Bethany Taylor also has a solid history in livestock showing, having started in Jr. FFA when she was in third grade. Bethany has raised almost every specie of animal which you can enter, and has decided she likes raising chickens the best. On Friday February 22, she will have put her pen of three into the judging and hopes her chickens qualify to advance to the Sale of Champions on Saturday. "It is my scholarship earnings that will have helped me be able to attend Tarleton State University in the Fall, and helped me purchase quality animals for the livestock shows each year. My scholarship earnings are also paving the way for me to achieve my goal of becoming a neo-natal nurse. What I've learned about keeping livestock healthy has given me an interest in a career in the medical field" stated Bethany during a KSST interview.
Ag Instructor Robert Cowden gets deeply involved with his students especially during the county show. This week, he has been clipping and trimming most of the students' livestock projects at their home barns. He will also help transport entries to the Civic Center on the day they are entered in the show. "I can't expect every family to be able to take off work and haul the animals to me, so I go to them. There's lots of work to do during the week of the County show, but I was helped back when I got started showing, and now I get to help these youth get themselves in a better position to succeed. In FFA, they are learning things they might use in real life, including the students who choose not to attend college after high school". Mr. Cowden invites everyone to display their interest in the youth by viewing their livestock projects, and by attending the Sale of Champions on Saturday February 23 at 1pm in the arena of the Hopkins County Civic Center. Admission is free.