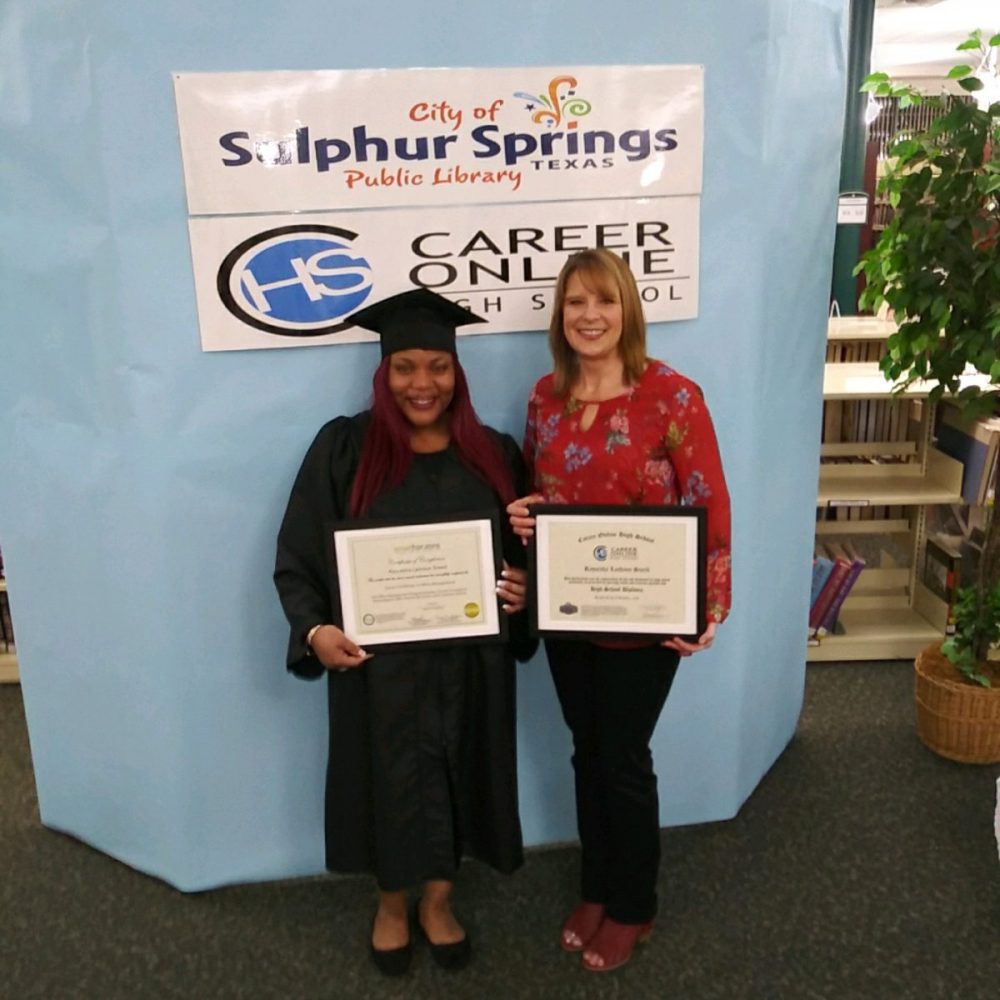 Raquesha Lashaun Sneed of Sulphur Springs, along with another student who chose to remain anonymous, were the first graduates in the Career Online High School Program offered through Sulphur Springs Public Library. A group of more than 25 persons were present to attend the ceremony.

Following the Processional, the students were seated and welcomed by Librarian Hope Cain. Musical entertainment was provided by Kenya and Charles Chaffer of Chaffers Place Arts and Academy, and by members of the youth of Colorblind Ministries. Hope Cain explained how the Career Online High School program was adopted by the library, one of the first six libraries in the state of Texas to offer adults an opportunity to earn an accredited high school diploma through this program. Sulphur Springs is the smallest community to offer it, and is one of 144 libraries in 17 states across the nation. Not a replacement for GED testing, the program allows students to complete all the coursework they missed in high school and receive a career certificate along with a resume, cover letter and other tools to start or advance their career. Career Online High School offers tutoring until mastery for all subjects and takes up to 18 months to complete.
Blake Moore, a student at Texas A and M University in Commerce, gave the keynote address. Born and raised in Sulphur Springs, Moore related how he dropped out of high school, overcame his feelings of failure and pressed on to obtain a GED from PJC through classes at CANHelp. He is now a full-time student pursuing a major in Psychology and Social Work, is active in honor and leadership student organizations, and has a new outlook on education. Moore congratulated the graduates on their perseverance and success. At that time, the diplomas were presented, tassels turned and applause received from the audience. Raquesha Sneed presented a song of thanks to those in attendance, and the graduates exited their graduation ceremony.
To find out more about Career Online High School offered through Sulphur Springs Public Library, phone Hope Cain at 903-885-4926.