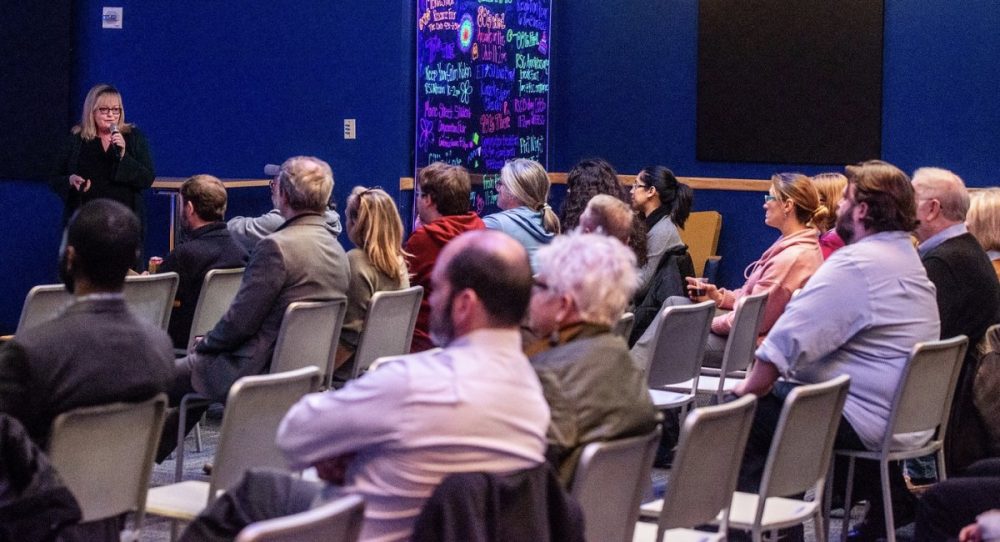 COMMERCE, TX— The Office of Sponsored Programs at A&M-Commerce is hosting Leo Talks during Spring 2019.  The lectures are "TED-like" talks that last about 20 minutes and feature presentations from two A&M-Commerce professors per event. 
"The goal of the series is to bring our faculty, staff, students and community together to share ideas and to get to know each other in a relaxed setting," said Dr. Matt Wood, vice provost for research and dean of the Graduate School.
Each lecture will take place on the fourth Thursday of the month from 7-9 p.m. in The Club of the Rayburn Student Center at A&M-Commerce.
Upcoming lectures include:
February 28 – Vaughn Wascovich, professor of art, will discuss "Coming to My Senses: A Few Stories about Magic, Meaning and Light." William Newton, associate professor of physics and astronomy, will present "Performing A Stellar Autopsy: Listening to The Innards of Colliding Stars in the New Era of Gravitational Wave Astronomy."
March 28 – Lacy Krueger, associate professor of psychology, will discuss "Effective Learning Strategies: Studying Smarter, Not Harder." Vipa Bernhardt, assistant professor of health and human performance, will present "Underwater Hockey: The Ultimate High-Intensity Interval Training."
April 25 – William Wadley, professor of art, will discuss "A Personal Recollection of the Cave at Lascaux." Kelly Reyna, assistant professor of wildlife management, will present "Saving the Nation One Quail at a Time."
Faculty, staff, students and community members from surrounding areas are encouraged to attend the lectures. Wood promises that the speakers will entertain and inspire audience members to think and talk with each other.
After January's lecture, Dr. Dale Funderburk, professor of economics and finance, noted, "This was a fun event and the kind of thing that a university should do. These events should engage not only the university community but also Commerce and the surrounding communities."
About Texas A&M University-Commerce: A&M-COMMERCE serves rural and metropolitan Northeast Texas with distinction, consistently delivering on a promise that our founder, Professor William Leonidas Mayo, made more than a century ago: "No industrious, ambitious youth shall be denied an education if I can prevent it." Since our university's humble beginnings, the mission to provide a high-quality, personal, accessible and affordable educational experience for a diverse community of learners remains unchanged.
Programs are delivered on-site at the Commerce campus as well as in Corsicana, Dallas, McKinney, Frisco and Mesquite. Many courses are also available online. Students may choose from more than 135 degree programs at the bachelor's, master's and doctoral levels. A vibrant student life experience includes 14 NCAA Division II athletic teams, a thriving Greek system and more than 120 student organizations.