By Jan Vaughn

The Tira City Council will have a called meeting on Monday, January 28, 2019, at 6:00 p.m., to discuss the water damage and needed repairs at the Community Center. Also on the agenda will be a discussion about property insurance. The public is always welcome and encouraged to attend.
Evelyn Horne went to the Ft. Worth Stock Show and the stockyards this past weekend, with a friend of hers from Navasota. They attended the rodeo, saw some exhibits, did some shopping, and "enjoyed fabulous steaks at H3 Ranch restaurant". She adds, "…and yes, freezing cold, but had fun."
Yvonne Weir recently returned from a trip to South Africa with Destri, Eben and Nico, her daughter, son-in-law, and grandson. She reports, "We arrived after a 24-hour flight, which was interrupted by a layover in London. I was told to stay awake, so I wouldn't be jet lagged but I kept falling asleep during conversations. We visited Eben's sister and family in Cape Town and
his parents in Agulhas.
In Cape Town, we went to the beach and Kirstenbosch botanical gardens.
We also went to the water front and shopped. On the way to Agulhas we stopped near a shipwreck site called Birkenhead. This was the place that the "women and children first" tradition when a ship sank originated. Four hundred plus men died, but many women and children survived.
We ate at Bientang cave. The food was wonderful and it was next to the ocean, but the steep rock steps were killers. We rented a house by the sea in Agulhas. It was lovely, but the beach was very rocky. There is a monument there at the lowest point in South Africa and it is where the Indian Ocean and the Pacific Ocean meet. There is a lighthouse there that is fully
operational.
During our drives we saw African deer and wild ostrich. Eben's parents cooked for us. They cook lamb and sausage over a wood fire, which is in a brick oven. It is the way the Afrikaners have prepared their food for centuries. After staying there three days we headed to Franschoek, which is a winery area. Eben's parents stayed with us in a lovely home.
We went on a winery tram and saw beautiful country and stopped at 5 or 6 wine tastings. Some were good, others not so much. It is summer there, so the flowers were lovely. One of the flowers, called the Proteus, is found naturally only in the Cape Town area.
After 3 days there I rode with Eben's parents back to Cape Town and we went to a butterfly preserve. There were many other types of birds, reptiles, etc. there, too. The Flame Butterflies were the most prominent. The next day we toured around Cape Town. The wind was high and the waves were, also. Table Rock was closed due to clouds. We shopped at Simon Town.
We rode the ferry to Robbene Island, and then rode on a bus around the island and toured the prison where Nelson Mandela spent 17 years. The tours were led by former political prisoners and their stories were compelling. We saw a family of penguins and a springbok on the island. The day before we left Table Rock was open, so we rode the cable car to the top. It was beautiful, with 360-degree views of the ocean, Cape Town and
mountains, etc.
All in all, it was the trip of a lifetime and I met very wonderful people. I was slower than the kids, but they were very gracious to help me."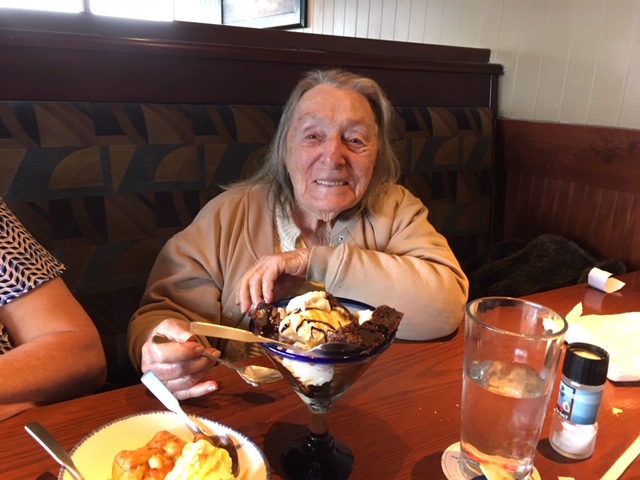 Chip and I picked up his mother, Grace, on Saturday and we met Linda Ellen, Chip's sister, in Greenville for lunch at Red Lobster. We were celebrating Grace's 98th birthday, which was on Friday, January 18th . Grace rode back with Linda Ellen, who was spending the weekend with her. They joined Chip, Tiffany, and me, at our house, for lunch on Sunday. Jaidyn was with Malcolm and Kenden was with a friend.
I always need and appreciate input from my friends to help keep me informed of news in our community. If you have any news pertaining to Tira residents, past or present, please contact me, Jan Vaughn, at 903-945-2190 or 903-438-6688 or [email protected] .