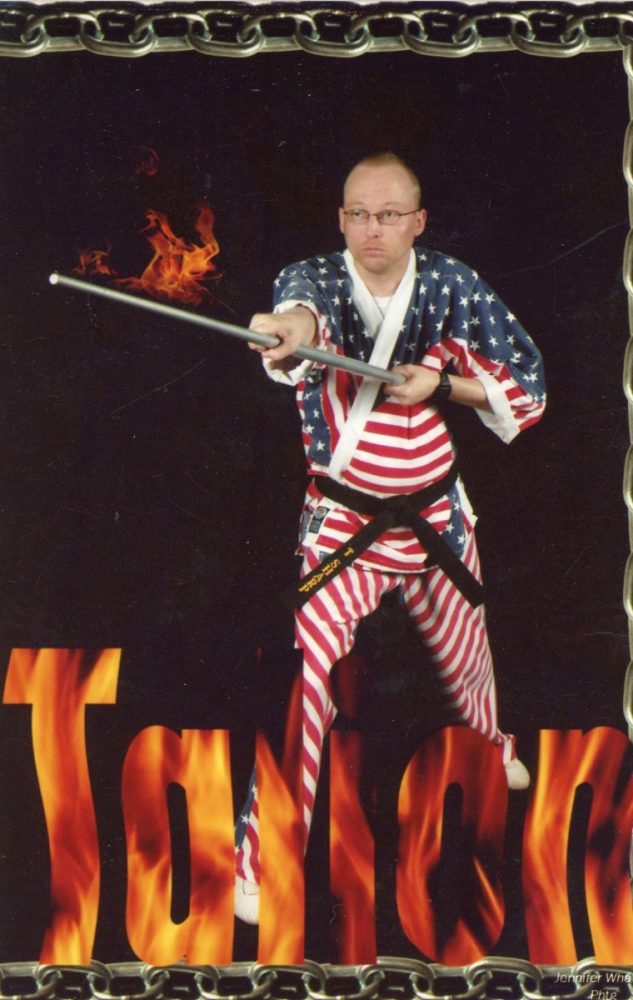 On April 21, 1971, Lee Talion Sharp entered the world at 3 lbs, 15 oz fighting for his life from a rare disease that affected his body from birth, but that did not stop him from living his life to the fullest, and impacting the lives of everyone who met him. When Talion put his mind to something, he did it. He graduated from Winnsboro High School, went on to get his Associates degree in Criminal Justice, and landed his dream job in law enforcement. Due to complications from Type 1 diabetes, cardiovascular, and gastrointestinal issues, he retired from his job. So the next thing we knew, Tal had gone to see his doctor to get permission to start karate at Lawson's Kenpo Karate Studio in Winnsboro. What a door that opened! "Mom, I don't care how long it takes, I'm going to earn a black belt" he said. Again, the warrior in Talion prevailed; he ended up earning a 4th degree black belt, won 5 state championships, continued to teach karate to
young students, the Tiny Tigers, and was an assistant instructor at the studio.

In 2006 Tal began the fight of his life…he was hospitalized with End Stage Renal Disease, total kidney failure. He started treatments, dialysis, trial drug treatments, battled a stroke, rehabilitations, tests, all in preparation for the news in February 2010 he would receive a new kidney. Once again, Tal the warrior triumphed, with the ability to teach others how to live, love,
experience, accomplish, be kind, inspirational, a teacher, a hero, all with honor and dignity, grace and great bravery.

Talion lost his final battle January 4, 2019 at the age of 47. God did not promise days without pain, laughter without sorrow, sun without rain, but He did promise strength for the day, comfort for the tears, and the light for the way. Well done, my good and faithful one.

Talion was the son of Carolyn Pinson Carr and Billy Sharp. He was a member of Sharon Baptist Church, a Fourth Degree Black Belt, a lover of music, and his 1964 bumblebee yellow El Camino.

Talion was preceded in death by his father, Billy Merle Sharp and aunts Dixie Todd and Glennis Herren. 

He is survived by his mother, Carolyn Carr and husband Paul David Carr of Winnsboro; brothers Chad Smith and wife, Krista of Winnsboro and Clint Smith of Tyler; uncles Cecil Pinson and wife,Jeanette of White Oak, Mickey Pinson and wife, Beverly of Winnsboro, aunts Kathy Swann and husband, Charles of Quitman, Debra Miears of Winnsboro and Aunt Jackie of Quitman ,and a large group of cousins, nieces, nephews, and extended family and friends.
Visitation will be held on Monday, January 7th, 2019 from 6:00 pm to 8:00 pm at Beaty Funeral Home-Winnsboro 816 W. Broadway Winnsboro, TX 75494. Funeral Services will be held on Tuesday, January 8th, 2019 at Beaty Funeral Home-Winnsboro at 10:00 am, Rev. Perry Shirley conducting, interment will follow at Little Hope Cemetery in Winnsboro, with Lawson Karate Studio Black Belts serving as pallbearers.
In lieu of flowers donations can be made to Lawson's Karate Studio Winnsboro Texas for a scholarship in Talion's name.