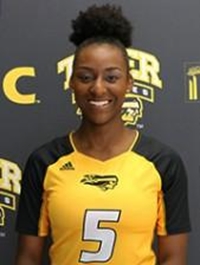 Former Lady Cats' volleyball player Sheretta "Rita" Hill will continue to play college volleyball at Stephen F. Austin University in Nacogdoches. After earning her Associates Degree at Tyler Junior College in three semesters, Hill was recruited by SFA and is enrolling this semester.
Lady Cats Volleyball Coach Justin Maness said both TJC and SFA are really, really good programs. He said Stephen F. Austin has an amazing tradition in volleyball and gets a lot of backing. Coach Maness said he looks forward to seeing Hill grow at that level. He said there was a lot of buzz about Hill's player at TJC. Coach Maness said Tyler Junior College coaches realized that Hill had a high ceiling when she played for the Lady Cats and they were able to hone her skills. He said Rita was hard to stop as a right side hitter for TJC.
Coach Maness said he took his Lady Cats' team to see Hill play as Tyler Junior College faced Trinity Valley. He said Hill entered the game and preceded to have four kills in a row. Coach Maness said TJC and Trinity Valley are a part of the best JUCO conference in the nation, hands down. He said since Hill was able to compete at that JUCO level, she would do very well at SFA.