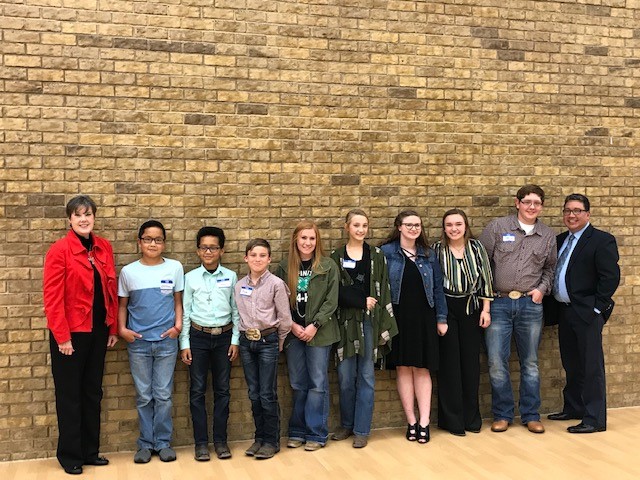 Several of my previous columns featured major programs that are offered through Texas A&M AgriLife Extension in Hopkins County.  One of the major branches under the large umbrella of Extension is the 4-H & Youth program, so I wanted to focus on some of the accomplishments of our youth.
Hopkins County boasts nearly 150 4-H members. The top 15 projects in Hopkins County are: Horticulture, Dairy, Foods & Nutrition, Shooting Sports, Poultry, Beef, STEM, Photography, Goats, Swine, Robotics, Fashion & Interior Design, Community Service, Veterinary Science, Public Speaking. Many people mistakenly think 4-H is just for showing animals. As you can see from the list of popular projects, animal projects are popular, but youth do NOT have to own an animal.
Our Extension staff encourages youth to explore many projects. I assist youth who want to focus on foods & nutrition, clothing & textiles, public speaking, educational presentations, and other similar projects. My co-worker assists youth with animal projects, shooting sports, and vet science.
We offer many county-wide 4-H events. These include: Sewing Fun Day; Foods Fun Day; Junior Market Show; Dairy Show; Christmas Party; community service projects; National 4-H Week; One Day 4-H; record book training; scholarship training; 4-H Project Tour Day; and 4-H Achievement Banquet.
4-H also offers Competitive events. Hopkins County 4-H'ers participated in County, District and State 4-H Roundup (educational presentations, public speaking, food show, fashion show, photography, Share-the-Fun); Houston Livestock Show/Rodeo Public Speaking Contest; Fort Worth Livestock Show Public Speaking Contest; Livestock judging; District and State Record Book competitions.
A highlight of the year is the Multi-County 4-H Camp. Our staff serves on the steering committee that helps plan, implement, and evaluate the camp. This 3-day, 2 night camp is held in Lone Star, TX, and features workshops, group activities, swimming pool, canoeing, paddle boats, the "Blob", gift shop, snack shop, ping pong, tetherball, and much more. 4-H'ers have the opportunity to meet kids from other counties, while developing leadership and teamwork. Hopkins County typically takes the largest group.
The County 4-H Council meets 6 times each year to help set dates and plan major county events. The Council is made up of youth representatives from each of the 4-H clubs in Hopkins County.
Texas 4-H Opportunities Scholarships are awarded each year to deserving seniors who are members of 4-H. Hopkins County has had four recipients in recent years: Travis Hicks, Sara Forsman, Aleigh Bessonett, and Cade Goldsmith. Their combined scholarships equaled over $40,000. Our local 4-H program also provides the Janie Crump Memorial 4-H Scholarship to high school seniors who are members of 4-H.
Our recent Extension Leadership Banquet featured eight of our 4-H members as guest speakers, each covering a different topic: Zia Miller, Infinity4-H Club, "4-H Family Legacy"; Geoffrey Stewart, Dike 4-H Club, Leadership, Shooting Sports; Jorja Bessonett, Miller Grove 4-H Club, Gold Star, Family Life Project, 4-H Record Books; Diego Childs, Infinity 4-H Club, Community Service and National 4-H Week; Rylie Carroll, Infinity 4-H Club, Public Speaking, 4-H Project Show; Christian Ebel, Infinity and Dike 4-H, Video production and public speaking; Braden Lennon, Infinity 4-H, Dairy project and judging; Savannah Allen, Infinity 4-H, Ambassador program, District Office, State 4-H Roundup contests. As you can see, 4-H provides a vast range of opportunities.
The 4-H year is September 1 thru August 31. For more information about this and other Extension programs, please call 903-885-3443.
A New Year, A New Start
Happy New Year! When we contemplate a new year, many thoughts cross our minds. Health, finances, family, work, friendships, household issues – they are all there, mingled together in our minds. A new year means a fresh start, so use the opportunity to make a difference!
A new training for interested Master Wellness Volunteers will begin on Tuesday, January 22. We will be hosting the first and last sessions in person at the Extension Office, 1200 W. Houston, Sulphur Springs, from 9:00 a.m. to approximately 4:00. Other sessions can be completed on-line at your own leisure. Please contact my office at 903-885-3443 for more information, or go to: https://agrilife.org/mwv.
Closing Thought
The little things in life help make the big things succeed – my personal reflections
Recipe of the week:
Shoo Fly Pie
Ingredients:
½ teaspoon baking soda
¾ cup boiling water
1 egg yolk, beaten
½ cup molasses
¾ cup flour
1/8 teaspoon ginger
½ teaspoon cinnamon
½ cup brown sugar
1/8 teaspoon ground cloves
¼ teaspoon salt
2 tablespoons butter
1 pie crust
Directions:
Dissolve soda in boiling water. Add egg and molasses. Set aside.
Stir dry ingredients together, mix well. Cut in butter until mixture looks like coarse crumbs.
Pour molasses mixture into pie shell.
Springs crumbs evenly over the top – don't stir.
Bake at 425ᵒF for 15 minutes. Reduce heat to 350ᵒ and bake 20 minutes longer.
Cool and serve.