SULPHURSPRINGS, TX — Grant Mohesky, of Sulphur Springs, has earned the BoyScouts of America's highest advancement award, the Eagle Scout Award.
Mohesky was recognized in a formal Court of Honor Ceremony on November 17,2018. Tom Sellers, served as Master of Ceremonies and presented Grant with his Eagle Scout Charge.
A member of Circle Ten Council, Troop 69, Mohesky is one of only approximately 4 percent of all Boy Scouts who attain the Eagle rank, according to Scoutmaster Ron Flecker.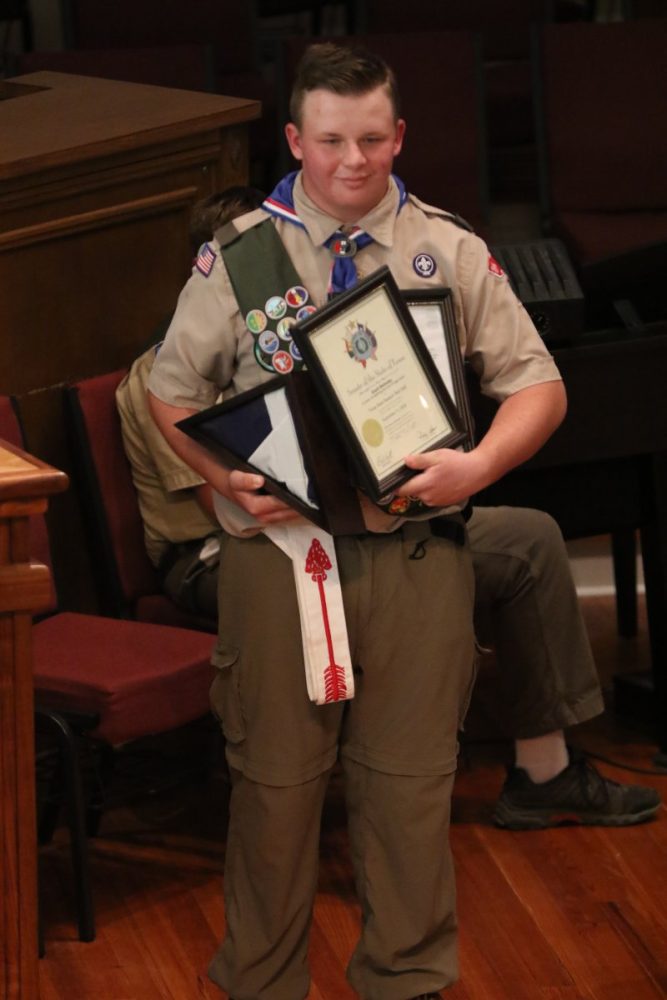 Each candidate must earn 21 merit badges and successfully complete a community, church, or synagogue-related service project to earn his Eagle; Mohesky chose to build and install a sign in front of the Sulphur Springs Animal Shelter on Highway 19. Grant strongly believes every animal deserves a loving family and hopes the sign helps the shelter increase their adoptions.
"The new sign has brought more attention to the shelter, increasing foot traffic and adoptions", said Cathy Singleton, volunteer coordinator for the city shelter.
Although Mohesky only needed 21 merit badges to earn Eagle, he had actually earned 36 by his board of review in September. That total qualified him for a Bronze, Gold and Silver Eagle Palms. As rare as the Eagle Rank is, Eagle Palms are much more rare. Only one in ten of Eagle Scouts earn an Eagle Palm.
Senator Bob Hall sent congratulations and Eagle Scout Mohesky was presented with a flag. The flag had flown over the state capital in Austin on September 11, 2018.
Mohesky is a sophomore at Sulphur Springs High School and is a member of the varsity golf team. He is the son of Michael and Neva Mohesky.
Circle Ten Council, BSA, serves nearly 43,000 youth in 24 counties in the northeast Texas and southeast Oklahoma area through the dedicated service and leadership of nearly 20,000 adult volunteers. Scouting is completely funded by the generosity of our local communities.
The Boy Scouts of America is one of the nation's largest and most prominent values-based youth development organizations. The BSA provides a program for young people that builds character, trains them in the responsibilities of participating citizenship and develops personal fitness.
For over a century, the BSA has helped build the future leaders of this country by combining educational activities and lifelong values with fun. The Boy Scouts of America believes — and, through over a century of experience, knows — that helping youth is a key to building a more conscientious, responsible and productive society.