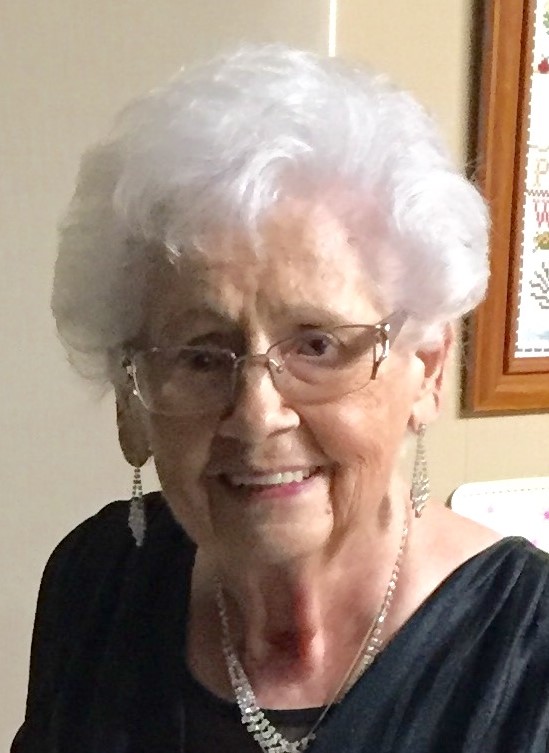 Funeral services for Clydene Fielden, age 87, of Sulphur Bluff will be held Tuesday,December 18, 2018 at 10:00 a.m. at West Oaks Funeral Home Chapel with Bro. Ed Dodd officiating. Interment will follow at Sulphur Bluff Cemetery with ColeFielden, Garrett Armstrong, Alex Ritchie, Dustin Fielden, Chad Bolton, and Bill Henderson serving as pallbearers. Honorary pallbearers will be James K.Bassham, Pete Wyatt, Ray Williams, Roy Herman, Jimmy Dale Fite, James Wright,John Avara, Jerry Avara, Shane Bolton, Wayne Bolton, Scott Henderson, and The Sulphur Bluff Methodist Church Congregation. Visitation will be held Monday,December 17, 2018 from 6:00 p.m. – 8:00 p.m at West Oaks Funeral Home Chapel.Mrs. Fielden passed away on Saturday, December 15, 2018 at Carriage House Manor Nursing Home.
She was born on October 8, 1931 in Hopkins County the daughter of Clyde Houston Bassham and Opal Hagler Denney Bassham. Clydene married Ben Morris Fielden and he preceded her in death. Clydene worked for the Postal Service as a Letter Carrier and she was a member of the Sulphur Bluff Methodist Church. Surviving her are her two sons, Richard Fielden and wife Rose Mary, and Fred Fielden, daughter, Marsha Cochran and husband David, sisters, Joyce Brown and husband Donald, Jimmie Avara, and Nancy Bolton and husband Michael, grandchildren, Robyn Camby, Dustin Fielden, Tory Fielden Smith, Garrett Armstrong, Cole Fielden, and Melissa Wyatt, 9 great-grandchildren and numerous extended family members.
In addition to her husband she was preceded in death by  her parents, grandson, Brent Caudle, nephew Forrest Stewart, niece BarbaraStewart, and four infant siblings.
Donations may be made to the Sulphur Bluff Methodist Church.
Arrangements are under the direction of West Oaks Funeral Home.