Now takes place on Monday, December 10th, 2018
Hangup your Tinsel, hangup your Lights, we wanna see your tree shine bright!!!
Christmas Tree Decoration Contest/Fundraiser presented by Hopkins County Ems
Christmas Tree Decorating Rules:
Decorate your Christmas tree using any color, theme and decorations, Christmas lights encouraged! There will be a business category as well as an individual category.
Tree height can be 4ft-8ft tall and must be artificial. Any color you prefer.
Decorations, Christmas tree and stand need to be provided by the individual or team and you must provide your own extension cord. Power provided on the square.
Deadline for entry forms will be Wednesday, December 5th at 5pm. Entry forms can be picked up and turned in at the Hopkins County EMS Central Station (beside the hospital). Entry forms can be delivered personally if needed.
Tree can be brought to the square pre-decorated or can be decorated on the square MONDAY, December 10Th starting at 10:00am but must be completed and ready to be judged by 4:30pm. Each tree will have a number provided to you the day of judging.
All trees will be displayed to the public for judging. Judging opens up at 5:00pm and ends at 8:30pm. There will be trophies for first place, second place and third place.
Tickets will be available the night of the judging. $1.00 buys one vote and all proceeds will be donated to the Safe-T Crisis Center to be donated to a family in need for the holidays.
All trees need to be removed the night after the judging. Also, if you would like your tree to be donated to a family in need within the community let us know at the time of your entry for arrangements to be made for delivery.
Be creative, have fun and show your Christmas spirit!
Click here for the official entry form. Any questions, please contact Tabitha Vaught or Heather Gaston
for the official entry form. Any questions, please contact Tabitha Vaught or Heather Gaston
Any questions, please contact Tabitha Vaught or Heather Gaston
[email protected] 903-446-8052
[email protected] 903-440-2883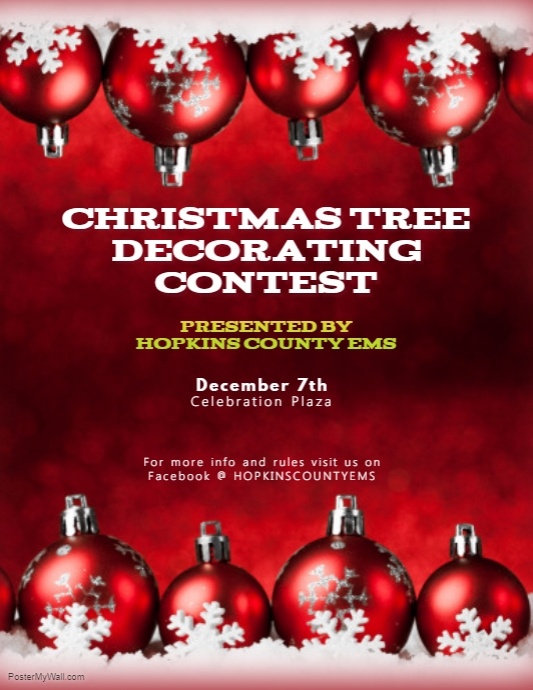 Any questions, please contact Tabitha Vaught or Heather Gaston
[email protected] 903-446-8052
[email protected] 903-440-2883