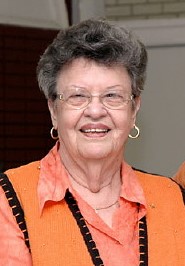 Funeral service for Tommie Grace Hart Plemons,age 90, of Sulphur Springs, will be held at 10:00 a.m., Tuesday, November 27,2018 at West Oaks Funeral Home Chapel with President Bob Williamson officiating and Wayne Cooper assisting. Interment will follow at Winterfield Cemetery with Adam Beckham, Matthew Beckham, Jonathan Beckham, David Beckham, Sam Forthman,Luke Forthman, Jack Forthman, and Eric McDowell serving as pallbearers.Honorary pallbearers will be Richard B. Plemons, John Plemons, W. Richard Plemons, and Lance Plemons. Visitation will be held from 6:00 to 8:00 p.m.,Monday, November 26, 2018 at West Oaks Funeral Home.
Tommie passed away on Thursday, November 22, 2018 in Sulphur Springs, TX. She was born on August 31,1928 in Pickton, TX, the daughter of Ollie Albert and Velma Jane Maddox Hart. She married William Henry Plemons on March 10, 1946 in Quitman, TX. He preceded her in death in 2012. Tommie was a homemaker and a member of the Church of Jesus Christ of Latter Day Saints.
In addition to her husband, she was also preceded in death by her parents.
She is survived by son, Richard Plemons of Florida, daughter, Victoria Beckham and husband David of Sulphur Springs,grandchildren, Mikki Flanigan, Katherine Earls and husband Dean, Jennifer Forthman and husband Paul, Jonathan Beckham and partner Lisa Owens, John Plemons and wife Erin, Suzanne McDowell and husband Eric, Matthew Beckham and wife Lanie, Brent Plemons and wife Jill, Adam Beckham and wife Allison, 28 great-grandchildren, and 6 great-great-grandchildren.
Arrangements are under the direction of West Oaks Funeral Home.