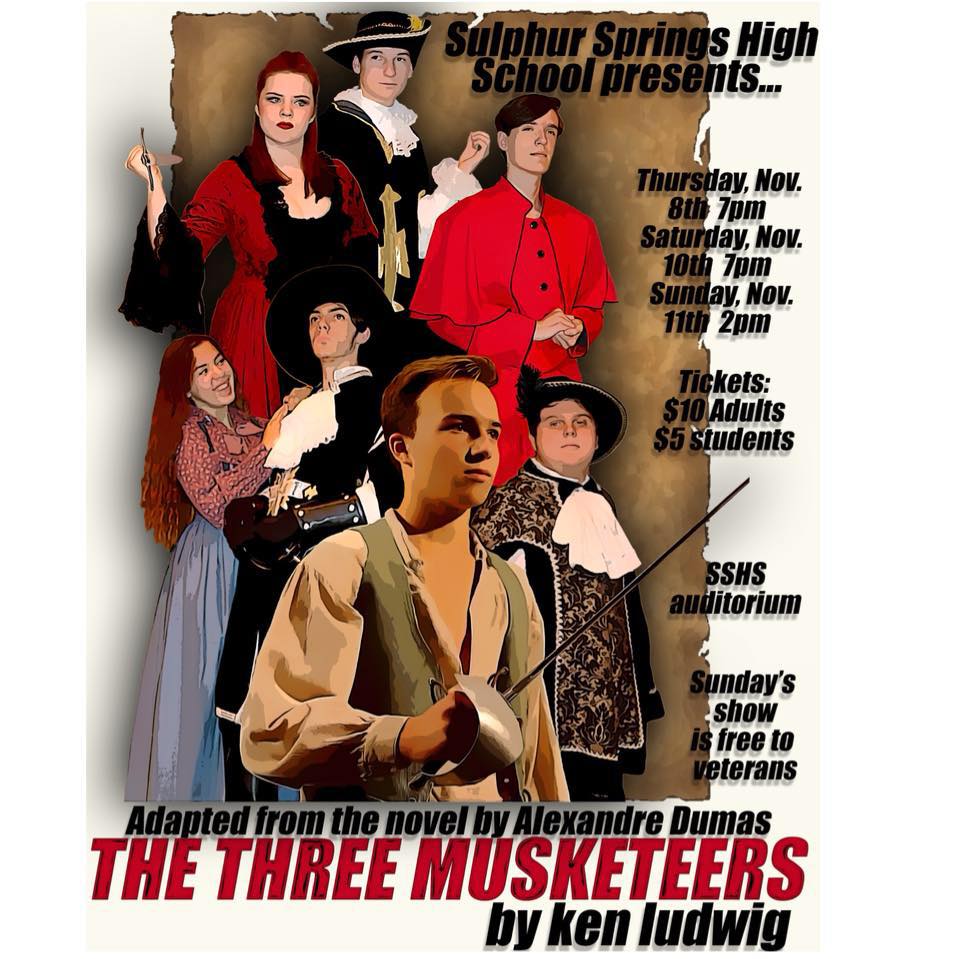 Every fall, the Sulphur Springs High School Wildcat Theatre Department puts on a fund raising production. This fall they are presenting The Three Musketeers. The play premieres Thursday (November 8) at 7 p.m. It will also be staged Saturday (November 10) at 7 p.m. and Sunday (November 11) at 2 p.m. Tickets are available from any cast and crew member or at the door for $5 for students or $10 for adults. Any veteran can get in free on Sunday, Veterans' Day.
Director of Theatre Arts Lesha Woodard explains that The Three Musketeers is a non-musical. She has decided to rotate non-musicals with musicals in the fall. Ms. Woodard says the play this year features a huge cast of kids and lots of fun. Back in September, the cast and crew got a visit from a certified swordsman who conducted training with the students teaching them how to sword fight safely.
Ms. Woodard says the play features the familiar Three Musketeers' story and the same wonderful characters. Shes says that playwright Ken Ludwig has added a bit more humor and modern language. It features a swashbuckling story of heroism, treachery, close escapes and above all, honor. The original was written by Alexandre Dumas.
Ms. Woodard says auditions took place the second week of classes and students began work right away. After quite a few graduations last school year, Ms. Woodward says this year's drama department features lots of young talent. Junior Chase Berry plays d'Artagnan. Sophomore Rorie Young plays d'Artagnan's sister Sabine. The Three Musketeers, Athos, Porthos and Aramis, are played by freshman Ben Braddy, junior Reagan Kesting and senior Johnathan Johnson. The Queen of France is played by sophomore Hannah Shultz. Cardinal Richelieu is played by senior Hagen Hunt. The infamous Countess de Winter, also known as Milady, is played by junior Rachel Bramlett. Crew members include senior Tre Ransom, senior Stage Manager Cody Queen and Assistant Technical Director Loren Carter. Ms. Woodard is directing and her Technical Director is Desi Pharis.