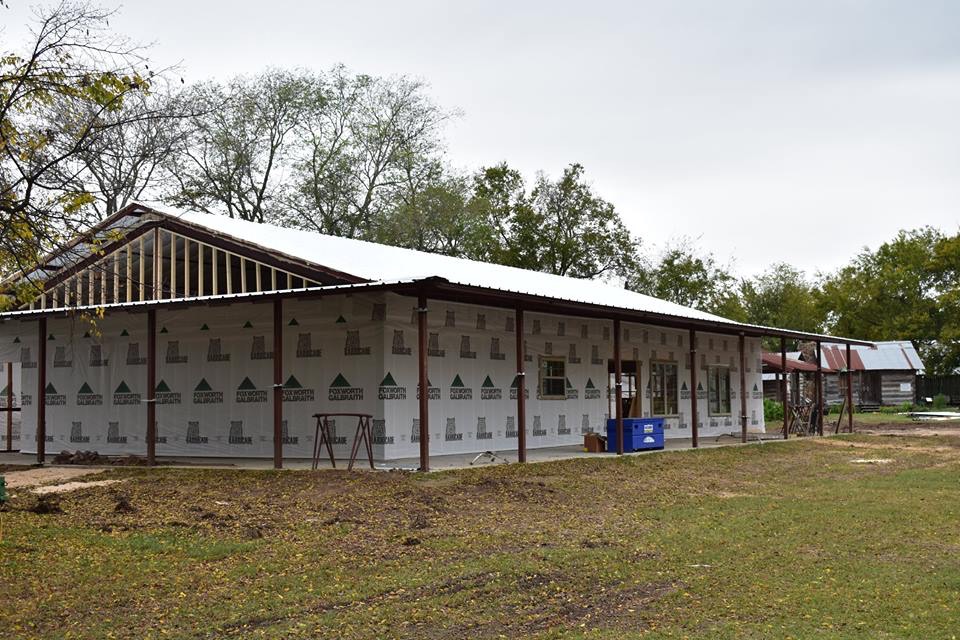 "We're in the dry now" according to Rick Wilson, one of the building consultants on the new multi-purpose construction going on inside the Hopkins County Heritage Park. Framed up in the 42′ x 39′ structure is a large open reception area which will accommodate up to 100 people, a full kitchen and two restrooms. Plans also include a spacious bride's dressing area which can be used for the many weddings held in Heritage Park through the year. High windows on the west side will admit plenty of light for daytime events, including quilting club meetings. Walls will display artwork that reflects Hopkins County history and heritage. Ten-foot-deep covered concrete porches will be poured on the West and East sides of the building where picnic or banquet tables can be placed for large group use like family reunions or company parties. The new building will be a much-needed addition to Heritage Park, increasing it's capability to better serve community needs.
Wilson is a member of the Hopkins County Historical Society as well as a volunteer in Heritage Park and Museum. "There's always something to do in the Park, and volunteer helpers are always needed. Funding is needed, too". Although a generous donation allowed the initial construction to begin, more funding is being sought for finishing and furnishing the interior. If you would like to help out, contact Rick Wilson at 903-335-2752 or the Museum number 903-885-2387. Or donations can be mailed to Hopkins County HIstorical Society, P.O. Box 1066, Sulphur Springs, Tx 75483.
And when you visit Heritage Park and Museum during "Christmas in the Park" on Saturday November 24 and Saturday December 1, 2018 you can check the building's progress. Completion is set for Spring 2019.