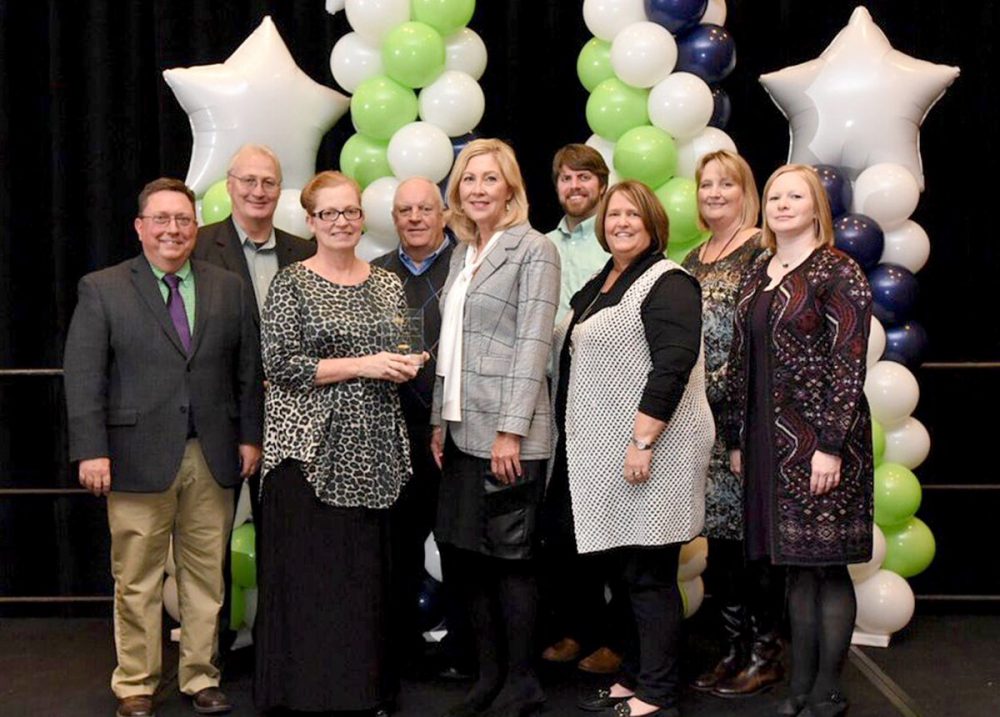 Paris Junior College was chosen to receive the Overall Exemplar Award at the 2018 Math Pathways Awards during the Texas Pathways Institute held in Dallas on Nov.14. The award was jointly announced by the Texas Association of Community Colleges (TACC), the Texas Success Center (TSC), and the Dana Center Mathematics Pathways (DCMP).
Mathematics pathways are a rapidly-growing national movement in colleges and universities to align math courses more closely to students' intended major and career interests. Research strongly indicates that misaligned and lengthy math course sequences are a leading barrier to students completing college and beginning their careers as prepared workers.
"Texas community colleges are among the vanguard in a movement to redesign the way higher education serves the needs of students," said Dr. Martha Ellis, director of higher education strategy, policy, and services at the Charles A. Dana Center at The University of Texas at Austin. "Mathematics pathways are a critical element in preparing students to obtain their career goals and empower their future economic mobility."
The Dana Center Mathematics Pathways developed a set of principles for offering courses within the math pathways model. According to these principles, math pathways-based college programs should provide:
• Multiple pathways with relevant and challenging mathematics content aligned to specific fields of study;
• Acceleration that allows students to complete a college-level math course more quickly than in the traditional developmental math sequence;
• Intentional use of strategies to help students develop skills as learners;
• Curriculum design and teaching based on proven practice.
"We believe the implementation of the four Mathematics Pathways Guiding Principles have been a significant part of our increase in our graduation rate from 19 percent in 2013 to 32 percent in 2017," said PJC President Dr. Pam Anglin."Receiving the Exemplar Award means a lot to us. Personally, I am thrilled that our faculty and support services staff are being acknowledged for their work and their determination and persistence to improve student success."
PJC's work began in 2014 when Ed McCraw, retired Vice President of Academic Studies,implemented the new Mathways initiative, moving PJC away from requiring college algebra of all students and instead aligning the required math with the appropriate field of study. After McCraw's retirement, PJC Math Division ChairMallie Hood became the initiative's champion and has continued to drive PJC's progress.
Elementary statistics and contemporary math were included as options to college algebra, depending on the program, so that mathematics content was aligned to specific fields of study.
In 2016,PJC began implementing Guided Pathways, and the math requirement was placed in the first semester of program maps, allowing students to complete a college-level math course more quickly. This fall PJC implemented the co-requisite model for all students requiring remediation with both algebra-based and non-algebra-based developmental courses.
PJC's developmental success rate has gone from 46.8 percent in 2013 to 69.2 percent in 2014. The success rate in college level math moved from 40 to 54 percent and continues to increase. Since 2014, PJC has also seen significant increases in the percentage of students completing 15 hours in a semester (51 to 65 percent) and completing 30 hours in one year (16 to 33 percent).
Othersteps PJC has taken include assigning student success coaches to students and requiring meetings for advising to assure the program map is followed and noun necessary course is taken. PJC has also focused on helping students develop skills as learners. Learning Framework is required of all students and they are encouraged to take it in their first twelve hours at the college.
A Math Center was included in the construction of a new Math and Science Building, and it is staffed with student tutors and math faculty. The Math Division has the ability to debate and critique their own practices and data is used routinely in assessment to determine where practices need to be modified to improve student success.
Fourother Texas community colleges were selected as 2018 Math Pathways Exemplars for achieving one of the four principles: Grayson College, San Jacinto College,McLennan Community College, and College of the Mainland.