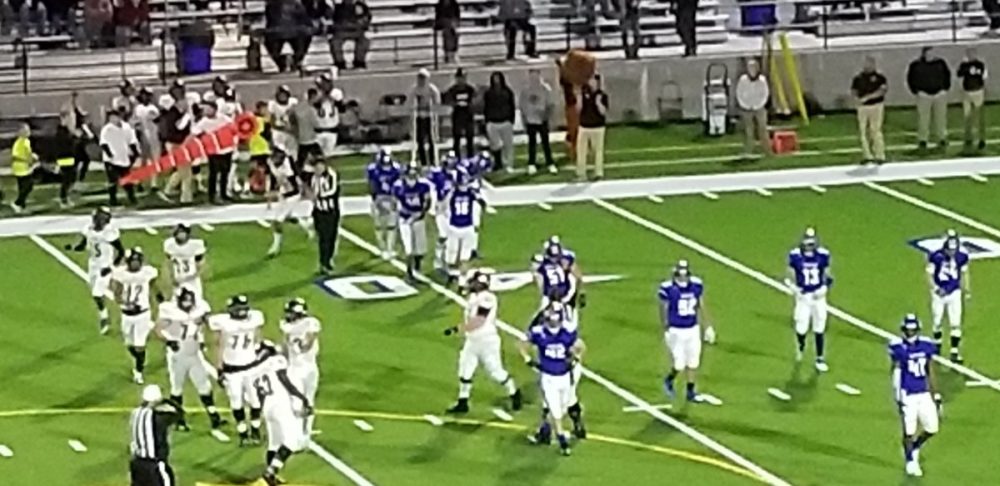 The Sulphur Springs Wildcats tried desperately to dig themselves out of a 17-point halftime deficit Friday night against the Kaufman Lions, unfortunately they came up a couple of shovelfuls short.
The Wildcats had a difficult time getting out of their own way offensively in the first half of the District 8-5A game at Gerald Prim Stadium, and despite putting up 21 points in the second half, fell to Kaufman 30-21.
With the loss, the Wildcats drop into a second-place tie in district at 5-2 with Kaufman, who now holds the tie-breaker advantage.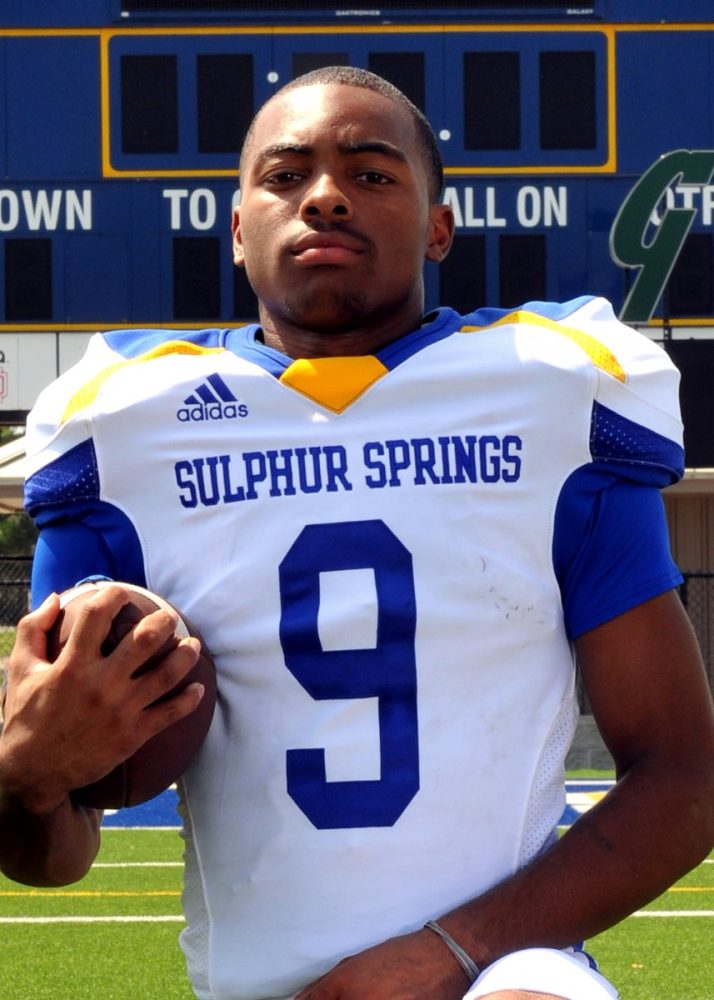 Despite the final score, the Wildcats made a game of it in the second half by scoring on a 30-yard pass from D'Corian Young to Landry Tyson on their first possession of the second half, and then turning in a defensive TD on a 46-yard fumble return by DQ Pitts to draw to within three points at 17-14 midway through the third quarter. Following a Kaufman third-quarter TD, the Wildcats got even closer early in the fourth quarter when quarterback D'Corian Young and wide receiver Bryce McQueen hooked up on a 92-yard scoring pass to draw to within two points at 23-21.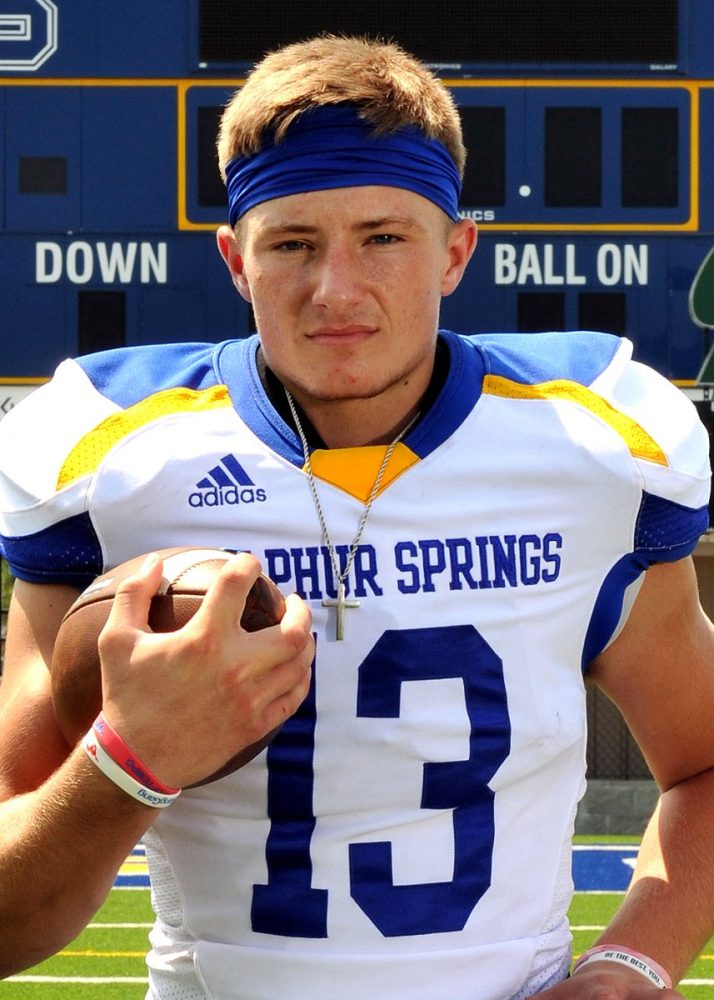 Sulphur Springs even had a chance to make the game more interesting late in the fourth quarter when they drove to the Kaufman 3-yard line while trailing again by 9 points, but a lost fumble effectively ended their chances.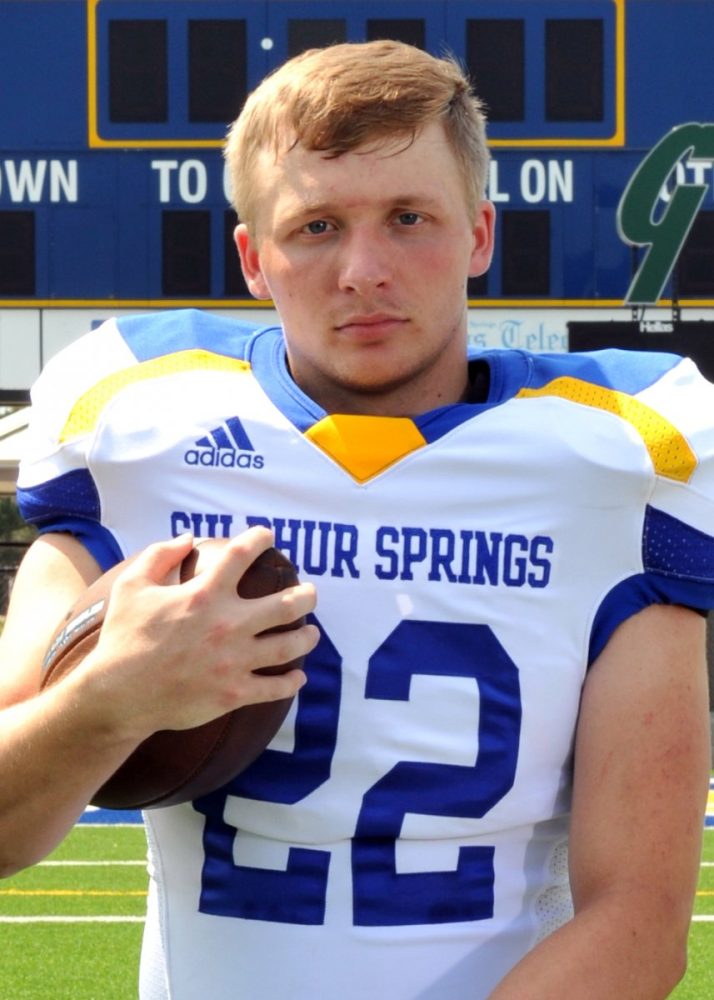 The Wildcats got 94 yards rushing from senior Colton Allen on 11 carries, but ended with just 90 total rushing yards because of bad snaps and sacks that lost a combined 63 yards. Young threw for 192 yards but completed just 8-of-18-passes. He suffered a leg injury early in the game and was replaced by backup Noe Ponce, who completed 1-of-3 passes for 7 yards. Young re-entered the contest before halftime.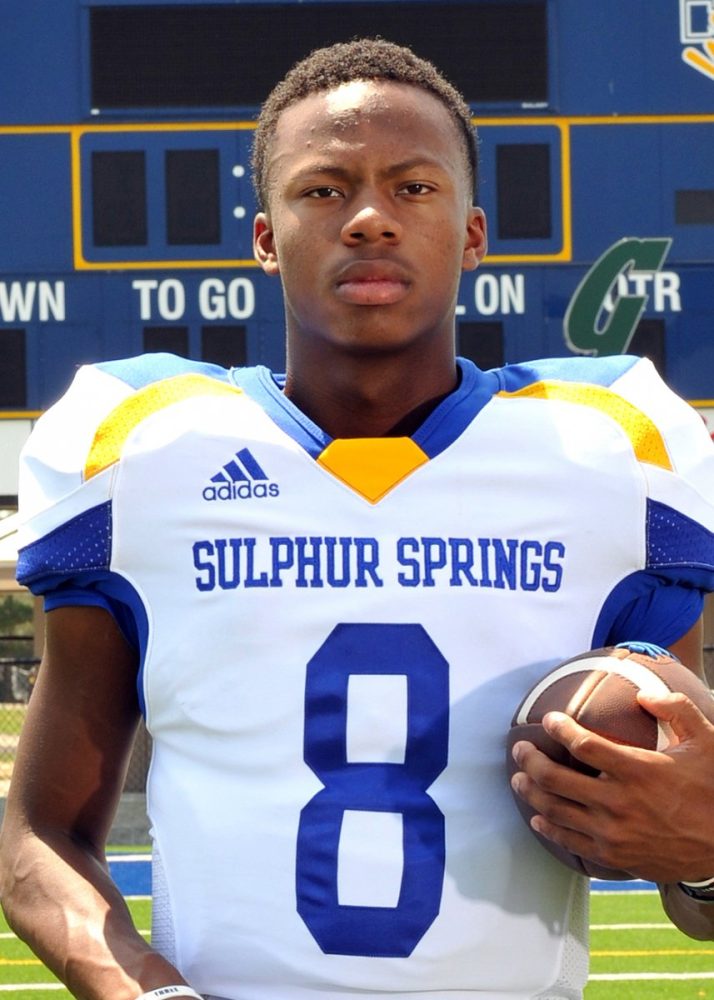 Kaufman, meanwhile, was paced by quarterback Trey Collier, who has committed to Tulsa as a wide receiver. Collier ran for 143 yards on 22 carrries and threw for another 50 yards.
It was Collier who gave the Lions the first lead of the game when he scored on a 40-yard run on Kaufman's opening possession. The Lions made it a 17-0 halftime advantage on a 1-yard run by Billy Pullen, who plays quarterback in their goalline formation, and a 20-yard field goal by Yahel Sandoval.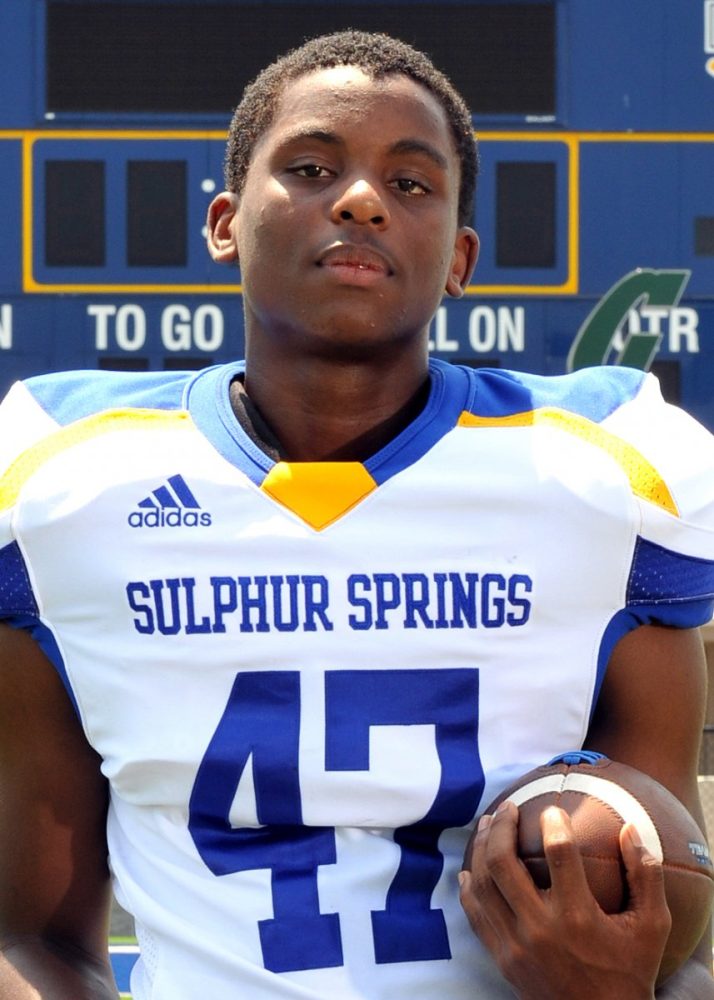 In the first half, the Wildcats had just 67 yards of total offense while Kaufman had 163. The SSHS defense played well, considering Kaufman three times started drives inside the Wildcat 35-yard line. In addition, Sulphur Springs forced four turnovers on fumble recoveries by Pitts — who had three including one for a TD — and another by Kylan Wade, who came up with a loose ball in the endzone after a fumble by a Kaufman receiver at the 1-yard line.
But, the Wildcats had their own problems with two turnovers, including the one on their final drive of the game with 90 seconds remaining.
NOTES — The Wildcats converted just 2-of-9 third down opportunities, but fourth downs were even more brutal. In the first half, Sulphur Springs had five possessions and four of them ended on fourth down miscues. They were stopped on downs at the Kaufman 26-yard line,then missed a 37-yard field goal, had a bad snap on a punt result in a 13-yard loss and then another bad snap result in a 1-yard punt. … The Wildcats had eight rushing plays that resulted in minus-69 yards. … SSHS was hit with eight penalties for 75 yards, while Kaufman was penalized once for 10 yards. … Kaufman ended the game with 18 first downs, compared to 13 for Sulphur Springs. … Sulphur Springs officially was listed with five fumbles, four of them on low snaps.
DISTRICT ROUNDUP — Corsicana finished the season with a 7-1 record in District 8-5A (8-2 overall) to win the championship. They did it despite losing to Ennis 28-7 on Friday. Sulphur Springs and Kaufman are both 5-2 in district and 6-2 overall. Ennis and Royse City are both tied for fourth with 4-3 records after Ennis' upset of Corsicana and Royse City's 37-20 win over North Forney. Meanwhile, Forney is still in the playoff hunt after a 49-39 victory over Greenville.
PLAYOFF SCENARIOS — Some things are certain: Corsicana will end up as the No. 1 seed, while Terrell, Greenville and North Forney are all out of the playoff hunt. If Sulphur Springs and Kaufman both win Friday night (SSHS plays at North Forney while Kaufman hosts Forney), then Kaufman will be the No. 2 seed and Sulphur Springs will be the No. 3. … Sulphur Springs can finish no worse than the No. 3 seed. If Ennis and Royse City both win, then Ennis will be the No. 4 seed because of their head-to-head win over Royse City. … Royse City could jump up to the No. 3 seed if they win next week and Kaufman and Ennis both lose. … Forney still has an outside chance at the playoffs. If Forney beats Kaufman and Ennis and Royse City both lose, then Forney wins the three-way tiebreaker on points.
Kaufman 7 10 6 7 –30
Sulphur Springs 0              0              14            7              –21
First Quarter
Kaufman — Trey Collier 40 run (Yahel Sandoval kick), 8:39.
Second Quarter
Kaufman — Billy Pullen 1 run (Sandoval kick0, 4:13.
Kaufman — Sandoval 20 field goal, 0:25.
Third Quarter
Sulphur Springs — Landry Tyson 30 pass from D'Corian Young (Brandon Zavala kick), 10:05.
Sulphur Springs — DQ Pitts 46 fumble recovery (Zavala kick), 5:16.
Kaufman — Pullen 2 run (kick blocked), 1:23.
Fourth Quarter
Sulphur Springs — Bryce McQueen 92 pass from Young (Zavala kick), 7:52.
Kaufman — Ladamian Bailey 27 run (Sandoval kick), 2:36.
STATISTICS
RUSHING
Kaufman, 55-240 — Trey Collier 22-143, Ladamian Bailey 19-87, Billy Pullen 3-5, Michael Glick 2-6, Raikyviun Shaw 1-(-1).
Sulphur Springs, 25-90 — Colton Allen 11-94, Da'Korian Sims 4-29, Caden Davis 7-19, D'Corian Young 2-(-25), Austin Dodd 3-9, Noe Ponce 1-(-23), Jermond Bryant-Amos 1-(-13).
PASSING
Kaufman 4-6-0-78 — Trey Collier 3-4-0-50, Billy Pullen 1-2-0-28.
Sulphur Springs, 9-21-1-199 — D'Corian Young 8-18-1-192, Noe Ponce 1-3-0-7.
RECEIVING
Kaufman 6-78 — Raikyviun Shaw 1-28, Kerya Powell 1-22, Colton Roeder 1-20, Charleston Miller 1-8.
Sulphur Springs, 9-199 — Bryce McQueen 2-115, Landry Tyson 4-57, Austin Dodd 1-9, Jermond Bryant-Amos 1-7, Connor Burgin 1-11.
FUMBLE RECOVERIES
Kaufman, 1 — John Maldanado 1.
Sulphur Springs — DQ Pitts 3, Kylan Wade 1.
INTERCEPTIONS
Kaufman, 1 — John Maldanado 1.
Sulphur Springs — none.
PUNTING
Kaufman, 3-100 — Trey Collier 3-100 (33.3 average).
Sulphur Springs, 3-75 — Jermond Bryant-Amos 3-75 (25.0 average).
KICK RETURNS
Kaufman, 4-15 — Raikyviun Shaw 2-8, Ladamian Bailey 1-7, Michael Glick 1-0.
Sulphur Springs, 4-64 — Damiyon Dugan 3-31, Caden Davis 1-33.
PUNT RETURNS
Kaufman, none.
Sulphur Springs, 1-16 — Austin Dodd 1-16.
FUMBLES-LOST: Kaufman 5-4, Sulphur Springs 5-1.
PENALTIES: Kaufman 1-10, Sulphur Springs 8-75.
FIRST DOWNS: Kaufman 18, Sulphur Springs 13.