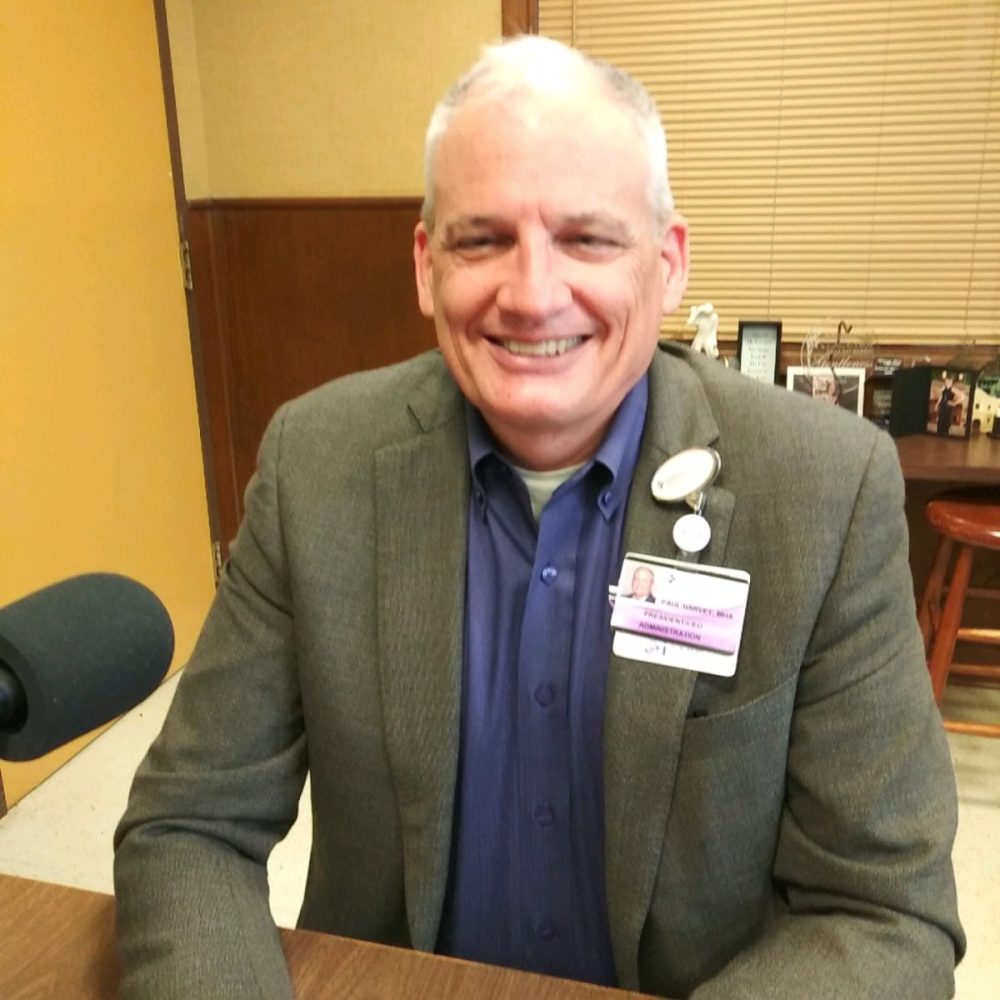 President /CEO Paul Harvey of CHRISTUS Mother Frances Hospital in Sulphur Springs, guest on KSST Good Morning Show Friday. He shared exciting news about healthcare options for local citizens. His enthusiasm is, in part,  about about new Health Insurance options which recently became available; Medicare Advantage A and an Exchange medical plan. These new plans, which will go into effect Jan 1, will provide complete healthcare coverage within the CHRISTUS Healthcare System, a network of forty hospitals in the United States alone. Find out more from a representative at the information table inside the hospital lobby or inside the Physicians Clinic before the December 7 deadline to enroll. Also during 2018, the acquisition of DeHaven Eye Clinics became another positive for the CHRISTUS Health System. There are six fully accredited DeHaven locations in NE Texas now offering safe, quality eye care to the CHRISTUS service area. Recently named President/CEO of the Winnsboro CHRISTUS facility as well as the local hospital, Harvey feels that these additions are increasingly important as the population of Hopkins and surrounding counties continues to grow.
Going into his 3rd year in Sulphur Springs and having made this his family's home, Harvey says it is his goal to provide a positive experience from the moment a patient steps inside the hospital. That is, from the registration process to excellent physician care and procedures, to the total nursing staff experience, and even in the housekeeping department. Continued dedication and fine tuning in all departments is required year round. In 2018, mandated Patient Satisfaction surveys have earned high scores for the hospital, and that includes the Emergency Department as well.  2018 has reflected a good core group of Emergency Room physicians and staff.
Other areas of proven satisfaction include the Gastrointestinal Department. The newest addition to the physician team, Dr. Mena Melad, is a GI specialist offering both clinic consultations and colonoscopy services. Dr. Melad joined CHRISTUS during his Fellowship practice and has become a full-time Certified Specialist.
The OB Department continues to earn high ratings in Patient Satisfaction in both clinic and hospital settings. Harvey stated "we proudly continue to deliver babies for families who value the hometown hospital experience. Our doctors and nurses in labor, delivery and NICU departments give the best care in surrounding areas. We hear this again and again". CHRISTUS Sulphur Springs also offers an exclusive Breast Feeding Class program which is popular with young moms. "They come back for the classes even after they and their babies go home from the hospital".
Cardiology and Orthopedics are two areas which successfully serve a large volume of patients through the year. Dr. Richard Graves, an Orthopedic Surgeon whose Sports Medicine clinic has stayed very busy during 2018 has recently acquired a Nurse Practitioner to assist with casting and other patient needs.
Another area of success is the Pain Management clinic. Dr. Johnson and his team will be working full time in 2019 with Pain Intervention/Pain Control, seeing patients and providing a full array of procedures for pain management which are alternatives to Opioid usage.
Overall, Harvey is pleased and proud of CHRISTUS Mother Frances Sulphur Springs' success in continually better serving the people of the area. He invites everyone to enjoy the lighted tree in the hospital gardens through the holidays. With the New Year approaching, his wish is for everyone to realize how fortunate we are to live in a free country and have our rights guaranteed, and to realize increased pride in a local citizenry which comes together, whether during a health issue or a social event, to supply the needs of the local community as a whole.