by Butch Burney
GREENVILLE — Friday night's game against the Greenville Lions shaped up as a trap game for the Sulphur Springs Wildcats, and at halftime, the Wildcats had one foot in the trap and the other on a banana peel.
But, Sulphur Springs was able to regroup at halftime, holding the Lions scoreless over the final two quarters to complete a 21-14 victory that wasn't pretty but it accomplished the job.
The win guaranteed the Wildcats a playoff berth as they improved to 5-1 in District 8-5A, Div. II, 6-1 overall. They are second in the district standings with two games remaining. Greenville dropped to 1-5, 2-5 overall.
The Wildcats trailed 14-7 at halftime, due mainly to two uncharacteristic traits that they had not shown much this season — turnovers on offense and inconsistent tackling on defense. Even with the second-half turnaround, Sulphur Springs needed two big plays on defense in the final three minutes, and they got them.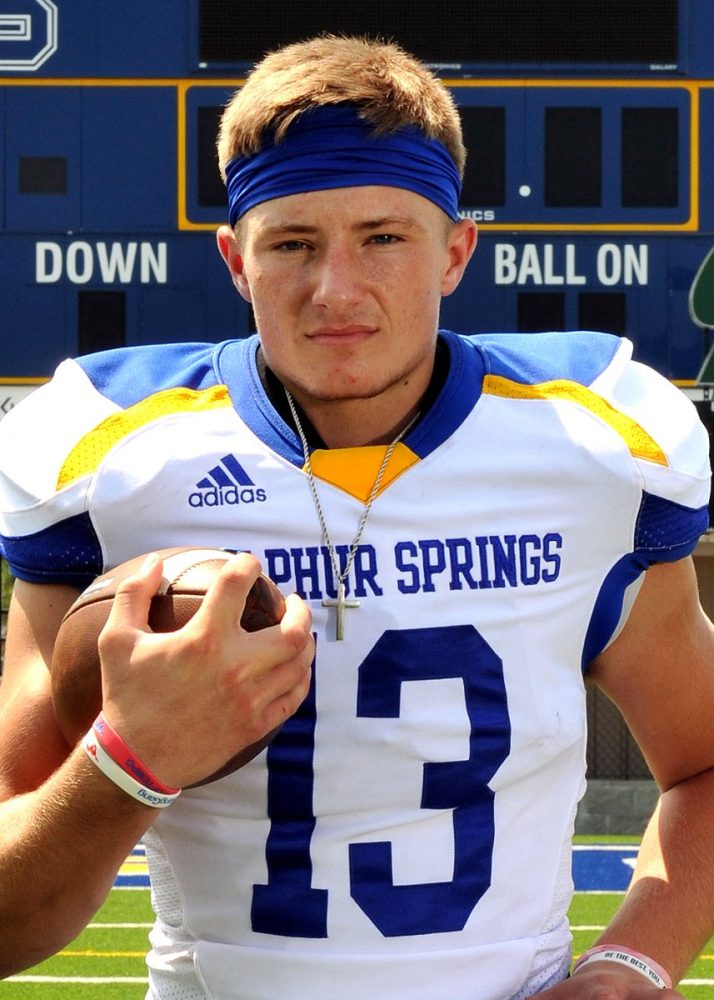 With 2:40 remaining in the contest and trailing 21-14, Greenville went for a fourth-and-2 from inside the Wildcat 45-yard line, but SSHS outside linebacker Bryce McQueen made a tackle behind the line of scrimmage to give the Wildcat offense the ball back. After a Wildcat punt, the Lions got the ball back with 69 seconds remaining in the game, and drove down to the Sulphur Springs 8-yard line, where they snapped the ball with 4 seconds remaining. A Jackson Sickels pass to the corner of the end zone was knocked away by Wildcat cornerback Andy Eddins to preserve the Wildcat victory.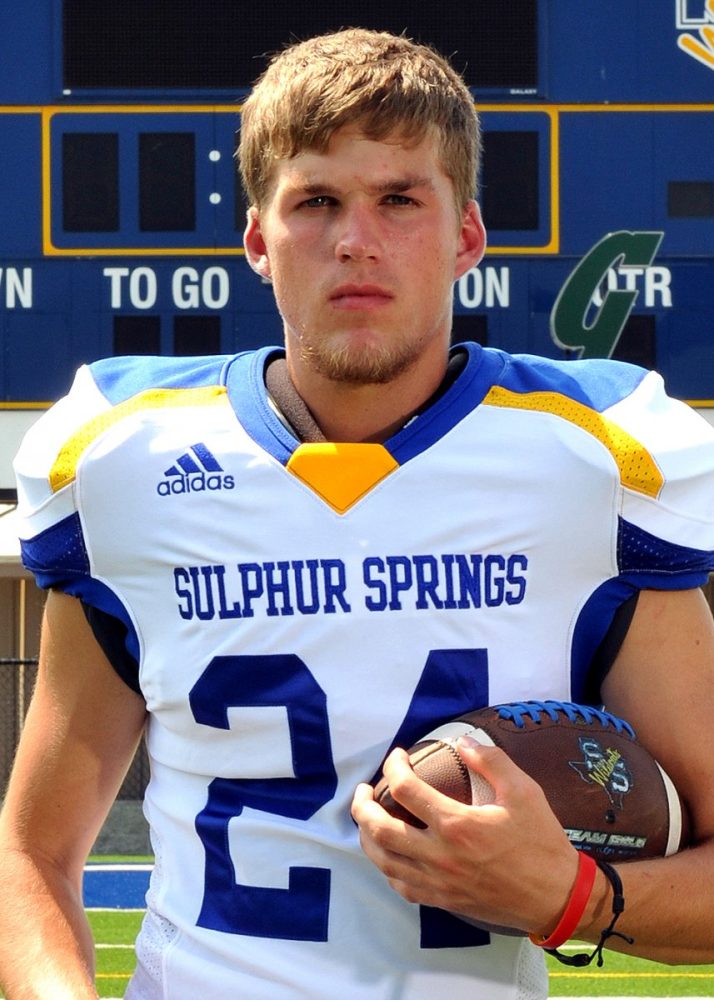 The game started unvenly for the Wildcats — a sign of things to come throughout opening half. Sulphur Springs punted on two of their first three possessions and had turnovers on their final two possessions of the half. Their only score came on a 15-yard run by senior Colton Allen and a Brandon Zavala extra point.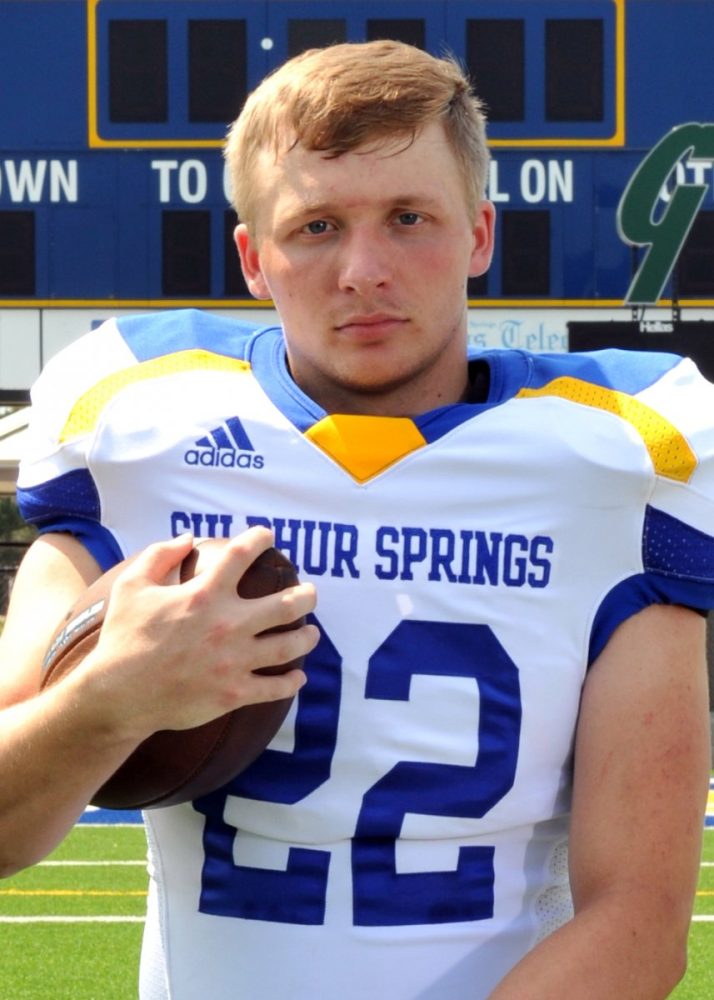 Greenville countered with a pair of second-quarter touchdowns, both on runs by Lester Turner, one of 9 yards and the other of 3 yards.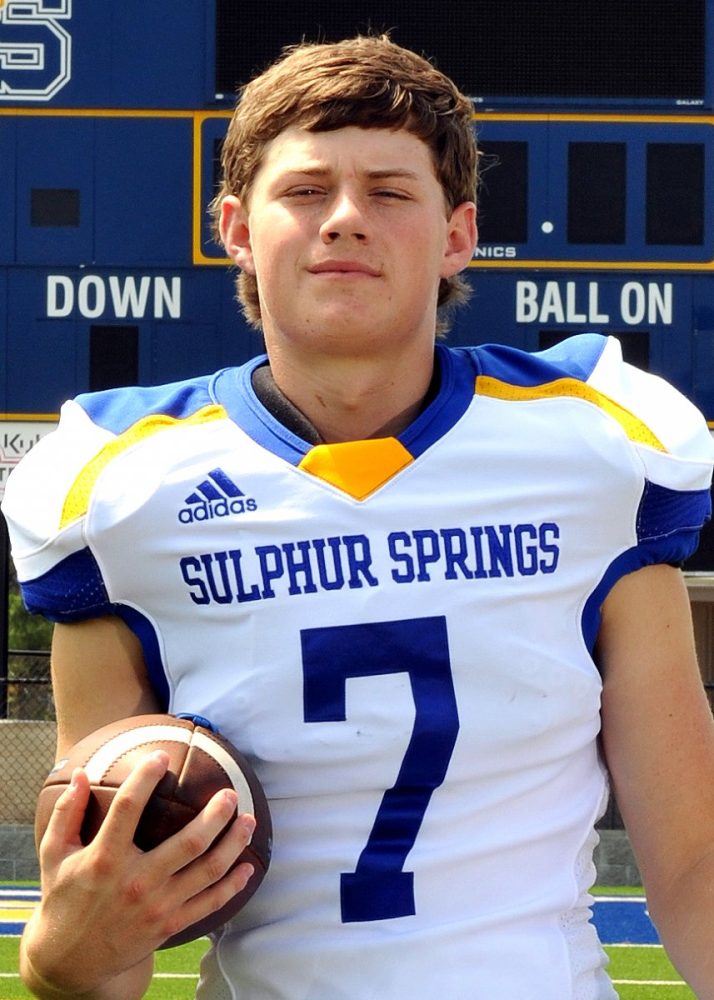 Sulphur Springs kept Greenville at bay the remainder of the first half by forcing three turnovers of their own — an interception by Jase Thompson and fumble recoveries by Austin Dodd and Evan Rushing.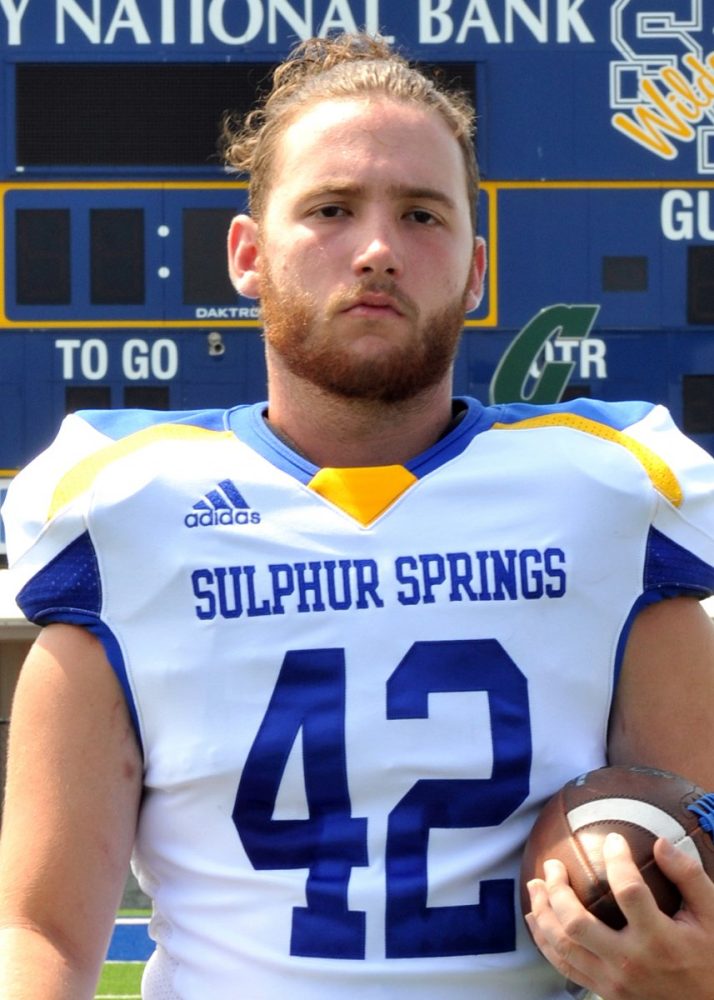 When halftime came, the Wildcats had just 139 yards of total offense, while Greenville wasn't much better with 161 total yards.
But, Sulphur Springs limited Greenville to only 35 yards rushing on 14 carries in the second half and just 55 yards passing. The Lions' six second-half possessions ended with four punts and another on downs.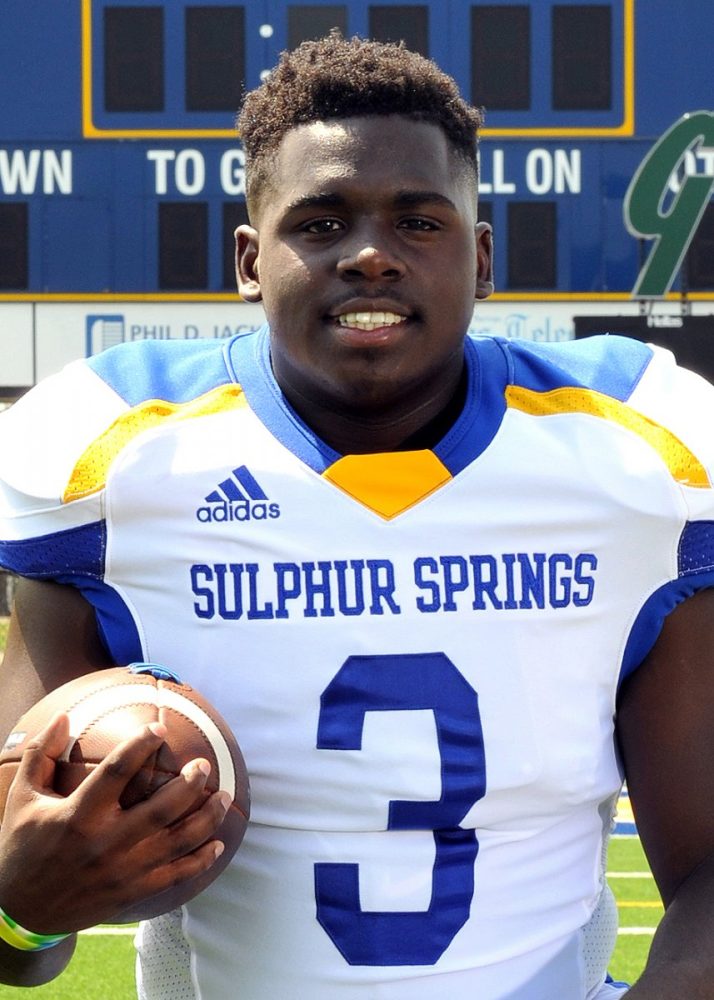 The Wildcats, meanwhile, were paced by junior running back Da'Korian Sims, who carried 15 times for 118 yards, including the go-ahead touchdown on a 4-yard run with 4:07 remaining in the game. Colton Allen added 48 yards rushing on six carries as the Wildcats generated 196 yards on the ground. Meanwhile, quarterback D'Corian Young completed 9-of-14 passes for 144 yards.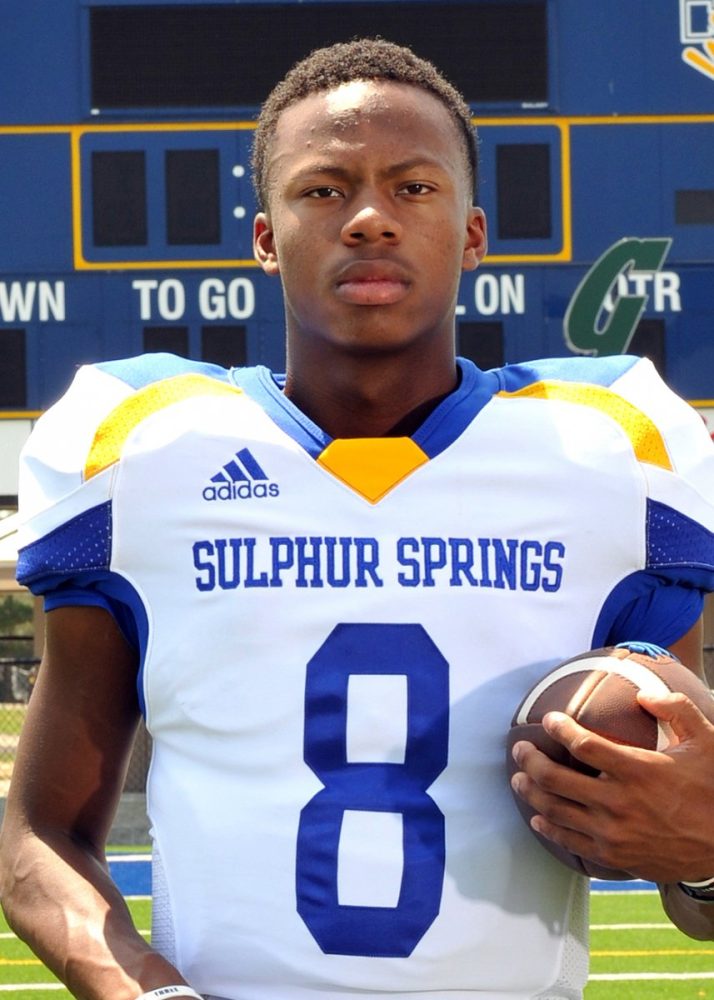 His biggest completion was a 29-yard TD pass to Austin Dodd in the third quarter which completed a 92-yard scoring drive. Dodd finished with three catches for 50 yards.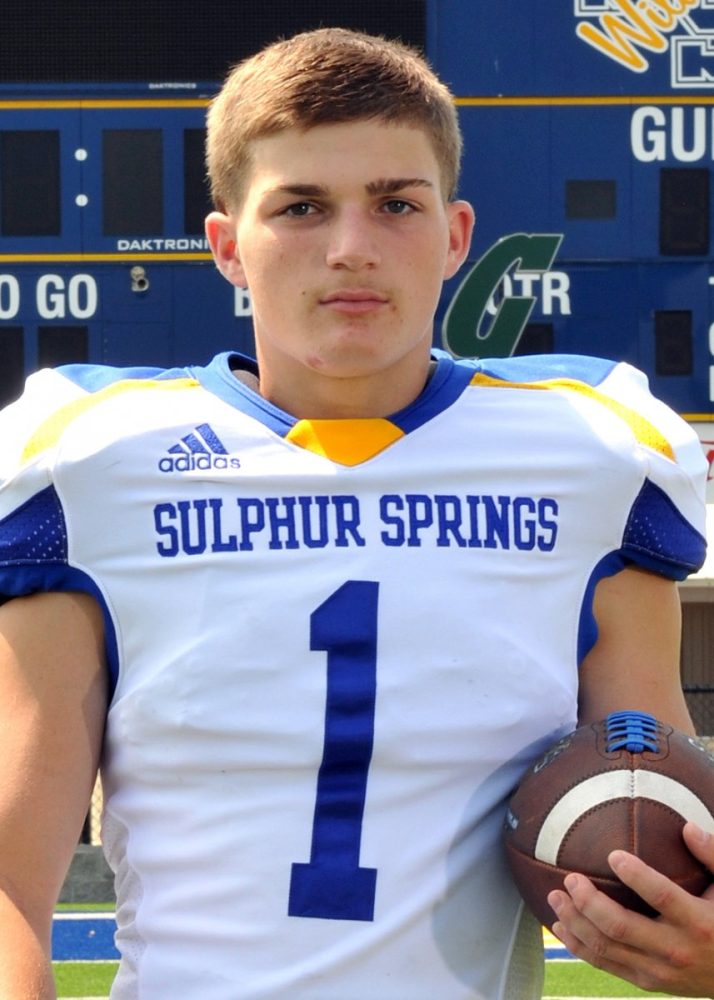 NOTES — Greenville has been held under 21 points in just two games — losses to Sulphur Springs and Corsicana. … The Wildcats missed one PAT try, but made up for it on their final TD when Colton Allen scored on the two-point conversion attempt. … The Wildcats had 340 total yards, compared to 251 for Greenville. … The Lions did not have a possession in the second half that lasted longer than six plays. …In a series of eight plays at the end of the second quarter, the two teams combined for four turnovers. Neither team turned the ball over in the second half.
AROUND THE DISTRICT –Sulphur Springs took sole possession of second place in District 8-5A, Div. II with their 5-1 record. The worst the Wildcats can finish in the district standings is third place. They trail Corsicana (7-0), who whipped Forney 63-24 on Friday. Following the Wildcats in the standings are Kaufman, which dropped to 4-2 with a surprising 27-21 loss to Royse City. Ennis — who was idle this week– and Royse City are next at 3-3 (Ennis holds the tie-breaker with ahead-to-head win over Royse City). North Forney (a 17-6 winner over Terrell) and Forney are both 2-4, while Greenville is 1-5 and Terrell is 1-6.
Next week's games all hold some relevance in the standings as Sulphur Springs hosts Kaufman (the winner holds an edge for second place); North Forney travels to Royse City (an RC win puts the Bulldogs squarely in playoff contention); Ennis hosts Corsicana (an Ennis loss could drop them out of the current playoff spot); and Greenville travels to Forney, who must win to keep any semblance of playoff hope.
Sulphur Springs 7 0 6 8 –21
Greenville 0 14 0 0 –14
First Quarter
Sulphur Springs — Colton Allen 15 run (Brandon Zavala kick), 5:15.
Second Quarter
Greenville — Lester Turner 1 run (Max Flores kick), 9:26.
Greenville — Turner 9 run (Flores kick), 5:04.
Third Quarter
Sulphur Springs — Austin Dodd 29 pass from D'Corian Young (kick failed), 1:57.
Fourth Quarter
Greenville — Da'Korian Sims 4 run (Allen run), 4:07.
STATISTICS
RUSHING
Sulphur Springs, 37-196 — Da'Korian Sims 15-118, Colton Allen 6-48, Caden Davis 10-19, D'Corian Young 6-11.
Greenville, 37-113 — Jackson Sickels 14-50, Lester Turner 12-23, Brandon Stephens 5-27, Miles Denson 1-2.
PASSING
Sulphur Springs, 9-15-1-144 — D'Corian Young 9-14-1-144, Noe Ponce 0-1-0-0.
Greenville, 14-21-1-138 — Jackson Sickels 12-19-1-127, Brandon Stephens 2-2-0-11.
RECEIVING
Sulphur Springs 9-144 — Austin Dodd 3-50, Landry Tyson 2-31, Connor Burgin 1-19, Jermond Bryant-Amos, 1-19, Jase Thompson 1-17, Bryce McQueen 1-8.
Greenville, 14-138 — Ian Miller 4-71, Kye Walker-Heard 2-22, Miles Denson 4-24, Lester Turner 3-13, Nick Mapps 1-8.
FUMBLE RECOVERIES
Sulphur Springs, 2 — Austin Dodd 1, Evan Rushing 1.
Greenville, 2 — Davoya Washington 1, Sam Martinez 1.
INTERCEPTIONS
Sulphur Springs, 1 — Jase Thompson 1.
Greenville, 1 — Tyrecus Davis 1.
PUNTING
Sulphur Springs, 6-188 — Jermond Bryant-Amos 6-188 (31.3 average).
Greenville, 4-144 — Oscar Osario 4-144 (36.0 average ).
KICK RETURNS
Sulphur Springs, 3-29 — Chase Haney 1-3, Colton Allen 1-18, George Greenway 1-8.
Greenville, 2-34 — Nick Mapps 1-17, Ian Miller 1-17.
PUNT RETURNS
Sulphur Springs, 3-9 — Austin Dodd 3-9.
Greenville, 1-1 — Nick Mapps 1-1.
FUMBLES-LOST: Sulphur Springs 4-2. Greenville 5-2.
PENALTIES: Sulphur Springs 11-105. Greenville 4-30.
FIRST DOWNS: Sulphur Springs 16. Greenville 14.