by Butch Burney
                Dueces were wild for the Sulphur Springs Wildcats Friday night as they scored two touchdowns in every quarter and then stopped the Forney Jackrabbits on a pair of key two-point conversions in the fourth quarter.
                The Wildcats needed a win Friday  at Gerald Prim Stadium to keep pace with district leaders Corsicana and Ennis, but Forney didn't make it easy.
                The Wildcats, who came into the game with a 3-0 overall record and 2-0 in District 8-5A, Division II, outscored the Jackrabbits 56-47 to remain unbeaten and set up a showdown next week against Ennis.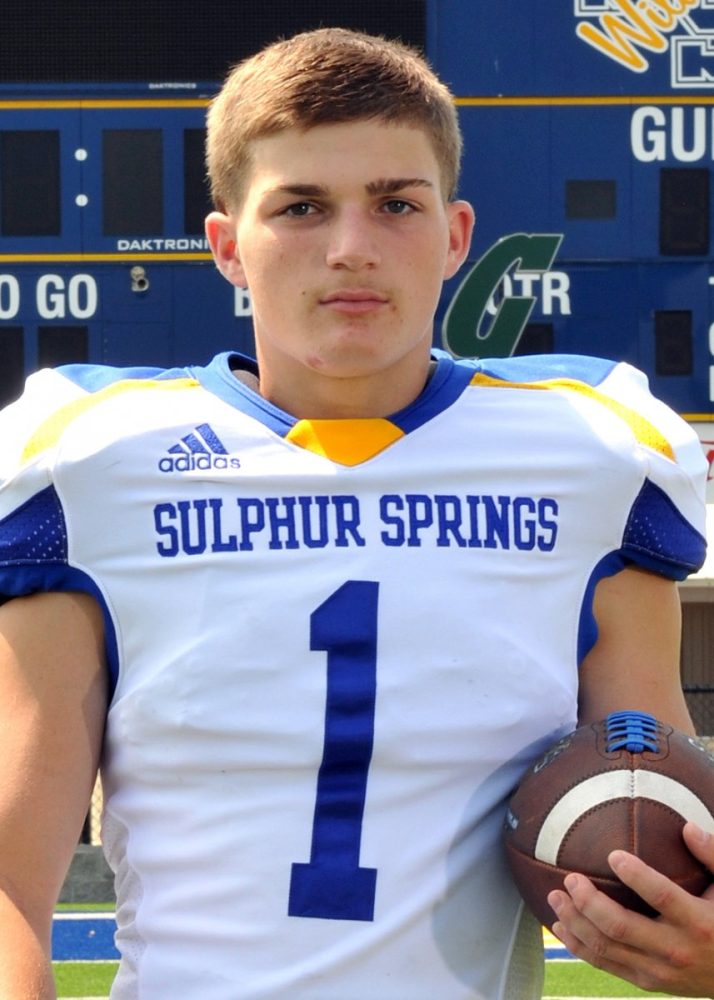 The Wildcats rode the outstanding offensive performance of wide receiver Austin Dodd, who caught nine passes for 230 yards and three touchdowns. While those figures are unofficial, if they remain that way after the coaches have officially gotten statistics off tape, it will make Dodd's outing the second-best in school history — behind just Rolaundo Wright's 232 yards receiving against Greenville in 2004.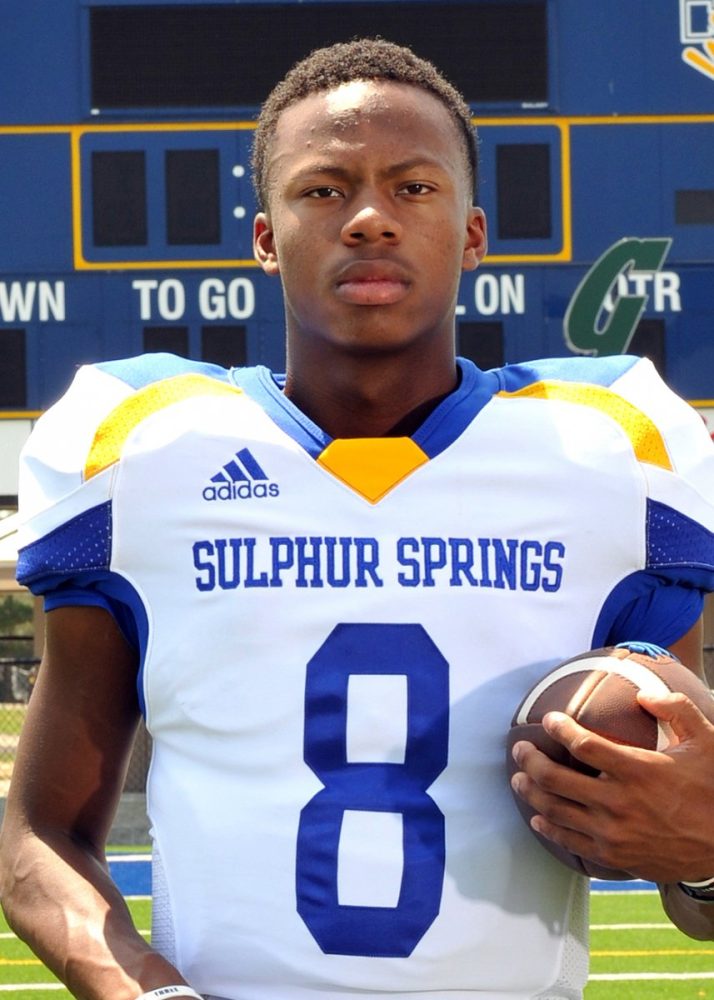 Sulphur Springs senior quarterback D'Corian Young almost outdid Dodd, scoring two touchdowns rushing and passing for four more. Young threw just four incompletions in 22 pass attempts, finishing with 334 yards through the air and another 54 yards on the ground. His other TD pass went to Landry Tyson, who finished with four catches for 63 yards.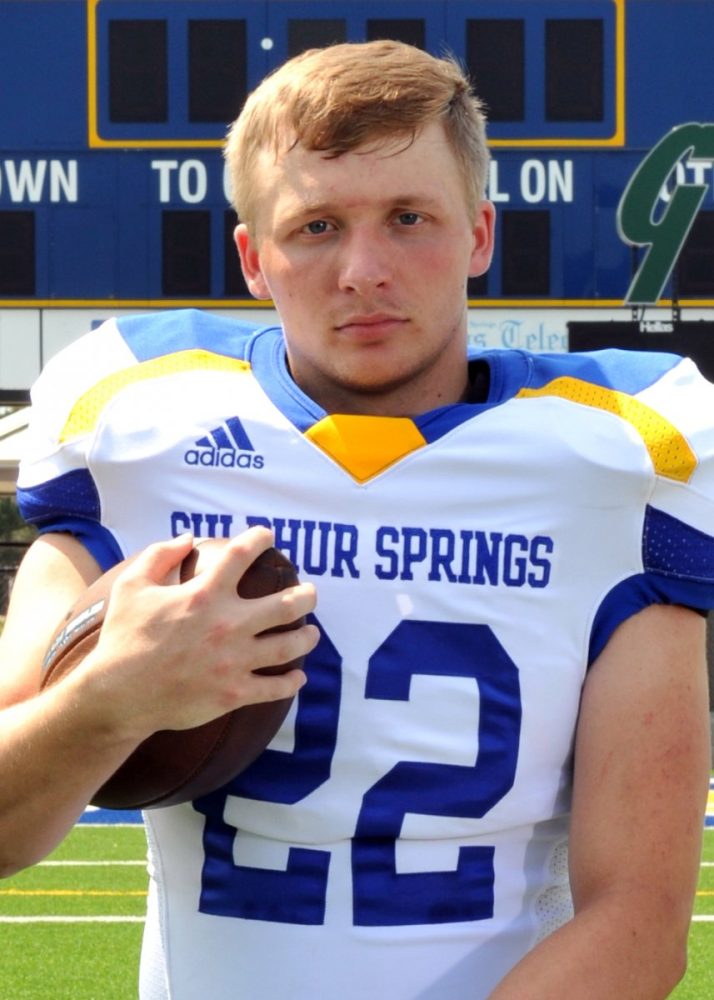 Overall, the Wildcats amassed 606 yards of total offense as the ground game churned out 272 yards behind the running of Caden Davis (63 yards on 11 carries) and Colton Allen (87 yards on 13 carries. Da'Korian Sims added two touchdown runs of 15 and 2 yards.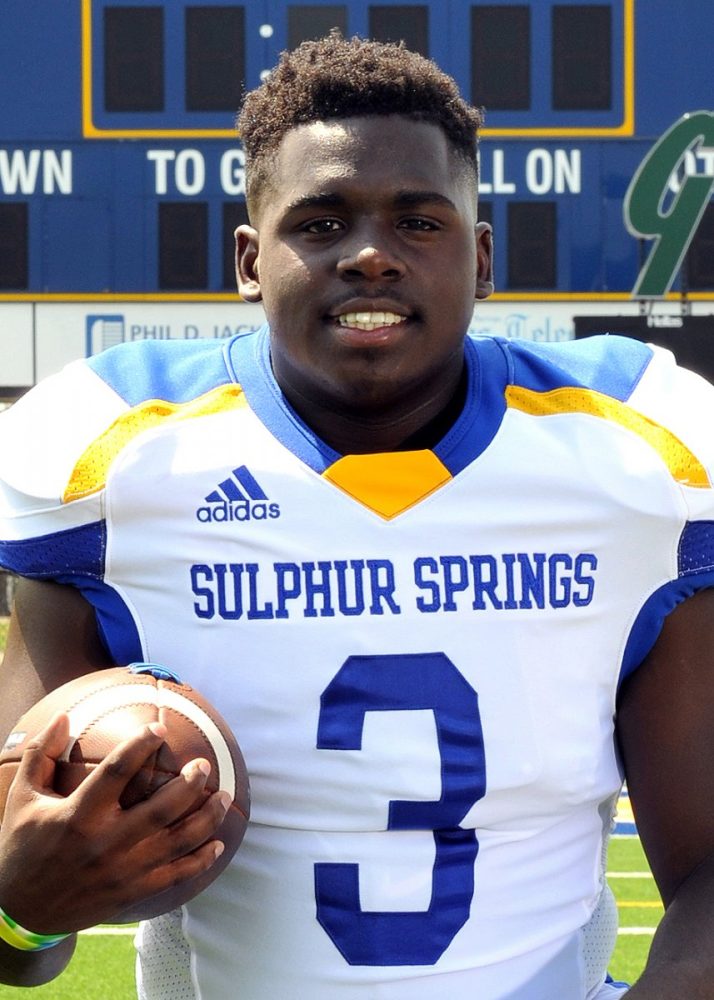 The game unfolded as a shootout from the first quarter, which produced four touchdowns. The Wildcats got a TD run from Sims and a 57 yard TD connection between Dodd and Young. Forney countered with wide receiver Riley McMurren's first of three touchdown catches and a 51-yard TD run from Sean Stephens, who finished with 165 yards on 20 carries.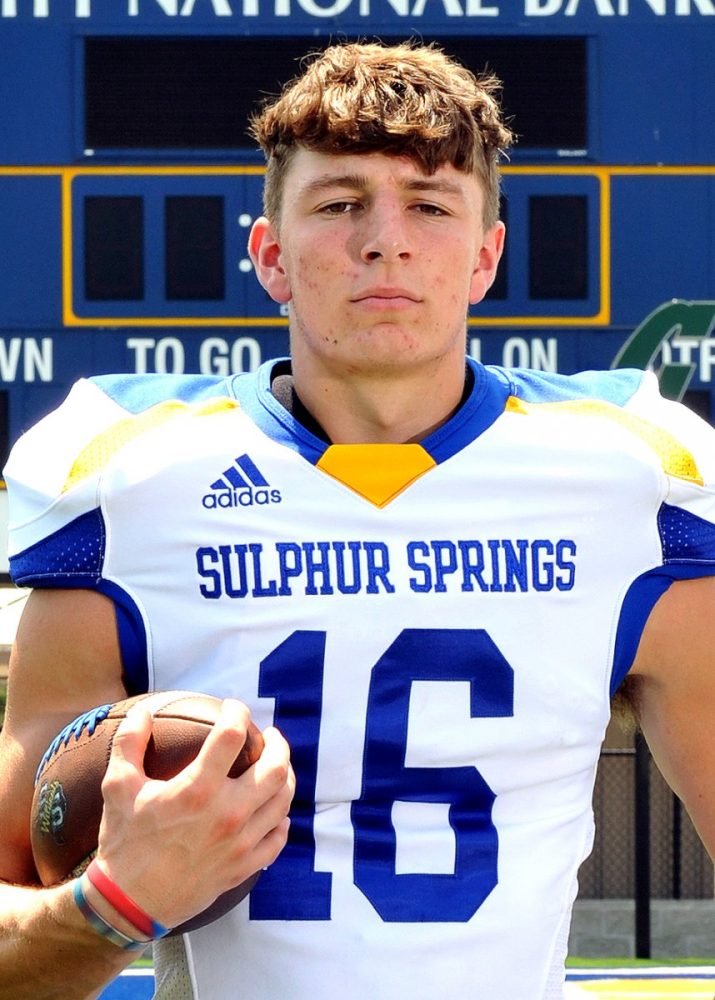 Sulphur Springs broke the 14-14 first quarter tie by scoring two TDs — again on a run by Sims and a 28-yard pass from Young to Tyson. Forney got a 26-yard TD reception by McMurren to draw to within 28-21 at halftime.
                But, the Wildcats seemingly took control in the third quarter, sandwiching a 22-yard TD run and a 3-yard scoring run, both by Young, between McMurren's third touchdown catch from quarterback Campbell Anderson. McMurren finished with 149 yards receiving on five receptions.
                That gave the Wildcats a 42-28 lead, but that lead turned dicey when Forney's Austin Ream returned a mishandled lateral 25 yards for a TD to draw the Jackrabbits to within 42-35. Dodd and Young, though, teamed up on a 38-yard scoring pass to again increase the Wildcat lead to two touchdowns. Though Forney scored two more touchdowns, the Jackrabbits were stymied on two conversion attempts, and Dodd scored his third TD of the game — this time from 63 yards out to put the game away.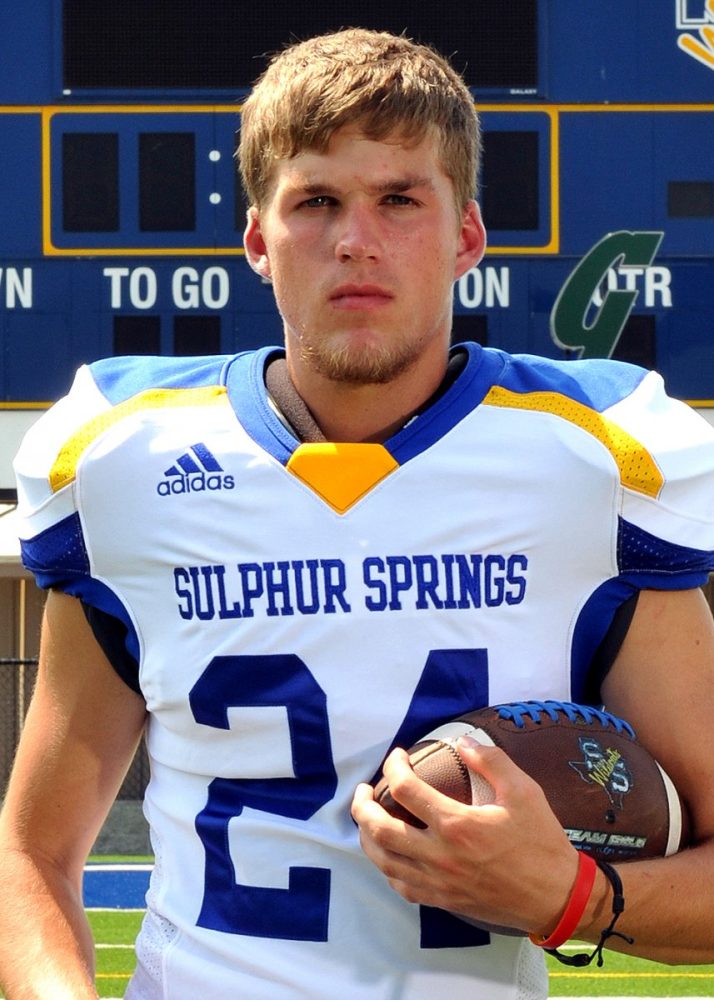 NOTES AND MISC. — SS QB Young threw just one incompletion in the second half. … The Wildcats fumbled four times, losing just one (the lateral that Forney scored on.) It was the only turnover of the game, though Andy Eddins did recover the second-half squib kick to give the Wildcats the ball to start the third quarter. … Sulphur Springs had six pass plays of 20 or more yards. … The Wildcats' final possession started with 3:41 remaining in the game, but Colton Allen picked up 16 yards on consecutive third down plays to allow the Wildcats to run out the clock.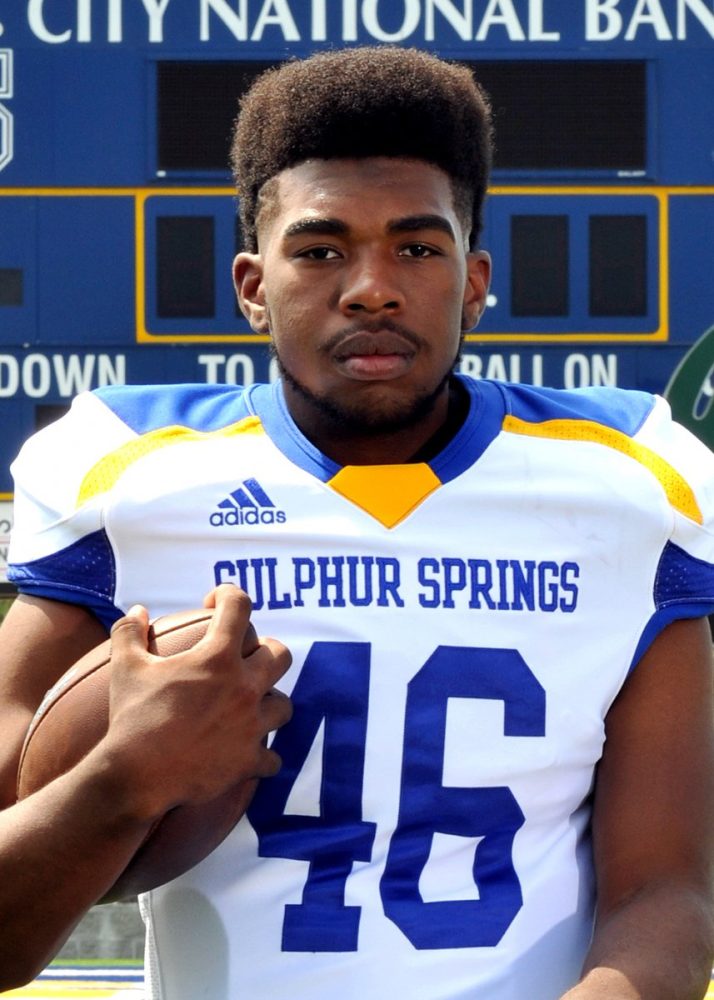 TILTING THE FIELD — Sulphur Springs had scoring drives of 85, 71, 72, 82, 63, 70, and 86 yards. That is going the length of the field on seven of their 13 possessions — an amazing stat. … SS punter Jermond Bryant-Amos boomed a 63-yard punt that rolled out of bounds at the Forney 15-yard line. … The Wildcats had 29 first downs, while Forney had 26.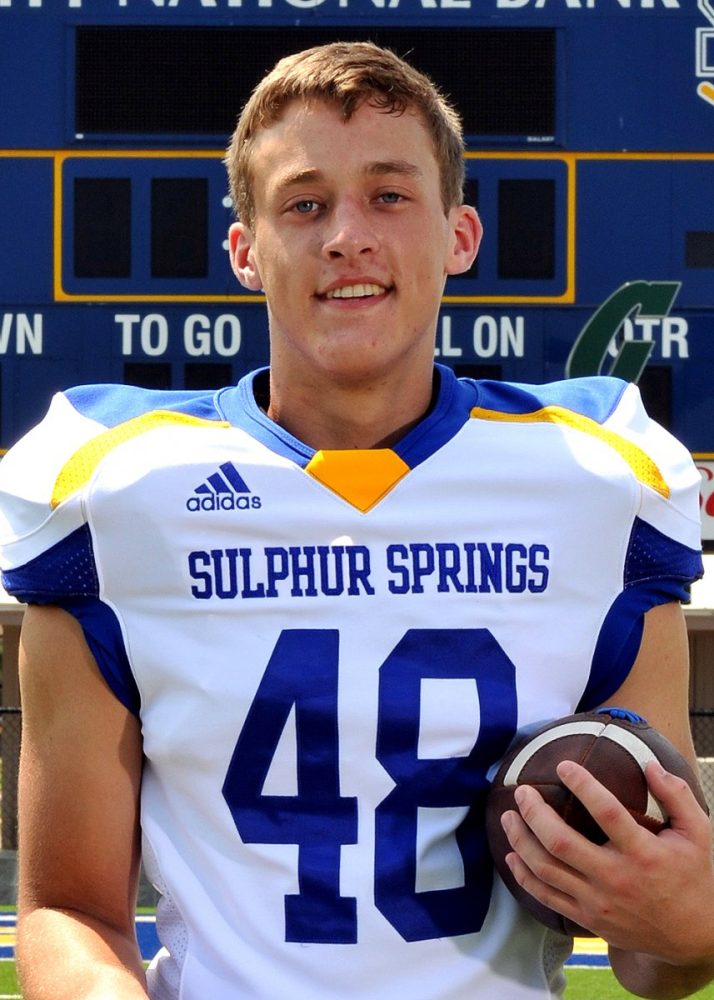 FLAG DAY — Both teams were hit with double-digit penalties. The Wildcats were flagged 10 times for 95 yards and Forney was hit with 12 penalties for 75 yards. … Forney went on fourth down at the SS 31-yard line with 11 minutes remaining in the game, but Wildcat linebacker Cameron Kaufert tackled the quarterback near the line of scrimmage on a scramble to end the possession.
                AROUND THE DISTRICT — Corsicana remains atop the District 8-5A standings after posting a 28-0 shutout of Terrell, while Ennis won its third district game with a 26-7 victory over Royse City, and North Forney won its first district game with a 49-21 decision over Greenville. Kaufman was idle this week. The district standings now show Corsicana at 4-0 (5-1 overall), Sulphur Springs at 3-0 (4-0 overall), Ennis at 3-1 (3-2 overall), Kaufman at 2-1 (3-1 overall), Royse City at 1-2 (2-3 overall), North Forney at 1-3 (2-4 overall), Forney at 1-3 (1-5 overall), Terrell at 1-3 (1-4 overall), and Greenville at 0-3 (1-3 overall). Next week, Sulphur Springs travels to Ennis, Royse City is on the road at Corsicana, Greenville hosts Terrell, and North Forney visits Kaufman. Forney has a bye.
First Quarter
                Sulphur Springs — Da'Korian Sims 15 run (Brandon Zavala kick), 4:58.
                Forney — Riley McMurren 28 pass from Campbell Anderson (Matthew Huffman kick), 3:07.
                Sulphur Springs — Austin Dodd 57 pass from D'Corian Young (Zavala kick), 1:55.
                Forney — Sean Stephens 51 run (Huffman kick), 0:55.
SECOND QUARTER
                Forney — McMurren 26 pass from Anderson (Huffman kick), 6:22.
                Sulphur Springs — Sims 2 run (Zavala kick), 4:53.
                Sulphur Springs — Landry Tyson 28 pass from Young (Zavala kick), 0:32.
THIRD QUARTER
                Sulphur Springs — Young 22 run (Zavala kick), 11:28.
                Forney — McMurren 67 pass from Anderson (Huffman kick), 10:15.
                Sulphur Springs — Young 3 run (Osiel Lopez kick), 7:47.
FOURTH QUARTER
                Forney — Austin Ream 25 fumble return (Huffman kick), 10:45.
                Sulphur Springs — Dodd 38 pass from Young (Lopez kick), 8:04.