By Butch Burney
                ENNIS — The Sulphur Springs Wildcats may make believers out of all the doubters before this season is over.
                The Wildcats, picked by some statewide prognosticators to finish in the bottom third of their district, continued their magical — and unbeaten season — with a 45-28 victory over the Ennis Lions Friday night.
                Sulphur Springs improved its record to 4-0 in District 8-5A, Division II, and overall mark to 5-0 with the impressive victory at Lion Memorial Stadium in a game marked by second-half rain and a strong northerly wind.
                The Wildcats continue to mix their offensive scheme to find the best success, and Friday night it was a strong running game that averaged almost 7 yards per carry, and an opportunistic passing attack in which six of the eight completions went for more than 15 yards.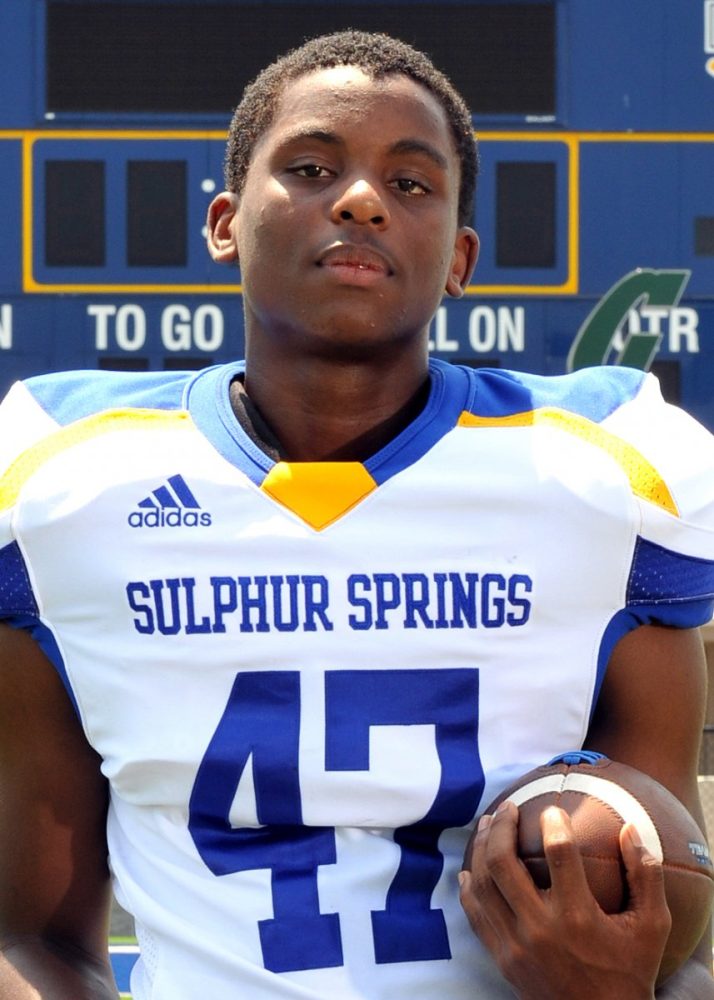 Defensively, linebackers Kylan Wade, Bryce McQueen and DQ Pitts played particularly strong games, with Wade coming up with a key first-half fumble recovery.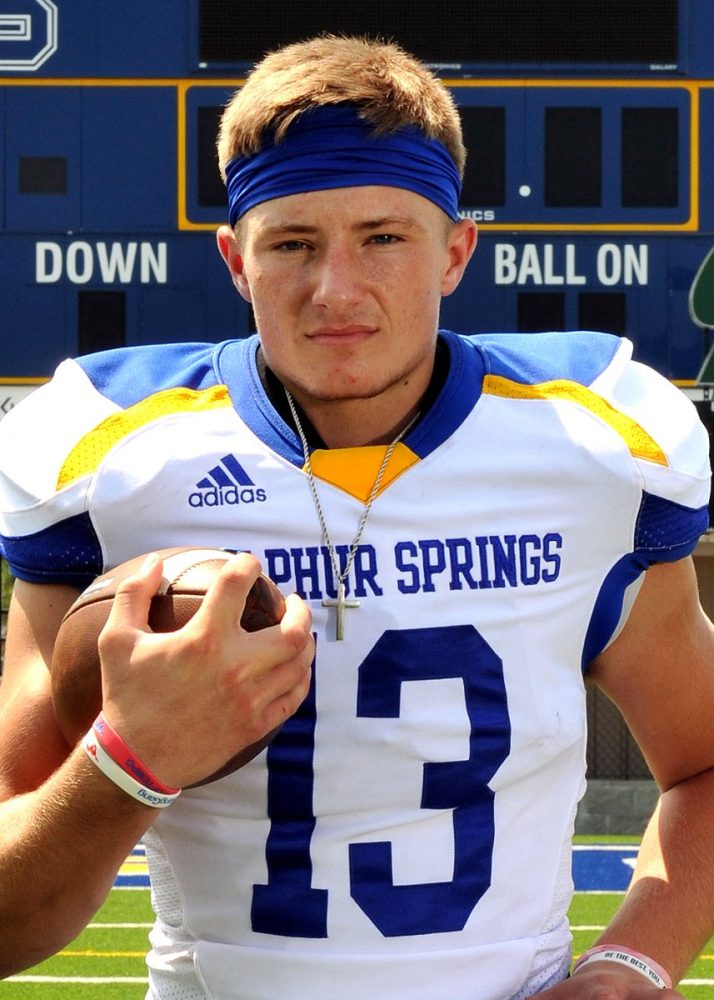 Sulphur Springs punted just one time and did not commit a turnover. What they did do was score six touchdowns and add a field goal in eight offensive possessions. The three-man running attack continues to churn out yardage as Da'Korian Sims (93 yards on 10 carries), Caden Davis (82 yards on 13 carries) and Colton Allen (67 yards on 14 carries) guided a ground game that amassed 280 yards. Allen scored two TDs, while Davis and Sims each added one touchdown each.
                And when the passing attack was needed, quarterback D'Corian Young hooked up with his favorite target, wideout Austin Dodd, for a 79-yard catch-and-run TD in the third quarter that proved to be a backbreaker for the Lions.
                While the Wildcats had to punt on their first possession of the game, they still took a 7-0 lead when their second series resulted in a 1-yard TD run by Young, who ran for 38 yards and threw for 198 more, completing 8-of-14 passes.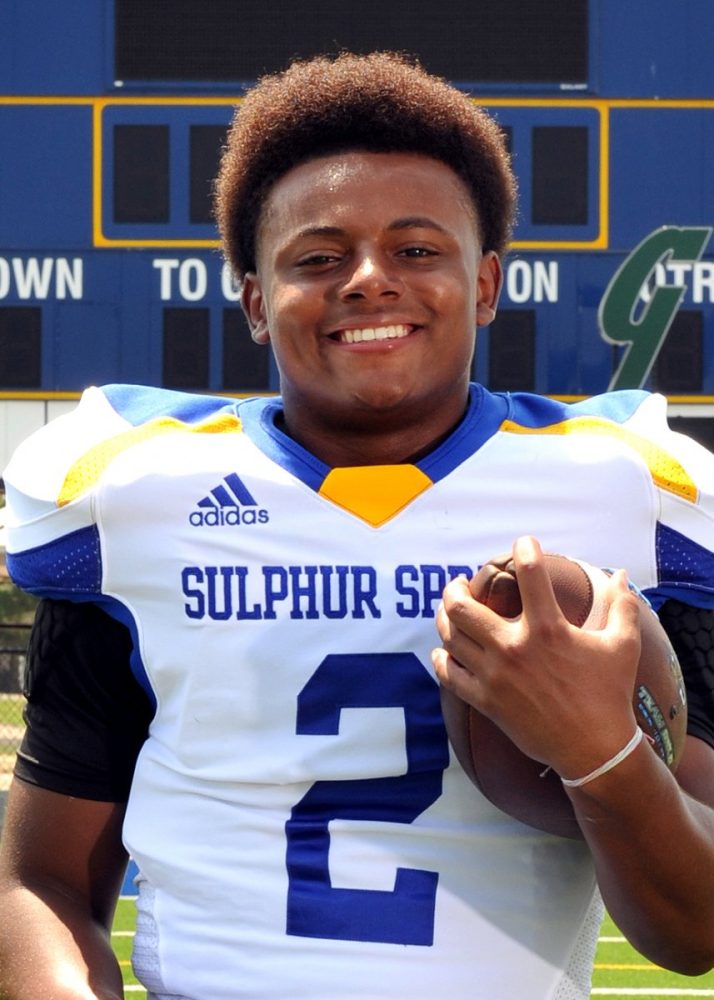 Ennis tied the game on an 8-yard run by its quarterback Dyllan Santos, but Sulphur Springs took the lead for good on a Caden Davis 2-yard run and a 34-yard field goal by Brandon Zavala. That made the score 17-7 with 2:48 remaining in the half. Ennis then went on a quick scoring drive, ending on a controversial 24-yard TD catch by Zion Dove on the final play of the first half. On the play, Santos hit dove with a pass on the visitor's sideline in the endzone. The ball came loose before Dove hit the ground, but the officials called it a TD anyway.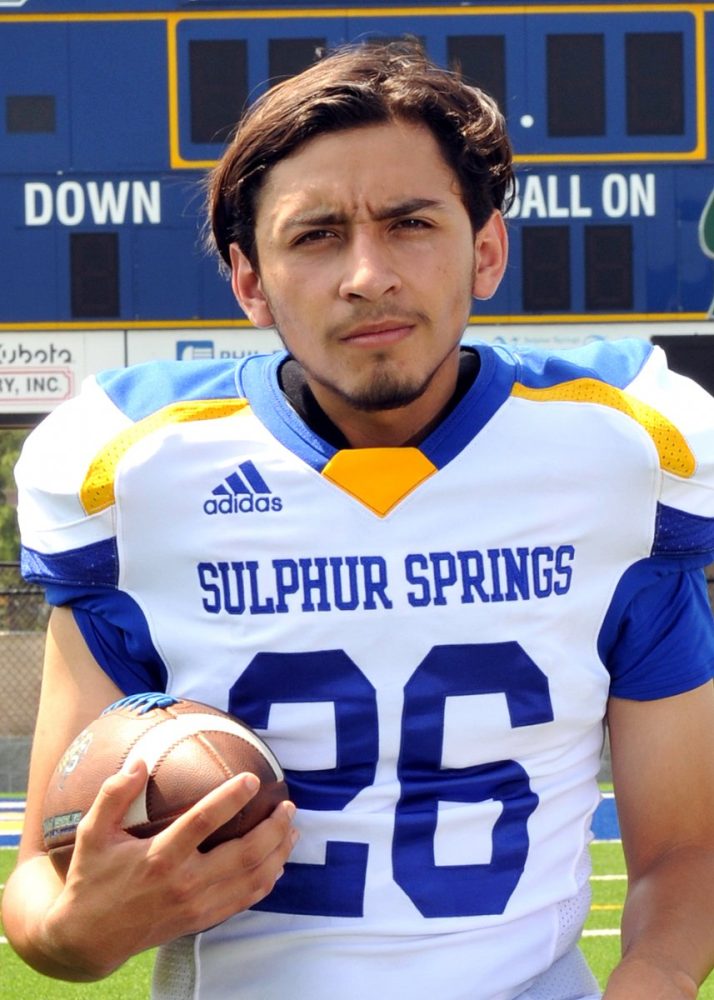 That didn't deter the Wildcat defense, which held Ennis to a punt on the first possession of the second half. The SSHS offense, then, marched 56 yards to paydirt, capped by Allen's 1-yard TD run to put the Wildcats ahead 24-14. But, Ennis came back with a TD of its own, this time a 23-yard run by workhorse running back James Harris, who finished with 157 yards on 26 carries. That tightened the score to 24-21.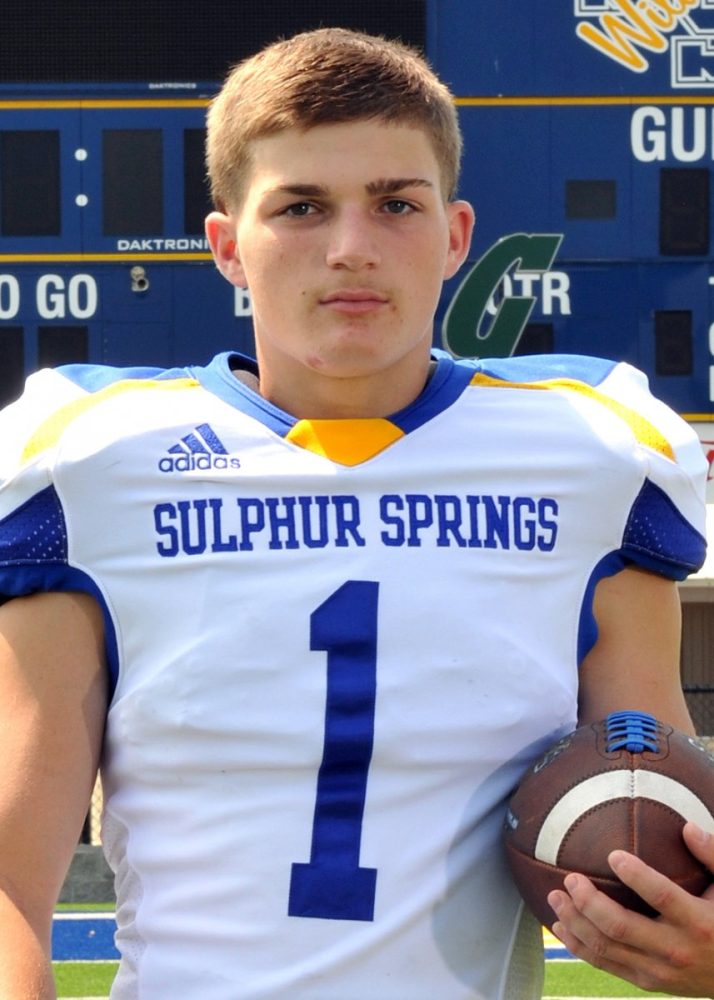 The Wildcats, though, wasted no time in breaking the game back open as on the first play of the ensueing possession, Young found Dodd on a short sideline route. Dodd then turned the catch into a 79-yard TD by breaking tackles and heading across the field to the endzone. Zavala's extra point made the score 31-21, and the Wildcats added a 14-yad TD run by Allen in the fourth quarter and a 26-yard churning run by Sims with 99 seconds left to ice the game.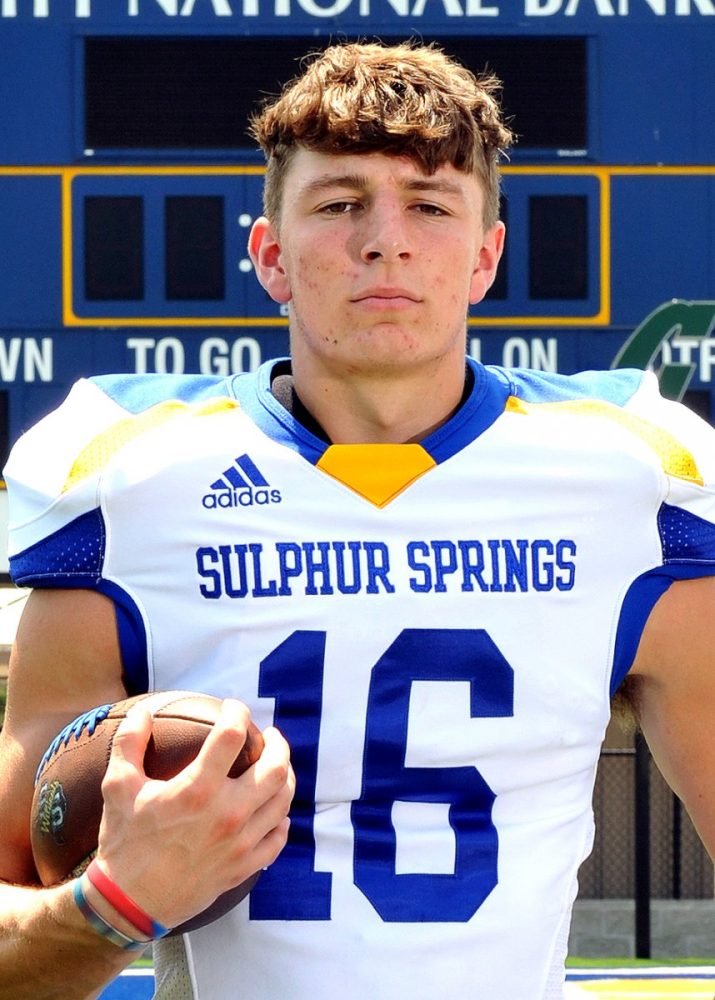 NOTES — Sulphur Springs had almost 500 yards of total offense, totaling 478 yards and averaging 8.5 yards per snap. … Landry Tyson intercepted a pass in the endzone on Ennis' final possession. … The Wildcats defense adjusted to the hard-nosed running style of Ennis' James Harris. Harris had 58 yards rushing on his first five carries, but averaged less than 5 yards on his final 21 carries and only one carry (his TD run) went for double-digit yardage. … Ennis threw just four times in the first half, but attempted 16 passes in the second half as they tried to come from behind.  They finished with 352 total yards.
AROUND THE DISTRICT — The Wildcats went to 4-0 in District 8-5A, Division II, and it's looking more and more like 5 wins will ensure a playoff berth. That's because five of the district's nine teams already hae three district losses. Corsicana (5-0) and Sulphur Springs (4-0) are atop the district standings, while Kaufman is at 3-1 and Ennis stands at 3-2. Forney, Royse City and Greenville are all at 1-3, while North Forney and Terrell are at 1-4. … Friday night, Corsicana beat Royse City 20-0, Greenville defeated Terrell 31-17, and Kaufman handed North Forney a 39-14 loss. Forney was idle. … Next week, there will be key games in the district, including Corsicana at Sulphur Springs and Ennis at Forney. Elsewhere, Royse City hosts Greenville and Kaufman visits Terrell. North Forney is idle.
Sulphur Springs 7              10           14           14           –45
Ennis                   0              14             7              7           –28
First Quarter
                Sulphur Springs — D'Corian Young 1 run (Brandon Zavala kick), 5:10.
Second Quarter
                Ennis — Dyllan Santos 8 run (Marc Padilla kick), 11:55.
                Sulphur Springs — Caden Davis 2 run (Zavala kick), 9:31.
                Sulphur Springs — Zavala 34 field goal, 2:48.
                Ennis — Zion Dove 24 pass from Santos (Zavala kick), 0:00.
Third Quarter
                Sulphur Springs — Colton Allen 1 run (Zavala kick), 5:58.
                Ennis — James Harris 23 run (Zavala kick), 2:44.
                Sulphur Springs — Austin Dodd 79 pass from Young (Zavala kick), 2:24.
Fourth Quarter
                Sulphur Springs –Allen 14 run (Osiel Lopez kick), 9:38.
                Ennis — Rey Rodriguez 15 pass from Santos (Padilla kick), 5:38.
                Sulphur Springs — Da'Korian Sims 26 run (Lopez kick), 1:39.
STATISTICS
RUSHING
                Sulphur Springs, 42-280 — Da'Korian Sims 10-93, Caden Davis 13-82, Colton Allen 11-67, D'Corian Young 7-38.
                Ennis, 40-217 — James Harris 26-157, Jacobie Collins 4-18, Dyllan Santos 10-42.
PASSING
                Sulphur Springs, 8-14-0-198 — D'Corian Young 8-14-0-198.
                Ennis, 12-20-1-135 — Dyllan Santos 12-20-1-135.
RECEIVING
                Sulphur Springs 8-198 — Austin Dodd 2-98, Landry Tyson 3-58, Jermond Bryant-Amos 1-26, Jace Thompson 1-11, Bryce McQueen 1-5.
                Ennis, 12-135 — Zion Dove 7-64, Rey Rodriguez 3-43, Azain Brown 2-28.
FUMBLE RECOVERIES
                Sulphur Springs, 1 — Kylan Wade 1.
                Ennis, 0.
INTERCEPTIONS
                Sulphur Springs, 1 — Landry Tyson 1.
                Ennis, 0.
PUNTING
                Sulphur Springs, 1-39 — Jermond Bryant Amos 1-39 (39.0 average).
                Ennis, 3-83 — Dyllan Santos 3-83 (27.7 average).
KICK RETURNS
                Sulphur Springs, 3-23 — Kylan Wade 2-8, Da'Korian Sims 1-15.
                Ennis, 3-80 — Stephon Townsend 3-80.
PUNT RETURNS
                Sulphur Springs, 0-0.
                Ennis, 1-18 — Collin Smith 1-18.
FUMBLES-LOST: Sulphur Springs 0-0. Ennis 2-1.
PENALTIES: Sulphur Springs 7-59. Ennis 5-36.
FIRST DOWNS: Sulphur Springs 24. Ennis 21.