By Jan Vaughn
Michael McNiel was in Tira on Saturday visiting with his family. Joyce reported, "We went to Paris for lunch at Magel's and back to Sulphur Springs for ice cream at The Magic Scoop." They shopped a while, and then returned home for a nice visit, before Michael returned to Richardson.

Our neighbor, Billy Moss, came by for a visit on Thursday evening and was
commenting on the large size of the horse apples on his property. He shared a picture, which showed them in comparison to a bowling ball.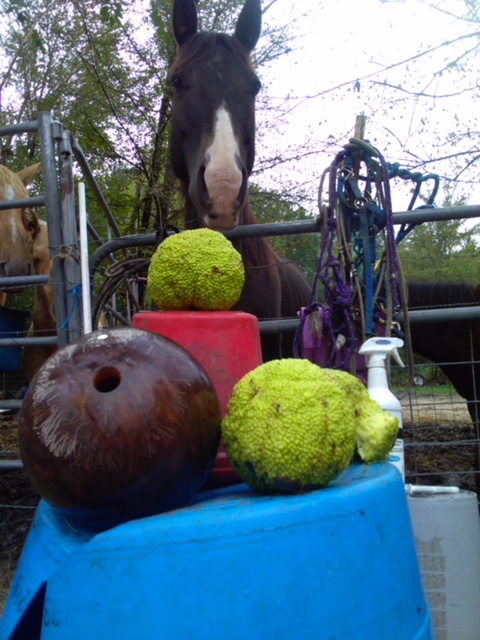 Several descendants of the late Alfred and Fannie Vaughn gathered at the Tira Community Center on Saturday, October 20th , for their family reunion. Everyone enjoyed the food and fellowship and the kids had a good time playing outside.
Our son, Delayne Vaughn, of Waco, came in on Friday evening and attended the Vaughn reunion with us on Saturday. We had a good visit with him and he took care of the problems with our technology devices!
Chip's mother and sister, Grace and Linda Ellen Vaughn, joined us for lunch on Sunday. Our daughter and granddaughter, Tiffany and Jaidyn, were here, too.
After lunch, Tiffany and Jaidyn went to pick up a couple of Jaidyn's friends,
Maygan and Bella, and they went to the Nazarene Church in Sulphur Springs for their fall carnival. Kenden Joslin, and his friend Whitney, were helping with the event. From there Tiffany and the girls went to The Villages on Lake Palestine, where they enjoyed the amenities and activities at the resort. The highlight of their trip was horseback riding on Monday.
I always need and appreciate input from my friends to help keep me informed of news in our community. If you have any news pertaining to Tira residents, past or present, please contact me, Jan Vaughn, at 903-945-2190 or 903-438-6688 or [email protected]