Buyers looking for a good deal on land flocked to northern Hopkins County back in late August, but some left disappointed. Although, it is apparent that many tracts of land were purchased, some buyers were unaware that access to a local water supply was not available. Also, some buyers now believe that they will not be able to get conventional financing due to the land purchased at a much higher per acre cost than surrounding properties.
The same company, Premier Land Liquidators, is back in an apparent attempt to "liquidate" the remaining tracts of the same land that they had hoped to liquidate in a "One Day Only" sale back on August 25th. This next sale, according to a flyer received by KSST, will take place on October 27th, again being advertised as a "One Day Only" sale. The flyer touts that a purchaser can "enjoy ag tax exempt status" but of course that designation can only be granted by our local tax appraisal district once meeting their criteria.
It is always good advice, in buying anything, to research what you are buying and not be rushed into any purchase. This is even more true, when it is a real estate purchase, and offers or claims are being made that may not be understood. One buyer at the first sale, was surprised to learn that there was basically a private road (not a county road) that led to most of the lots, but the buyer was not provided a formal agreement as to how the road would be maintained in the future.
The Land Liquidation company also advertises the land as being one hour from Dallas, even advertising a "Home Package on 10 Acres* Now only $119,000" The important part on this advertisement is the asterisk attached, which led me to a barely legible disclaimer (I had to use glasses) that read: "Package Is A Land And Building Material Package, Construction Is The Buyer's Responsibility"
Certainly no one would ever jump in and buy a Land/House package without realizing that they actually have to BUILD the house, but as always: BUYER BEWARE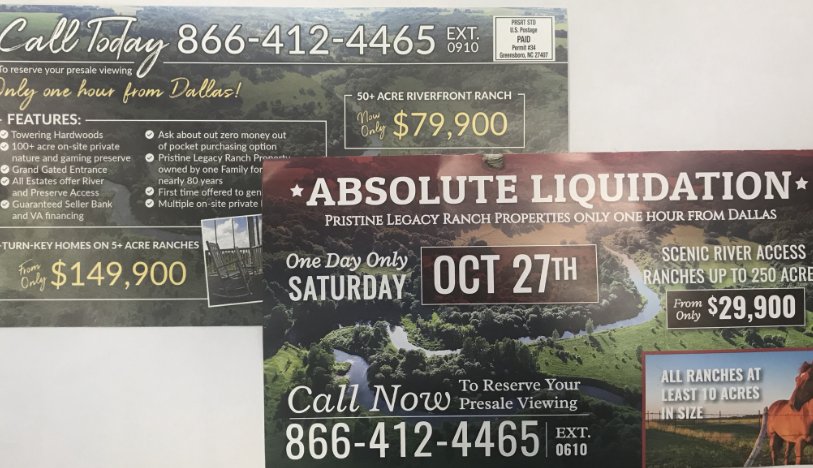 KSST News contacted Cathy Singleton with the local Appraisal District to confirm that any land sold that was previously used for Agricultural purposes and had received an Ag Exemption may be required to apply to keep Ag status in the future. This process is common during land transactions especially for land that has been subdivided. Below is a document from the Hopkins County Tax Appraisal District, to be used as a guideline for land owners' that wish to apply for Ag Exemption Status.