by Butch Burney
FRISCO — Despite three turnovers, the Sulphur Springs Wildcats' season-opening win over Frisco Wakeland Friday night was a thing of beauty — at least from the Wildcats' point of view.
                The Wildcats used a solid defense and a time-consuming offense to come away with a 37-35 victory over the Wolverines at Frisco Memorial Stadium.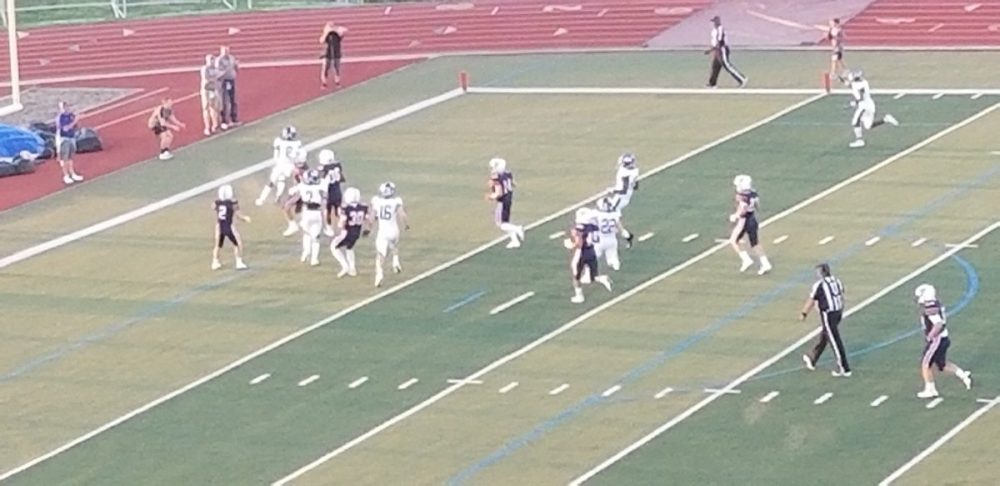 Senior quarterback D'Corian Young produced almost 300 yards of total offense and sophomore running back Caden Davis had more than 150 yards from scrimmage to pace the offense, while the Sulphur Springs defense came up with three turnovers of its own, including a fourth-quarter interception at the 1-yard line to halt a Wolvertine drive.
                After taking a 30-21 halftime lead, the Wildcats scored just one second-half TD — that coming on their first offensive possession of the third quarter — but ran 44 offensive plays in the second half compared to just 10 for Wakeland to keep the Wolverines from mounting a comeback.
                Wakeland got three touchdowns from do-it-all Garrett Field, whose final TD came on an 86-yard reception with 6:24 left to play in the game. But, on the all-important two-point conversion, SSHS linebacker broke up the potential tying pass. The Wildcats then were able to run the clock out with a 14 play drive that included four third-down conversions.
                Though Sulphur Springs was tagged with 35 points, the defense played better than the score would indicate. One of Wakeland's TDs was an interception return, another interception off a tipped pass gave the Wolverines the ball inside the SSHS 10-yard line, and two more TDs came as the result of long passes (91 and 86 yards). Sulphur Springs forced three turnovers, a fumble recovery by sophomore Deandre Peoples and interceptions by Austin Dodd and Jace Thompson.
                Offensively, the Wildcats were paced by Young, who completed 18-of-26 passes for 200 yards, and who ran eight times for 83 yards. He threw for two TDs and ran for two more. Davis added 126 yards rushing on 19 carries and caught six passes for 32 yards. Dodd added 79 yards receiving on five catches.
                The Wildcats struck first. After Dodd intercepted a pass on the first play of the game, Sulphur Springs completed a 70-yard drive with Young's 21-yard TD run and subsequent conversion pass to Damiyon Dugan to take an 8-0 lead.
                Wakeland took a 15-8 lead on Field's 91-yard pass reception from quarterback Dylan Laible and Code Starnes' 2-yard run following an SSHS tipped interception.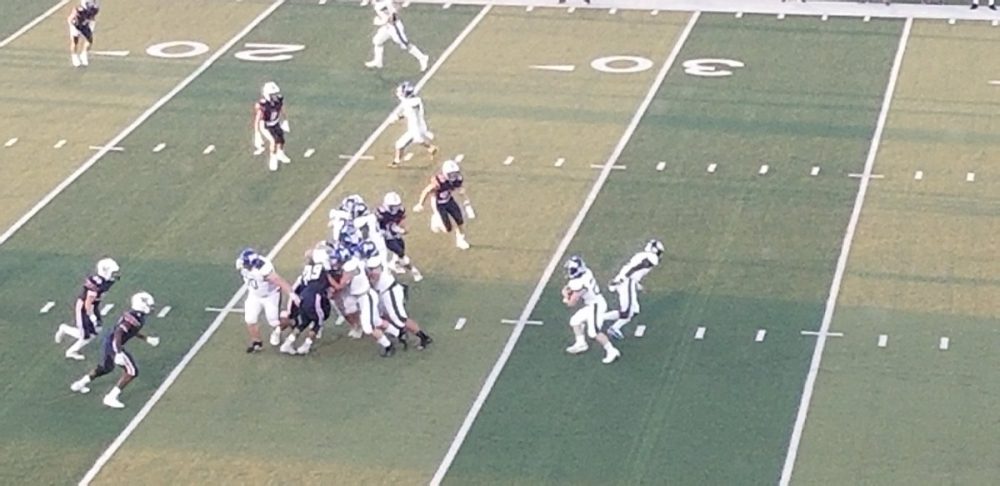 The Wildcats, thought scored another first quarter TD — on Dodd's 44-yard catch-and-run and a Jermond Bryant-Amos conversion reception. Sulphur Springs added two more second-quarter touchdowns — the first on a 31-yard pass from Young to Landry Tyson, and the second on a 3-yard run by Davis. Brandon Zavala added both PATs.
                When the Wildcats capped the opening drive of the second half with a 7-yard run by Young, they had a 37-21 lead. But, they had to hold on after Field returned a tipped pass 28 yards for one fourth-quarter touchdown, then caught an 86-yard TD to pull the Wolverines to within two points.
                Defensively, the Wildcats were led by Pitts, Jose Rodriguez and Kylan Wade.
                Sulphur Springs ground out 284 yards rushing and added 200 yards passing to finish with 484 yards of total offense. They amassed 27 first downs. Wakeland, meanwhile, managed just 41 yards rushing on 18 carries, though quarterbacks Laible and Jake Wright combined to throw for 303 yards. Wakeland had just 11 first downs.
SCORING
SSHS – 16              14           7              0              -37
FW         15           6              0              14           -35
FIRST QUARTER
SS – D'Corian Young 21 run (Damiyon Dugan pass from Young), 8:46.
FW – Garrett Field 91 pass from Dylan Laible (Trey Schlink kick), 5:44.
FW – Cade Starnes 2 run (Chance Delashaw run), 4:00.
SS – Austin Dodd 44 pass from Young (Jermond Bryant-Amos pass from Young), 2:15.
SECOND QUARTER
SS – Landry Tyson 31 pass from Young (Brandon Zavala kick), 6:19.
FW – Kevin Rychel 18 pass from Laible (kick failed), 3:40.
SS – Caden Davis 3 run (Zavala kick), 0:53.
THIRD QUARTER
SS – Young 7 run (Zavala kick), 6:03.
FOURTH QUARTER
FW – Field 28 interception return (Delashaw pass from Jake Knight), 11:21.
FW – Field 86 pass from Jake Knight (pass failed), 6:24.
STATISTICS
RUSHING
                Sulphur Springs, 50-284 — Caden Davis 19-126, D'Corian Young 8-83, Colton Allen 23-75.
                Frisco Wakeland, 18-41 — Cade Starnes 12-34, Charlie Burkhart 2-1, Dylan Laible 3-4, Trey Schlink 1-2.
PASSING
                Sulphur Springs, 18-26-200-2 — D'Corian Young 18-26-200-2.
                Frisco Wakeland, 13-20-303-2 — Dylan Laible 12-25-217-2, Jake Knight 1-1-86-0.
RECEIVING
                Sulphur Springs, 18-200 — Austin Dodd 5-79, Landry Tyson 2-38, Caden Davis 6-32, Damiyon Dugan 2-24, Jace Thompson 2-17, Jermond Bryant-Amos 1-10.
                Frisco Wakeland, 13-303 — Garrett Field 3-177, Kevin Rychel 7-86, Sam Chatham 1-10, Chance Delashaw 1-10, Jared Sheehan 1-20.
FUMBLE RECOVERIES
                Sulphur Springs, 1-0 — Deandre Peoples 1-0.
                Frisco Wakeland, 1-0 — David Schager 1-0.
INTERCEPTIONS
                Sulphur Springs, 2-0 — Austin Dodd 1-0, Jace Thompson 1-0.
                Frisco Wakeland, 2-28 — Garrett Field 1-28, Adam White 1-0.
PUNTING
                Sulphur Springs, 2-71 — Jermond Bryant-Amos 2-71 (35.5 average, two inside the 20).
                Frisco Wakeland, 1-13 — Trey Schlink 1-13.
KICK RETURNS
                Sulphur Springs, 4-55 — Colton Allen 2-41, Andy Eddins 2-14.
                Frisco Wakeland 5-46 — Trevor Perkes 1-17, Josh Starnet 1-12, Cade Starnes 1-10, Tait Gleason 1-5, Jared White 1-2.
FUMBLES-LOST: Sulphur Springs 2-1. Frisco Wakeland 3-1.
PENALTIES: Sulphur Springs 5-35. Frisco Wakeland 4-30.