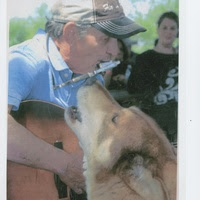 Floyd Randolph "Randy" Wallace, 64, of Commerce passed away in the comfort of his own home on Tuesday, September 25, 2018. 

Randy was born on July 16, 1954, in Dallas, Texas, the son of Robert Earl Wallace and Dorothy Fern Robbins Wallace. He was a hard working man that did carpentry, roofing, painting and contractor work throughout his life.

Randy was also an accomplished musician and with the help of his partner "Clyde" the singing dog, brought joy to many folks across the land.  He was a God-fearing man that had many pivotal rolls in his life. He gave many Bible studies which were instrumental in changing many people's lives.

Survivors include his mother, Dorothy Eaton; a daughter, Dorothy Julia Howard; sons, Randy Joe Wallace and Mylon Wallace. He is also survived by a brother, Timothy Wallace; a sister, Julie Bailey, and nephews, Jason Felkner, Josh Pawlik, and Jimmy Joe Wallace.

He was preceded in death by his father, Robert Earl Wallace, nephews, Justin Pollock and Benjamin Wallace and a niece, Kristen Hilbun.

Visitation will be held on Friday, September 28, 2018 from 6:00 P.M until 8:00 P.M. at Jones-Walker & Son Funeral Home.

Funeral service will be held on Saturday, September 29, 2018, at 11:00 A.M. at Apostolic Heartland Church, 5900 Hwy 11, Commerce, with Pastor Ben Crites officiating. 

Mylon Wallace, Randy Joe Wallace, Jason Felkner, Josh Pawlik, Jim Huckeba Sr., and Jim Huckeba Jr. will serve as pallbearers.

Burial will follow at Seymore Cemetery in the Seymore Community in Hopkins County.

Arrangements are under the direction of Jones-Walker and Son funeral home in Commerce.