John and Deborah Gillis announced today the largest private educational initiative ever undertaken in Hopkins County with the formation of the John and Deborah Gillis Foundation which will provide scholarships for students and grants for school districts.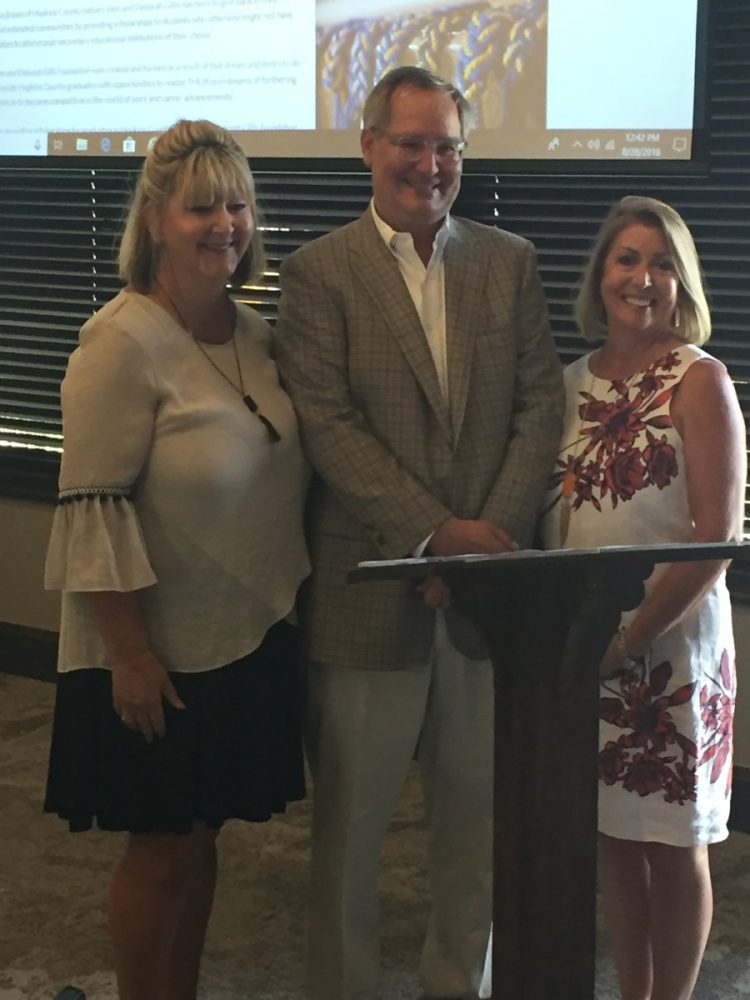 The John and Deborah Gillis Foundation will provide 10 annual Bright Stars Scholarships to seniors graduating from any of the seven high schools in Hopkins County, beginning in Spring 2019. The scholarships will be in the amount of $4,000 per semester, renewable for up to eight semesters — making it the largest single scholarship program in the county.
            In addition, a total of $100,000 in grants over a three-year period will be awarded annually to qualifying schools to support instructional programs, staff development and other initiatives that align with the foundation's mission.
            The foundation, which was unveiled Tuesday at a luncheon at Sulphur Springs Country Club, was developed and supported by the Sulphur Springs couple and will be managed by former teacher and educational consultant Robin Shrode. All three are Sulphur Springs High School graduates.
            Gillis, who is Chairman/CEO of Gillis Holdings, Inc., is a fifth-generation Hopkins County native. The couple, who married in 1985, have one son and one granddaughter. John and Debbie are both graduates of East Texas State University (now Texas A&M-Commerce).
            "After almost 160 years of family farming and business interest in Hopkins County, I am compelled to give back to the community that has given us so much," he said. "Education is the future of any society and we believe that is the best place to start."
            The 10 annual scholarships will be aimed at students who are economically disadvantaged and who may be first-generation college students.
            Mrs. Gillis said the couple had been discussing the formation of a foundation for at least a decade.
            "We felt like we needed to give back, and education would be a great place to give back to the community," she explained. "Especially in the rural communities, the access to scholarships might not be as accessible as it is in larger cities.
            "We've been blessed and we'd like to bless others in return."
            She said it all came together when they united with Shrode, who is the co-founder and former owner of The American Alliance for Innovative Systems, an educational consulting firm.
            "It's been a perfect blending of minds with Robin coming aboard and we couldn't be more thrilled," Mrs. Gillis said. "We had been talking about this for 10 years, but it wasn't until Robin got involved that we knew what steps to take to get this off the ground."
            For all three, it is the prospect of changing the lives of local students that makes it all worthwhile.
            "I am so very excited to serve as the Executive Director of the John and Deborah Gillis Foundation and to be a part of something that will exponentionally change the lives generationally for Hopkins County families!" said Shrode. "As a former educator I am still in a position to support what I truly believe to be the backbone of any society and that is an education system that prepares ALL students for life as adults. The John and Deborah Gillis Foundation supports students who need financial support to go on to post-secondary learning institutions beyond high school while supporting schools in ensuring all their graduates are college and career ready! And that process begins in Pre-K and continues all the way through 12th grade."
            School campuses and students from the seven districts in Hopkins County which are eligible for the Bright Star Scholarships and Grants to Schools program include Cumby, Como-Pickton, Miller Grove, North Hopkins, Saltillo, Sulphur Bluff and Sulphur Springs.
            The first Grants to Schools will be issued in February 2019, while the deadline for the Bright Star Scholarships is March 30, 2019.
            Information regarding the process of applying for the Grants to Schools and Bright Star Scholarship programs are on the foundation's website: www.jdgillisfoundation.org
            The foundation will consistently work closely with Hopkins County school districts to ensure a strong alignment between their own educational goals and the foundation's mission and goals of college and career readiness. The grant funding's intentions are ultimately to increase Hopkins County graduates' chances of competing in a global society for college entrances of their choice and competitive career opportunities.