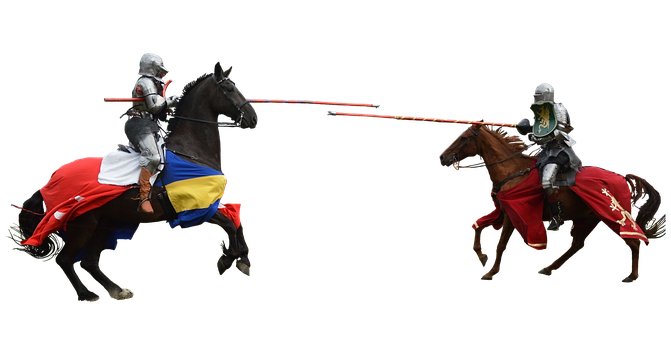 Because jousting was history's first extreme sport, the History Channel's "Full Metal Jousting" series in 2012 brought the sport out of the dark ages. Now, rodeo record-holder Rope Myers of Van, Texas has joined a competitive jousting team which will appear in Sulphur Springs, Texas during the Shadow Renaissance Festival and Tournament. Rope finds the head-to-head sport exciting and challenging and he is also eager to help the fundraising efforts that the tournament assists.
Rope and his siblings were raised in a rodeo family that originated in the Boulder, Colorado area. Like his dad Butch, Rope started out in Little Britches and Junior rodeos and adopted steer wrestling as his main sport. The family settled in the Athens, Texas area and helped build the equine industry there. After high school, both Rope and his brother Cash went into competitive rodeo. Rope first qualified for the National Finals Rodeo in 1995, won the World Championship in 2001, and retains the arena average record today. During recent years, Rope and his wife Candice have combined his rodeo and her music ministry careers at Sky Ranch, a premiere Christian youth and retreat center in Van, Texas. Still, Rope finds time to help when and where he can, and accepted the invitation to joust again with the Knights of Valor team for the local Shadow Ranch fundraiser.  Shadow Ranch Therapeutic Riding Center is a 501(c)3 non profit organization operating in Hopkins County which accepts disabled and disadvantaged children and adults as students in specialized riding classes. The 2018 Shadow Renaissance Festival and Tournament proceeds will assist with operating expenses, expansion and Literacy programs in place at Shadow Ranch.
Tickets to the festival grounds, Jousting matches and Nobleman's Feast are available at shadowrenfest.org and through a link on facebook, also at the Hopkins County Chamber of Commerce, 300 Connolly Street in downtown Sulphur Springs.