The new Wildcats Defensive Coordinator Alex Guerra is now on the job. Coach Guerra was at the Multipurpose Building Monday. Guerra, in his twenty-first year of coaching, replaces Triston Abron, who left to take the head football job at Paul Pewitt High School. Coach Guerra comes to the Wildcats from Nevada Community, where he was defensive coordinator and inside linebacker coach.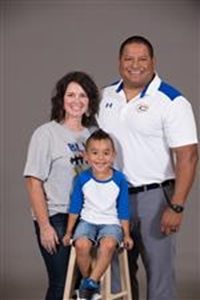 The San Antonio native played college football and baseball at Texas A&I in Kingsville, now known as Texas A&M-Kingsville. Coach Guerra was a head football coach for four and a half years at San Antonio Memorial. He was also a defensive coordinator at Pittsburg. Coach Guerra has also had coaching stops at Royse City, Rockwall and LaVilla.
He said he was excited and happy to be in Sulphur Springs. His wife is from North Hopkins. Concerning the Wildcats' defense, Coach Guerra says he likes the three-four defense.
For a month and a half, he's been watching the Wildcats defense on tape and he said he has some adjustments he believes will be beneficial. He added he saw lots of positive things. Coach Guerra said he wants the Wildcats defense to play fast. Coach Guerra described himself on the sideline as fast and loud, crazy and emotional. He has known Coach Owens for over ten years. Coach Guerra said when he was a head coach, he would occasionally call Coach Owens seeking advice.