More than forty local youngsters will make up two full casts for the musical theater production of "Mary Poppins" set to open Friday July 20, 2018. This Shining Star Productions play is to be staged in the SSISD Auditorium of the Civic Center and will feature two evening performances and three afternoon performances.
Director Amanda Thompson Brandenburg has been working with her young charges since September 2017, getting ready for this summer's show. "We took about a month off following last summer's "Beauty and the Beast" production,  let the families get the kids back into school in August, and then we began again in September on brand new scripts for our 2018 play!" Amanda says that it was an 11-month-long process, but at first the group met just one hour per week through the Fall. After the Christmas holidays were over, that's the time that readings, memorization of lines and polishing of British accents really got started in earnest. And typically, when school lets out for the summer, everyone comes on board for set building, costume fittings, song and dance coaching,  and true rehearsals on a daily basis. Parents and family members of the young actors also play vital roles in the success of all Shining Star Productions plays, from backstage assistance, doing set design, working concessions, securing sponsorships and handling front of house roles. Each year's production company truly becomes an "all for one, and one for all" theater troupe! Ms. Brandenburg noted that the talent pool for youth shows has grown locally since her first year when she had only seven in the cast. For the Mary Poppins production, there are 46 actors plus a dozen crew members.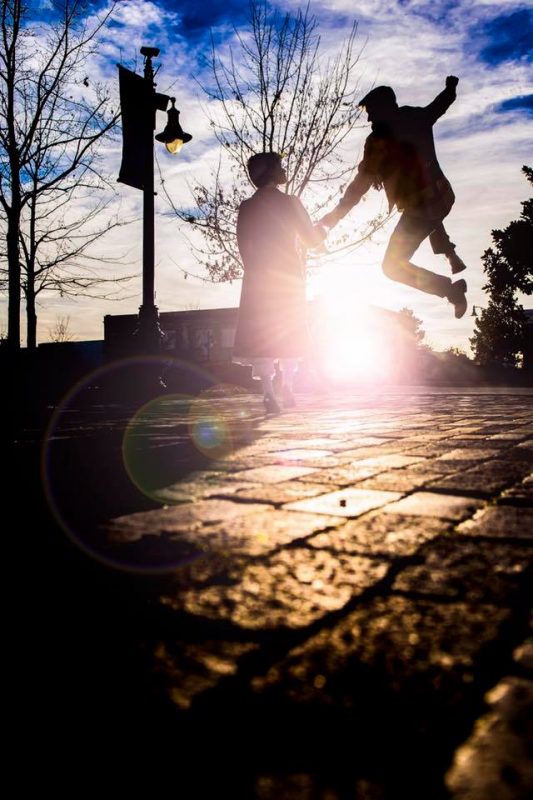 Some of the cast who attended a KSST Good Morning Show interview included Brianna Isom as Winnifred Banks, Callan Branch as her husband George Banks, Bella Gilbreath playing Jane Banks and as her brother, Micah Ray Petty as Michael Banks.
The classic story of "Mary Poppins" has an appeal for all ages of audiences. Six professional backdrops will make you feel you are in London, and the comedy, singing and dancing talent will be unforgettable. A total of five performances are planned, with a cast of younger lead actors appearing at 2pm Friday July 20 and at 2pm Saturday July 21.  The regular teen cast starring Kassidy Branch as Mary Poppins and Josh Thompson as Bert the Chimneysweep will perform at 7pm Friday July 20, at 7pm Saturday July 21 and at 2pm on Sunday July 22. Tickets are $12 on the day of the show. Advance tickets may be purchased through July 19 at $10 each from Alliance Bank and SS Public Library, and with a link on facebook.com/ShiningStarProductions.
Disney and Cameron Mackintosh's 'Mary Poppins' is a musical based on the stories of P.L. Travers and the Walt Disney film, and presented through special arrangement with Music Theater International (MTI).