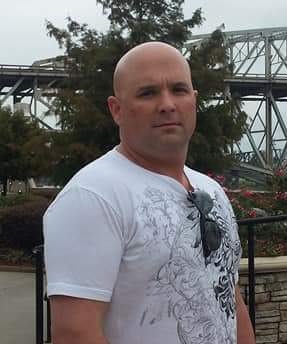 Funeral service for Jarrod K. Friddle, age 40, of Sulphur Springs will be held at 10:00 A.M. on Friday, July 13, 2018 at League Street Church of Christ with Honorable Robert Newsom officiating. Interment will follow at Gafford Chapel Cemetery with Paul Robertson, Ray Embro, Austin Newsome, Ryan Johnson, Antwone Young and Chris Winters serving as pallbearers and Kyle Nichols, Jason Moore, Kevin Bailey, Lonnie Taylor, Chad Ross, Louis Lufkin and the Burn Barrel Crew serving as honorary pallbearers. Visitation will be held from 6 to 8 P.M. on Thursday, July 12, 2018 at Murray-Orwosky Funeral Home.   Mr. Friddle passed away Monday, July 9, 2017 at CHRISTUS Mother Frances Hospital in Sulphur Springs.
Jarrod Kyle Friddle was born on October 1, 1977 in Tyler, Texas, the son of David Friddle and Opal Price.  He married Carrie Katchinska on June 23, 2012 in Commerce, Texas. Jarrod's passion for helping others compelled him to become a police officer.  He was an amazing husband, father, son, brother and friend.  His children were his whole world.
He is survived by his wife, Carrie; children, Lyla Friddle, Mason Friddle, Jackson Friddle, Braden Katchinska and Allison Katchinska; parents, David Friddle and wife, JoDana, Opal Price; brothers, Joel Friddle and wife, Karmon, Kurt Cargile and wife, Sarah, Chris Winters and wife, Mandy; nephews, Jordan Friddle, Kason Cargile, Landry Moss; niece, Mackenzie Putnam; parents-in-law, Ronnie & Carmeletia Winters; aunts, Mary Robinson and Deborah Penkava and husband, Paul.
Jarrod was preceded in death by his grandparents, RV and Margie Price, James Duval and Shirley Friddle; niece, Jayla Friddle.
Arrangements are under the direction of Murray-Orwosky Funeral