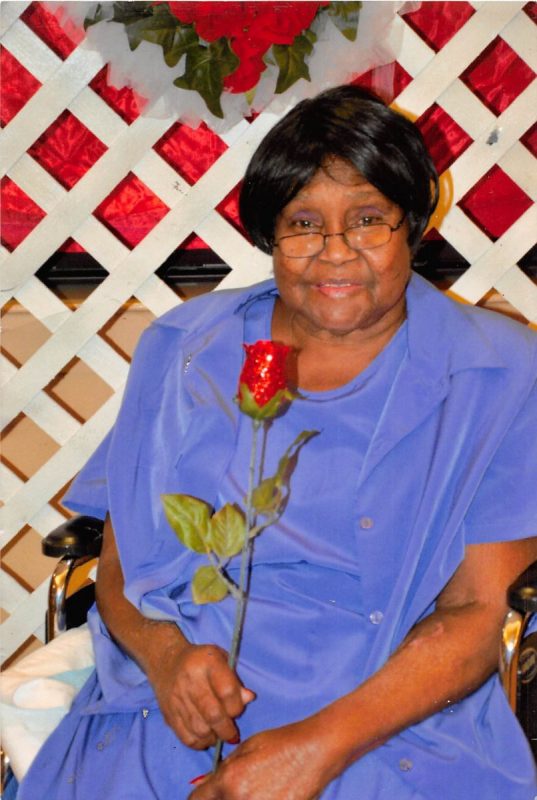 Funeral services for Evelyn Rose Harris, age 79, of Sulphur Springs, will be held at 11:00 a.m., Monday, July 23, 2018 at Morning Chapel Missionary Baptist Church. Interment will follow at Sandfield Cemetery. There will be no formal visitation. Evelyn passed away on Sunday, July 15, 2018.
She was born on February 14, 1939 in Hopkins County, the daughter of Arthur and Mattie Hall. Evelyn attended Mount Sterling Schools in the East Caney community.  She married Roust T. Harris, he preceded her in death. Evelyn worked at Lone Star Restaurant and Cannon Craft Company for many years.  After Cannon Craft, she became a Certified Nurse's Aide.  She was employed by Sunny Springs Nursing and Rehab Center for 15 years.
She is survived by children, Deborah Green (Leroy), Evelyn Turner (Ray), Janice Henley (Lester), Sharon Ayers (James), Frederick Harris, and Tracie Johnson (Anthony), sisters, Helen Wright, Margie Williams, and Patricia Vaughn (Benard), brother, Bobby Joe Hall, grandchildren, Deanita, Deteasha, Derrick, Raymond, Kenya, Chaster, Cedric, Brandon, Dyesha, Demorick, Tylan, Darielle, Frederick, and Anthony, and a host of great-grandchildren, nieces, nephews, and other relatives.
In addition to her husband, Roust T., she was also preceded in death by her parents, son, R.T. Harris, brothers, Billy, Fred, Lee, Richard, and Travis, and sisters, Lena Faye, Virginia, and Annie Marie.
Arrangements are under the direction of West Oaks Funeral Home.