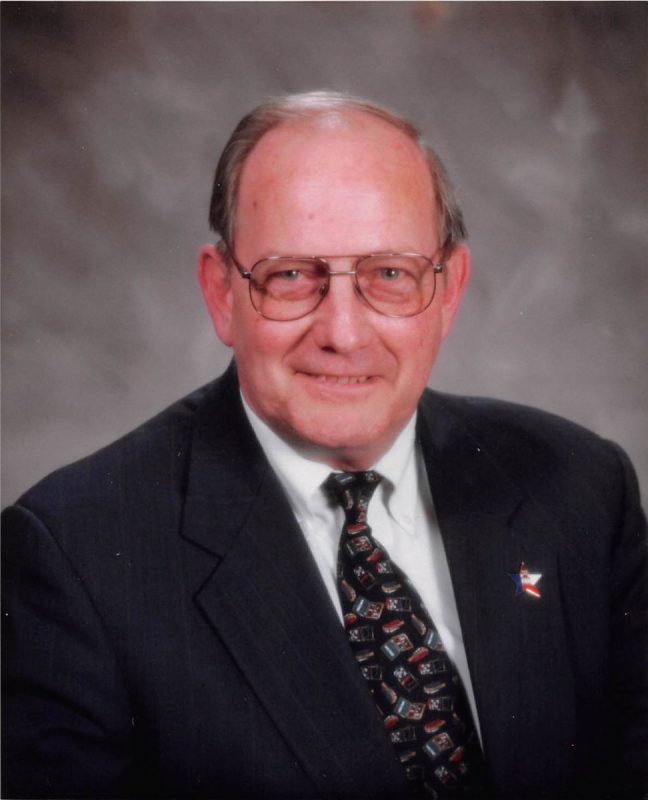 A legacy of community service remains following the death of William S. "Billy Sam" Elliott, 75, of Sulphur Springs. Elliott passed away on Thursday, July 26, 2018 at his residence.
Elliott served as president of the Sulphur Springs Independent School District Board of Trustees and president of the Hopkins County Dairy Festival.  He is best remembered by many for his service as President and CEO of the Hopkins County Chamber of Commerce where he served for 15 years. During his years with the chamber, he led in establishing the Adult Leadership and High School Leadership Classes. Both the Adult and High School classes were formed each year and presented insight into the activity of the community. Local city and county government, poverty initiatives,  ethics, civic organizations, and a number of other subjects were the focus of the classes. Approximately 30 high school students from around the county and city gained valuable information that enabled them to become future leaders locally and in other communities where they have chosen to live. Adults gained insight that has led to a number of improvements to the local city and county.
Elliott was also involved in bringing the PJC Tech Center, now PJC-Sulphur Springs to the city.
His personal interest in each one he became acquainted with was evident in a comment on social media by a high school leadership alumnus, "I loved him! He was so so kind and did a wonderful job leading and starting our leadership class at SSHS. He always remembered your name and asked how things were. "
A former teacher wrote, "Billy Sam was such a kind man. He might've been on an urgent mission, but he always had time to stop and chat. He had that special gift of making others feel important…. Billy Sam wanted and worked for the best for SS. and he never minded working behind the scenes… He was a true gentleman."
Elliott served as a member of the Sulphur Springs Fire Department and Rescue Unit, Assistant Cub Scout Master of Pack 69, president of SSHS Wildcat Band Boosters, chairman of the Hopkins County Heritage and Museum Association, member of Hopkins County Civic Center Board, member of the ARK-LA-TEX council of Governments. In 1983 Billy Sam was honored as Hopkins County Citizen of the Year.
Elliott was a lifetime member of First United Methodist Church where as a youth he obtained the Boy Scout Rank of Life and as an adult served on the administrative board. He worked for Nordstrom Valve as a safety director for many years. He enjoyed traveling with Rickie and their sons. From San Francisco to Washington DC, from South Dakota to Big Bend National Park, from Yellowstone to the Great Smokey Mountains, the adventures he provided created a lifetime of memories, according to the family.
Born on June 4, 1943, in Sulphur Springs, the son of William S. "Bill" and Marguerite Gilbert Elliott, he married Rickie Carpenter on November 19, 1964, at Wesley Methodist Church in Greenville, TX. She survives.
In addition to his wife, he is also survived by sons, William S. "Trey" Elliott III of Paris, Richard Joel Elliott of North Lake, grandson, William S. "Will" Elliott, IV of Paris, and sisters, Sherry Elliott Baxter and husband Max of Sulphur Springs, and Annada Elliott Jones and husband James of Sulphur Springs.
He was preceded in death by his parents.
Funeral services for William S. "Billy Sam" Elliott, age 75, of Sulphur Springs, will be held at 2:00 p.m., Sunday, July 29, 2018, at West Oaks Funeral Home with Bro. Charles Moore officiating. Interment will follow at Mt. Zion Cemetery with Mike Blount, Ronnie Branscome, Mike Broyles, Bob Carpenter, Jim Gilbert, John Icenhower, Charles Snell, and Key Walker serving as pallbearers. Honorary pallbearers will be Max (Poss) Baxter and James Jones. Visitation will be held from 5:00 to 7:00 p.m., Saturday, July 28, 2018 at West Oaks Funeral Home.
Memorials may be made to Mt. Zion Cemetery Association, 16256 TX Hwy 11 W, Cumby, TX 75433. Arrangements are under the direction of West Oaks Funeral Home.