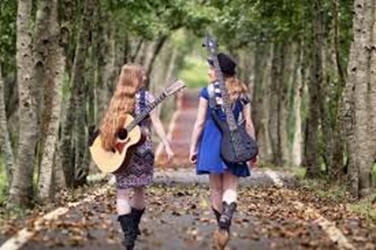 Hanah Moore and Hailee Nixon are sisters, raised since babyhood by their Winnsboro grandparents Joyce and the late Kenneth Nixon. Now, eighteen years and thousands of miles later, the duo is about to launch a country music career on the always uncertain road ahead. Here is the story of Hanah and Hailee.
Very early in life, relates Joyce, natural talents came to the surface in the toddlers, especially in singing and dancing. The sisters loved to perform and they sang at church and at Winnsboro events as "Two Hearts Plus" sometimes with younger brother Christopher.  By middle school age, they were coming into their own tastes in country music, expressing themselves through writing songs. This led them to learn to play guitar so they could be more mobile and self-sufficient. From the first, Hanah played acoustic rhythm and Hailee picked up the bass, and with Grandpa Bill on the drums, they formed a family band which they named "Scatterproof".  Additionally, both girls have been standouts in school band as horn players. Now as Hanah starts college at Ouachita Baptist University in Fall 2018 and Hailee enters her Junior year at Winnsboro High School, they are determined to remain scatterproof despite the 3-hour distance between them. Bookings for the duo already include numerous weekend events through the Fall and Winter of 2018/2019.  Also, their first studio-recorded sampling of original songs is about to be released. That release date coincides with their first major concert and showcase, "The Road Ahead" at the Greenville Municipal Auditorium at 6:30 pm on Saturday July 28.  Tickets are $12, available through the GMA and at the door. For the 4-hour talent extravaganza, Hanah and Hailee have invited Josh Davis, Fiddlin Jack Phillips, Josh Knight and Eric Vasquez, all from NE Texas and Landry and Company from the Shreveport area.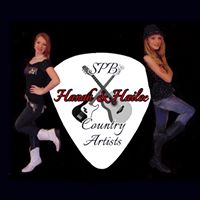 This Fall, Hanah and Hailee are nominated again in Vocalist and Duo categories at The Josie Music Awards at Dollywood and in the Rising Star and Duo categories at the Texas Country Music Awards to be held in Ft Worth.  Back in June, they got to sing at The Bluebird Cafe in Nashville during the CMA week and won second place at a "Jim Reeves" songwriting contest in Texas. On August 11, they will compete in not one but two singing contests in one day, in Carthage and in Palestine, Texas. And with over 50 playing gigs across NE Texas during 2017,  their Nana has logged hundreds if not thousands of miles as chauffeur, manager, booking agent, publisher, wardrober and roadie for a family ready for the "road ahead'.