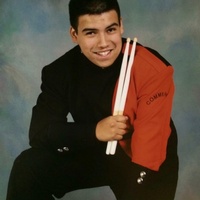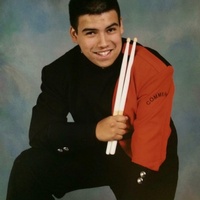 Brian Eduardo Galicia of Commerce, Texas, age 20, passed away on Sunday, July 1, 2018. He was born on July 16, 1997, in Ciudad Juarez, Chihuahua, Mexico to Patricia Castañeda Fernandez and Ramon Galicia Chavez. The oldest of two brothers, Brian was a loving brother and adored son. A visitation will take place on Thursday, July 5, 2018 from 6:00 to 8:00 p.m. at Jones-Walker & Son Funeral Home. The funeral services will be on Friday, July 6, 2018 at 3:00 p.m. at the Commerce Church of Christ.
In 2001, Patricia Mynatt moved her two sons to the United States. Brian became a United States citizen in 2008. In 2009 Wallace Mynatt became Brian's dad. During his youth Brian worshiped at the Commerce Church of Christ, always striving to show the acceptance and love that his savior portrayed. Brian took these qualities everywhere he went. He was involved in the youth group at the church and the Boy Scouts of America where he earned the rank of Eagle Scout. Brian was an avid supporter of the arts and was passionate for diverse bodies of music. He was a stellar percussionist and earned the position of Drumline Captain his senior year and served as the Drum Tech for the Commerce High School Band in 2018. Brian graduated Commerce High School as part of the Class of 2015.
Many will remember Brian as a person who always cared for others, and put the happiness of others first, even before his own. He wanted every soul he interacted with to feel a sense of worth, happiness, laughter, and lightheartedness. Brian was a true defender of those he loved, and one of the most empathetic souls to ever walk the earth. Brian understood what it meant to suffer, but he also understood what it meant to conquer it. He knew that love was one of the most powerful gifts to be able to give someone, and because of that, many people were able to feel love in a time where hopelessness was abundant. Brian wanted to help people feel alive and valued, and many would say that he did.
Brian is survived by his parents Wallace and Patricia Mynatt of Commerce, TX; younger brother Alan Galica of Commerce, TX; Girlfriend Savannah Guajardo of Commerce, TX; step-sister Jenny Bolin and her husband Jarrod Bolin along with nephews Jack and Sam of Irving, TX; step-sister Kelly Seufert and her husband Michael Seufert along with nieces Kayla and Rose of Dallas, TX; step-brother John Mynatt along with nephews Kade and Ben of Irving, TX; uncle Armando Castaneda and his wife Lilia along with cousins Armando Castaneda Jr. and Dlse Castaneda of Ciudad Juarez, Chihuahua, MX; aunt Irma Castaneda and cousin Michelle Bernal of Ciudad Juarez, Chihuahua, MX; aunt Laliz Castaneda and cousin Diego Castaneda of Ciudad Juarez, Chihuahua, MX; aunt Adriana Castaneda and her husband Jaro Garcia along with cousin Alejandro Garcia of Ciudad Juarez, Chihuahua, MX; uncle Richard Mynatt and his wife Beth Mynatt of Rowlett, TX. Brian lives through the lives of the many friendships and the memories that are going to be cherished for the rest of our lives.
Serving as pallbearers are: Kevin Brown, Jonathan Cadwell, Armando Castaneda, Tyler Shay Houghton,  Carlos Riveroll, and Travis Stonkard. Honorary pallbearers include: Jarrod Bolin, Kiland Cash, Michael Champion, Gabriel Conklin, David Gibson, Joshua Hollowell, Brayden Lopez, and Wallace Mynatt.
In lieu of flowers the family requests that you donate to Brian Galicia's gofundme account to cover the funeral expenses at www.gofundme.com/in-memory-of-brian-galicia.
Services are under the direction of Jones-Walker and Son Funeral Home and Cremation Service of Commerce.